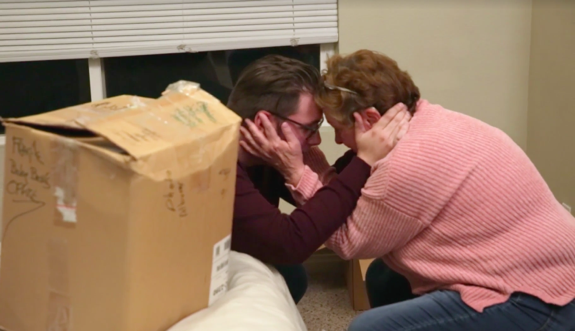 On the season finale of 90 Day Fiancé: Happily Ever After?, two couples settle into parenthood, one couple possibly breaks up, another couple definitely breaks up and one couple even manages to end this season without having set foot in the same country even once during these 12 episodes.
We kick off this episode in Las Vegas, moments after Larissa accused Colt(ee) of being in love with Mother Debbie and then fat-shamed him before storming out of the house in her high-heeled combat boots.
AS.YOU.DO
After taking a quick break on the curb outside, Larissa re-enters the house only to keep the mother-loving accusations coming and to call Colt a "dirty piggy" and a "fat loser."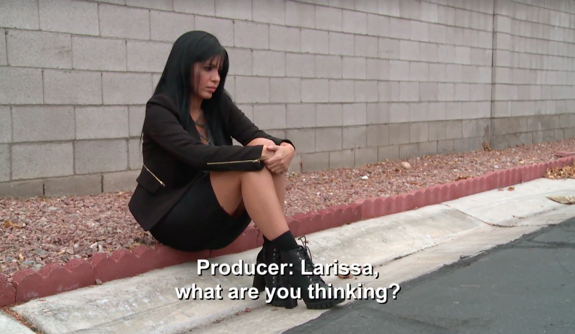 After a brief conversation, Colt refuses to stand up to Debbie on Larissa's behalf and ultimately tells her he's done with their relationship.
"I don't care anymore, I'm done. I don't like you. I'm tired of you. I'm gonna divorce you," Colt tells Larissa.
Larissa accuses Colt of threatening her and then tells him to "go f**k" Deb, before walking out the front door, yet again.
So, essentially, Larissa called her husband a motherf**ker, as many of the wives of the show have done before. However, she's the only one who meant it literally.
Next we head to Tampa where Elizabeth and Andrei are packing up to take baby Andrea Eleanor home from the hospital. Because Andrei was so preoccupied with work…ing out and avoiding any real responsibilities, he forgot to order Eleanor's car seat, leaving them stuck using a free one provided by the hospital.
Elizabeth and Andrei mooching something off of someone else?! I find that hard to believe…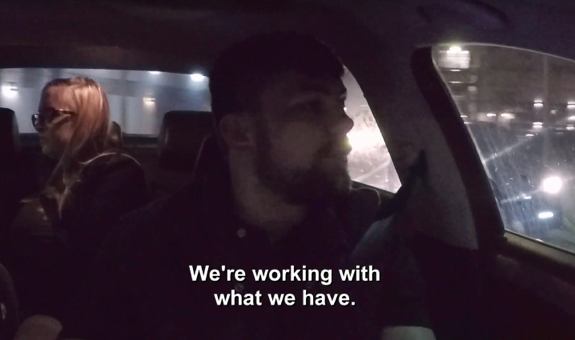 Ordinarily these two would be all about that freebie life; however, Elizabeth thinks the car seat is about as pointless as Andrei attending a job fair so she complains about it on the way home.
Next we check in with Ashley, who is back at home after being hospitalized for kidney failure. Ashley explains that her health scare stemmed from her having lupus, which tends to flare up during times of stress (i.e. her entire marriage to Jay). We then see Jay mosey into the "Mr. & Mrs."-decorated bedroom, confirming that he's back in Pennsylvania and back in Ashley's life, despite Ashley having just filed for divorce. Ashley says she's glad Jay is there to help her, but she lets him know he's not off the hook just yet, especially if he tries to go within 300 feet of a barbershop bathroom again.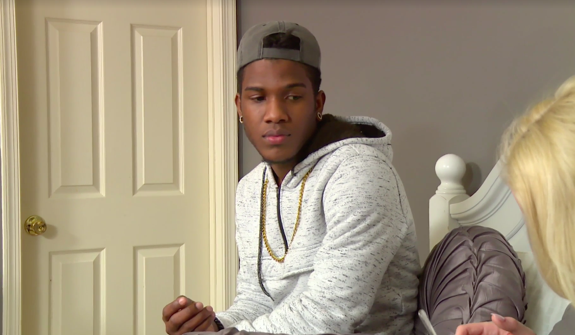 Later, Ashley and Jay visit Ashley's divorce attorney to withdraw the divorce filing. Ashley's attorney is surprised by the news and worried that Ashley is making a rash decision… (or maybe she said she thinks Ashley's decision is going to end up giving her a rash? I mean…with all that bathroom bangin' Jay's doing, it could happen!)
Down in Miami, Russ goes to the airport to pick up his mom Patty, who may or may not have just traveled hundreds of miles only to find out she's not allowed to hold her grandson. Russ gives Patty some fair warning of the situation she's walking into and Patty isn't too excited to hear that the closest she may be able to get Axel is changing out the bag on his Diaper Genie.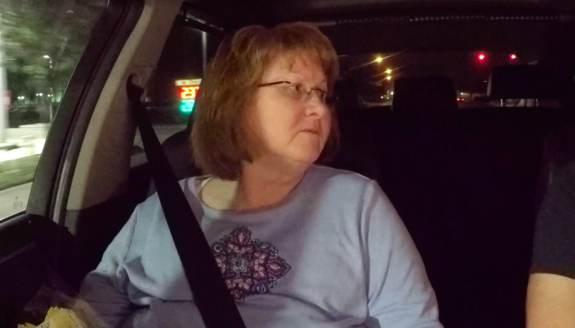 Pao is quite the treat on her own, but once you attach a baby to her, she's downright obnoxious.
Once Russ and Patty arrive home, they go upstairs to greet Paola, Gladys and the elusive baby Axel, who is nursing at the moment. Patty decides to keep her distance to be respectful—at least for now.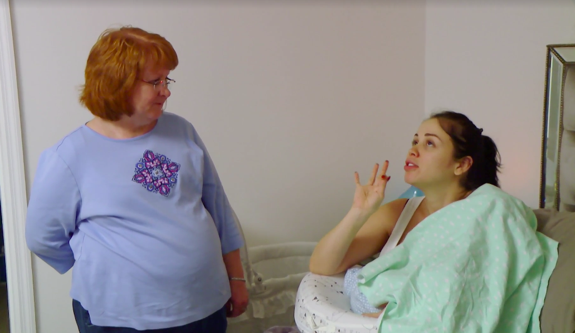 Speaking of people keeping their distance… we next check in with Nicole who is cruising some travel sites for discount flights so she can visit Azan in Morocco, whether Azan wants her to or not. (Spoiler alert: he doesn't.)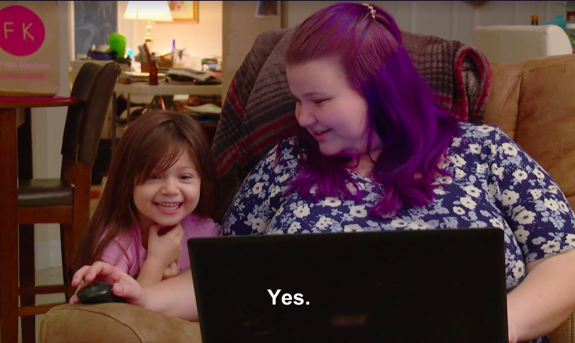 After booking a flight for herself and May, Nicole calls Azan to tell him the good news and she does her best to get him pumped about the two of them getting married during her visit. As expected, Azan gives his best performance of a guy who isn't about to push his wedding for a fourth time.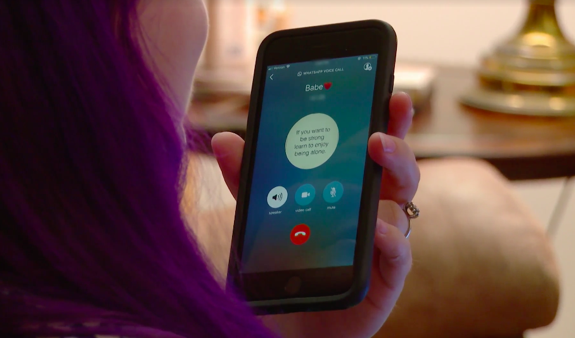 Nicole's mom Robbalee sits down with her and asks what the hell she's thinking she and Azan plan to do for money but Nicole tells her not to worry about it. Robbalee suggests Nicole and Azan live off the supposed store Azan opened, but Nicole finally admits to her mom that the whole store story was bogus.
Insert gasp here.
But not to worry, Robbalee! Nicole says Azan "has been doing some fishing stuff" lately and we're sure he's not referring to the cat fishing kind.
After Nicole talks about wanting to have babies with Azan, her segment closes with a message telling viewers that her trip to Morocco was ultimately cancelled.
We'll give you a moment to get over the shock…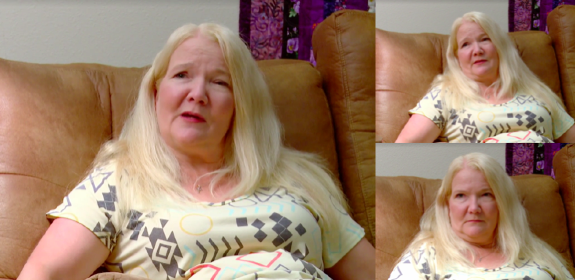 Back at Elizabeth and Andrei's house, their financial backer Chuck stops by to meet baby Eleanor and also to check out the digs he paid for. While Chuck gets acquainted with the newest member of the family, he drills Andrei on his contributions as a father, which Andrei declares will be very little because he says childcare is Elizabeth's "division," not his.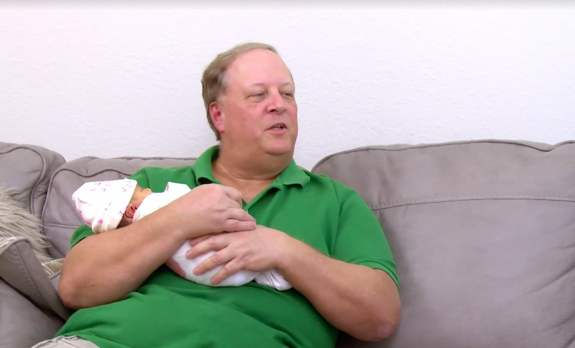 Chuck reminds Andrei that Eleanor is another mouth to feed and it's time for him to do something to earn some money. Andrei assures Chuck that he's doing "the handyman" job and that everything will be just fine.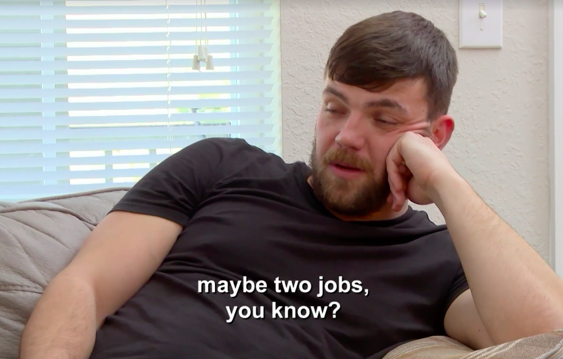 Andrei tells Chuck to mind his own business and Chuck says that he will mind his business, so long as Elizabeth doesn't keep hitting him up to tap into his bank account from said business.
Back at Russ and Pao's house, Gladys and Patty hang around and stare at their grandson from across the room until Patty finally musters up the courage to ask if she can hold him. Surprisingly, Pao caves and passes Axel to his Grammy and eventually Gladys gets a turn as well.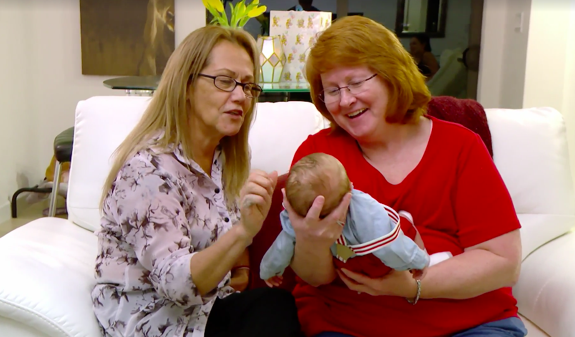 Seeing Axel with his grandmothers makes Pao emotional but the heartwarming moments soon passes when Russ accidentally drops a dish in the sink and the two begin arguing.
It's nice that things are back to normal…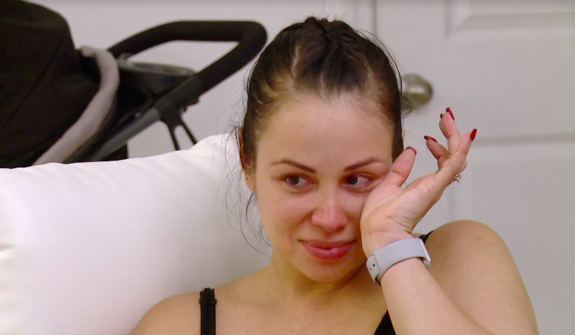 It's almost time for Andrei's dad to head back to Moldova and, while Andrei is sad to see him go, he reminds Elizabeth they'll be visiting soon for their second wedding. Being that the couple is low on funds (because someone still refuses to make any real contribution), Elizabeth was hoping this plan would be filed under "Things That Will Never Happen," right between Andrei being named Employee of the Month and Chuck being paid back in-full.
However, Andrei says the wedding is still very much happening and will only cost a measly $15,000 or so.
Ol' Chucky better open up a credit account at whatever the Moldovan equivalent of David's Bridal is…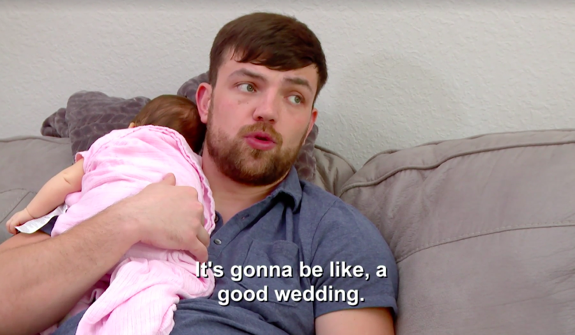 Down in the Dominican Republic, it's almost time for The Husband Pedro and The Wife Chantel to fly back to Atlanta, which means Pedro has to say goodbye to his mom and sister. Chantel opts not to say goodbye to The Family Pedro herself, given the negative run-ins she's had with them during her trip, which Pedro—- the man who likes to grind on women who aren't his wife—says is disrespectful.
Once Pedro and Chantel are back in Atlanta, Chantel is bummed that Pedro's daily routine of playing video games and avoiding conversation has resumed. Pedro says he's bitter that Chantel didn't say goodbye to his family in the Dominican Republic, while Chantel says she still has reservations because of what Obed told her.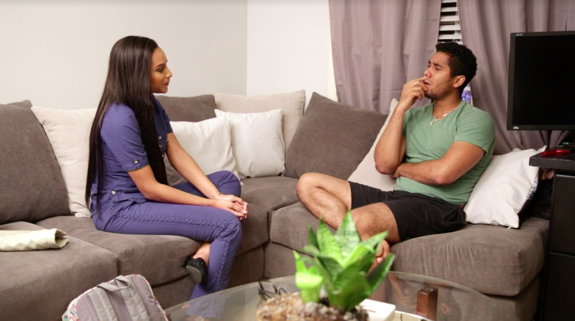 Chantel asks that Pedro come clean and tell her if he did in fact just use her to get a Green Card, but Pedro continues to deny the claims. Pedro compares Chantel to a cockatoo because he says she keeps asking the same thing over and over again. He tells Chantel if she doesn't want to be with him, she should just leave and find someone that makes her happy… which is evidently exactly what he plans to do himself.
"When I have my Green Card, the ten years, if you no fix your attitude with me… Hey, it gonna be over. I give you time," he says.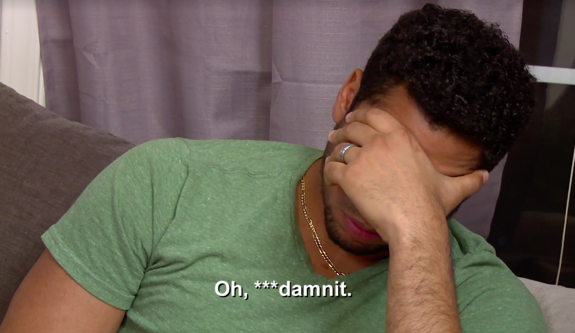 Chantel warns Pedro not to threaten her and then goes to her bedroom to cry while Pedro stands in the doorway doing his best to win the argument, despite that lame cockatoo remark he just made.
With Russ and Pao's moms back at their respective homes, the family of three heads out for a beach day that doesn't involve Pao rolling around in the sand for a photographer wearing only a smile.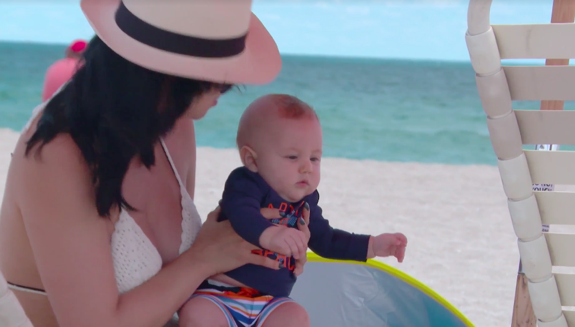 While sitting at the beach, Pao complains about Russ having to travel for work. (Hey– at least her co-star Elizabeth doesn't have that problem with Andrei!)
Russ reminds her that he had another job opportunity in Oklahoma that wouldn't have required him to travel, but Pao didn't want him to accept it. Pao tells Russ she wants to go back to modeling eventually, but she can't do it if he isn't there. Russ assures Pao that with some teamwork, she won't have to give up her dream of being photographed nude in neon body paint and that they won't have to move back to the Sooner State to make it happen.
We head to Vegas for our last stop on this episode where we find Colt shoving Larissa's bedazzled frocks into a busted-up cardboard box because, you guessed it: Larissa was arrested. AGAIN.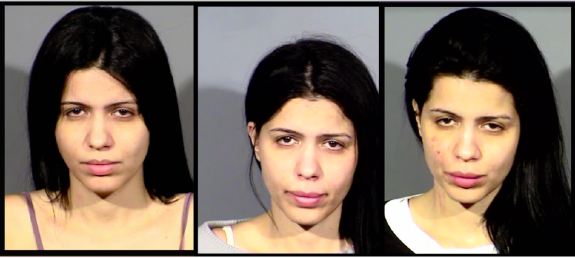 Colt explains that he and Larissa were doing what they do best (arguing like wild animals) when things progressed, leaving Debbie no choice but to call the police. While Colt is packing up Larissa's club dresses, Debbie comes in to lend a hand and make sure Larissa didn't snag any of her crochet turtlenecks while staying at their house.
Debbie is worried that Colt resents her for what happened with him and Larissa, but Colt assures her he doesn't. Debbie then gives us a solid Larissa impression when asking "Coltee" what he'll do if Larissa tries to get back together with him.
"Coltee's dead. I'm not there for her," Colt tells Debbie.
Colt says while his marriage is over, he fears Larissa may still end up receiving her Green Card, leaving him responsible for her for the next 10 years… and putting a serious damper on he and Debbie's mother-son margarita nights.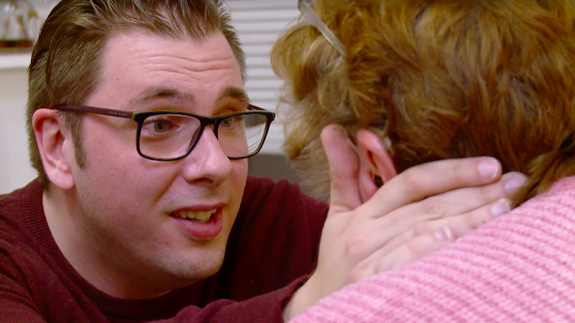 To read The Ashley's previous '90 Day Fiancé: Happily Ever After?' recaps, click here!
(Photos: TLC)