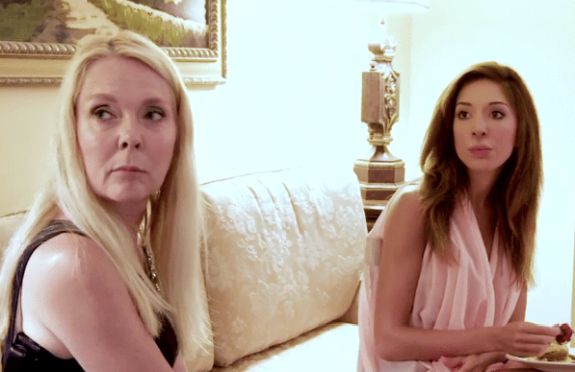 Debra Danielsen is finally speaking out on the rumors going around that her daughter Farrah Abraham is prostituting herself around the world.
The rumors have plagued the Teen Mom OG star for years, gaining even more traction in 2018 when Farrah's former friend Phoebe Price accused Farrah of being a "hooker who has to go to Dubai." Farrah's frequent travels to the Middle East and other far-off countries have only fanned the rumor's flames.
In an exclusive interview with The Ashley, Debra revealed what her daughter has told her about her work in the Middle East and other parts of the world.
"Farrah told me the work she's doing in Dubai is work she's been hired to do," Debra said. "She's promoting different products and brands and it has nothing to do with being an escort. I also appreciate the fact that Farrah is young and dates."
On July 4, Farrah posted a private text message conversation between her and Debra, in which Farrah asked Deb not to make any statements about her being a prostitute, as they are not true. (This was around the time that a fan asked Debra a random question about the prostitution rumors on Instagram and Debra answered— but did not actually say Farrah was a prostitute. However, the clickbaiters took the story and ran with it and made it seem like Debra did say Farrah was an escort.)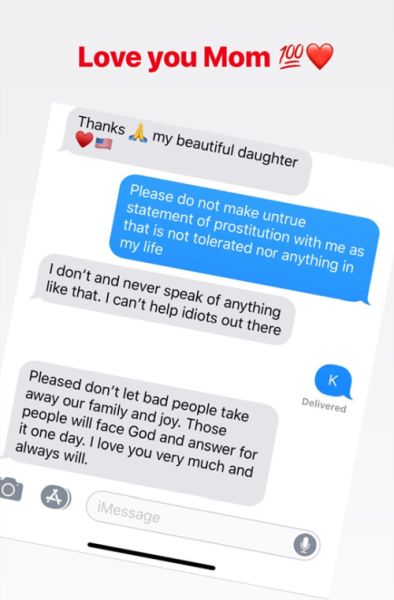 "Please do not make untrue statement of prostitution with me as that is not tolerated nor anything in my life," Farrah (in her true Farrah Speak style) told her mom in the text message exchange.
"I don't and never speak of anything like that," Debra replied back. "I can't help idiots out there."
In her interview with The Ashley, Debra defended Farrah, stating that she is just actively dating, just as other male celebrities do.
"Guys like Scott Disick and Pauly D are single and traveling and going out with people, and that's OK and acceptable and sexy, but when a woman does that when she's working, she's labeled an escort," Debra said. "People can't think outside of the box, and people always think the worst.
"I really believe her when she tells me that she's legitimately working on brand promoting, and I believe her when she tells me she's been dating a couple of people," Debra added. "She talks to me about who she dates. I don't think she's escorting."
Debra said Farrah gets upset when people call her a prostitute.
"I know people are saying that, and it's been very hurtful to her," she said, before addressing the text message exchange Farrah posted. "I think that's why she kind of said something to me, but that was a private text message between her and I… Don't they know this is my daughter and we're a family? They want to pit people against her."
Debra also told The Ashley that Farrah has been going to therapy to focus on becoming better in relationships.
"I know she's been working really hard, learning how to have a good relationship. She's been taking classes on that," Debra said. "She's spent all of Mother's Day talking to me about what she has learned, and how she's taken what she's learned and used that. She's being hopeful about being in a really good relationship with someone significant. That's what we talk about. She shares that with me."
Deb said she is often approached by people asking her if she will set them up with Farrah.
"There are a lot of guys that want to date Farrah for publicity… There's no end to what she and I have to hear or put up with. I have people approaching me, saying, 'Hook me up with Farrah.' It's kind of disgusting. I'm like, 'No I don't hook anybody up. I'm not someone's pimp! It's ridiculous the things people ask. Some of it's really disgusting."
Stay tuned for Part 3 of The Ashley's interview with Debra!
RELATED STORY: EXCLUSIVE! Debra Danielsen Comments on Amber Portwood's Recent Arrest; Suggests She Take Time Off From Filming 'Teen Mom OG' to Get Help
(Photos: MTV, Instagram)