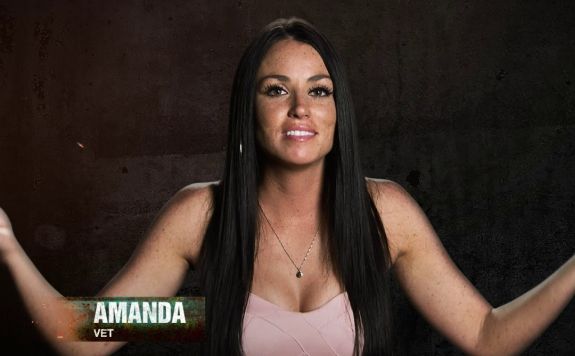 Amanda Garcia is used to putting up with crying babies in The Challenge house (since most of her co-stars tend to act like infants), but now she'll be experiencing the real thing!
On Saturday, the MTV reality star announced on Instagram that she is pregnant with her first child.
"Arriving soon…. February 2020," Amanda captioned a photo collage of her and her (non-MTV-star) boyfriend Ray holding a sonogram picture.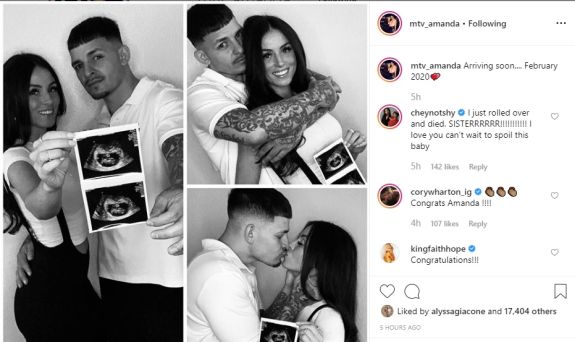 Amanda– who got her start with MTV on Are You The One? Season 3— has been one of the most outspoken and confrontational stars of The Challenge in recent years. She last starred on the "War of the Worlds" season earlier this year, but was eliminated during the seventh episode.
In March, Amanda announced on social media that she was done appearing on 'The Challenge,' following an incident in which several of her "War of the Worlds" cast mates placed tape around her head and held her down against her will. She later stated that the incident– which did not air on MTV— was more of a prank than an assault as she initially described it.
(Amanda will not appear on the upcoming 34th season of 'The Challenge,' which began filming in May.)
Despite all of the beef Amanda has with many of her 'Challenge' castmates, many took the time to congratulate her on her Instagram post.
"OMG CONGRATULATIONS!!" Brad Fiorenza wrote. "I'm so excited to see your baby!! He or she is going to be beautiful."
"I just rolled over and died. SISTERRRRRR!!!!!!!!!!! I love you can't wait to spoil this baby," Cheyenne Floyd wrote.
Josh Martinez— who was Amanda's partner on "War of the Worlds"— offered his own, um, unique form of congratulatory message.
"F**k yeah," he wrote, along with an applause and heart emoji.
Amanda has not revealed if she's having a boy or a girl, or what she plans to name the baby, but it's probably safe to say that if it's a boy, she won't be naming him Zach or Johnny!
RELATED STORY: 'The Challenge' Fans Start Petition Asking MTV to Take Action After Cast Members Discuss Alleged Assault of Amanda Garcia During "War of the Worlds"
(Photo: MTV, Instagram)