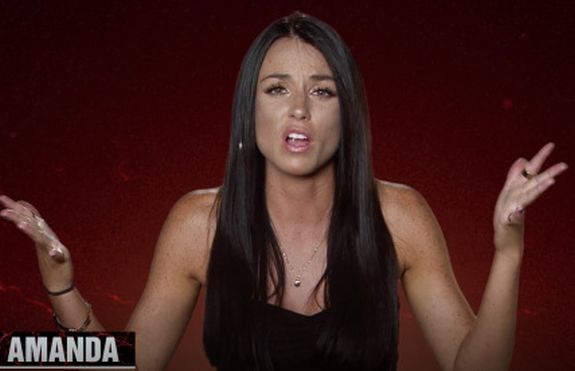 Amanda Garcia says she's through with The Challenge— and MTV– due to the way she says the network has treated her following an alleged assault she says she suffered while filming the "War of the Worlds" season.
As The Ashley reported on Wednesday, various 'Challenge' cast members provided details of the alleged assault, with all of them stating that while in the 'Challenge' house, three male "War of the Worlds" cast members allegedly wrapped Amanda's entire face, head and hair with tape, despite her cries for them to stop. (Click here for more on that.)
On Thursday morning, Amanda tweeted about the incident, stating that she had moved on, but by Thursday afternoon, she was tweeting a different tune. She wrote that MTV was allegedly trying to use legal threats to keep her from discussing the incident.
"PSA: I'm disgusted w/MTV & the way I've been treated about all of this s** ESP when I've been so calm/understanding," Amanda wrote on Twitter. "They want to silence me w/legal threats but go to the media & lie? LOL. After the reunion my career with MTV is OVER. I don't need their s**t I promise u.
"SO MTV STOP CALLING ME FOR NEXT SEASON BECAUSE THE ANSWER IS NO. Give my spot to some desperate a** kisser instead," she added.
SO MTV STOP CALLING ME FOR NEXT SEASON BECAUSE THE ANSWER IS NO. Give my spot to some desperate ass kisser instead. 😘

— MTV Amanda (@MTV_AMANDAG) March 7, 2019
Hours earlier, Amanda wrote on social media that she had forgiven those involved in the alleged incident and even praised the show's production team for handling the alleged incident so well.
"PSA: I appreciate all the support and I know I haven't really spoke on anything…but I don't want this blown up into something it's not," she wrote Thursday morning on Twitter. "I know their intentions were never to hurt me; it just went too far. It happens to the best of us. They've apologized. I've moved on…
"I don't want you guys to feel bad for me cuz that's not who I am. Production handled it the way they did and it is what it is. Nothing will change it. Lets all move forward and forever buy tape from the dollar store cuz that shit is A HELL of a lot less sticky. -I love you all!"
It is not known what caused Amanda to change her tune so quickly in regard to the situation. However, in a series of tweets posted on Wednesday, 'Challenge' vet Shane Landrum also mentioned cast members being threatened with a lawsuit for talking about the alleged incident.
"I've gone unprivate so all 'Challenge' fans know that certain entities at a certain television studio are sending threatening letters to cast telling them they will be sued if they discuss Amanda's assault and its cover up…Demand the footage," Shane wrote in tweets that have since been deleted. "Just like a racist assault that was covered up. Only you can demand the footage."
His tweets, along with a YouTube video posted by "War of the Worlds" cast member Da'Vonne Rogers that described the alleged incident, prompted some of the show's fans to create a Change.org petition that urged MTV to air the footage from the alleged incident.
The Ashley has reached out to MTV for comment in regard to this story and will update when more information is available.
RELATED STORY: 'The Challenge' Fans Start Petition Asking MTV to Take Action After Cast Members Discuss Alleged Assault of Amanda Garcia During "War of the Worlds"
(Photos: MTV, Twitter, Instagram)