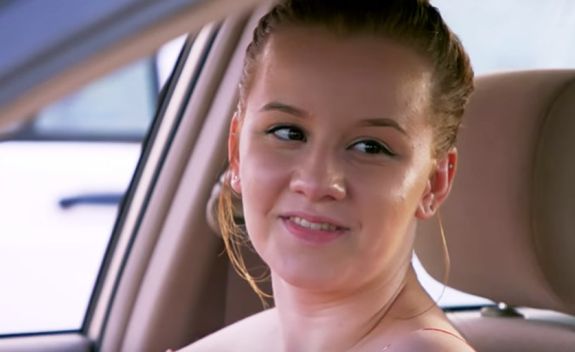 Kayla Sessler did not hold back during a recent Q&A session with her fans on Instagram, spilling the tea on her current (and apparently, unplanned!) pregnancy, her baby daddy Stephan Alexander and her future with boyfriend Luke Davis!
The Teen Mom: Young & Pregnant star announced earlier this month that she is expecting a baby with Luke, but this marks the first time she's really opened up about getting pregnant again.
Here are some of the most-interesting tidbits Kayla revealed in her Q&A session!
On how she ended up getting knocked up again:
Kayla indicated that her current pregnancy was "definitely not" planned, stating that she was on birth control but still got pregnant because she threw up her pills while sick…or something…
"Ladies! If you are on the pill and you get sick with the stomach flu or any other sickness that causes you to throw up, YOUR PILL IS NO LONGER ACTIVE! If you throw up within 2 HOURS of taking it. It didn't have enough time to absorb into your body. You're literally throwing up your birth control.
On how she will prevent getting knocked up a third time:
Kayla stated that she plans to get on a new form of birth control (that you can't puke out) after she gives birth to her second child.
"After this baby I will be trying the IUD implant!" Kayla wrote, adding that she has tried the Depo-Provera birth control shot in the past.
"Unfortunately, I got sick from it so went on the pill," she wrote.
On what she plans to name Baby No. 2:
Kayla has not found out the gender of her baby yet (but she wrote that she will be doing a gender reveal on March 16). When asked what she and Luke plan to name their bundle of joy, Kayla wrote that she only had girl names picked out so far.
"For a girl I like Bria or Aubree. No clue for a boy because Luke is stuck on Luke IV," she wrote.
On her ex Stephan Alexander:
Kayla was reluctant to talk about her first baby daddy, but did admit that they have no sort of co-parenting relationship. She also stated that he hasn't seen his child since November.
On her boyfriend (and future baby daddy) Luke:
While Kayla didn't want to discuss Baby Daddy No. 1, she was happy to answer some questions about Baby Daddy No. 2. She told a fan that her mother "100 percent approves" of her relationship with Luke, whom she said she has been since December 2017.
"However, we didn't make it 'official' until last August."
Kayla indicated that a wedding is not in the cards for the couple any time soon.
"Eventually, but I'm not in a rush! I'd prefer for us to both finish college before getting married," she wrote.
RELATED STORY: 'Teen Mom: Young & Pregnant' Star Kayla Sessler Announces She's Pregnant With Her Second Child
(Photos: MTV, Instagram)