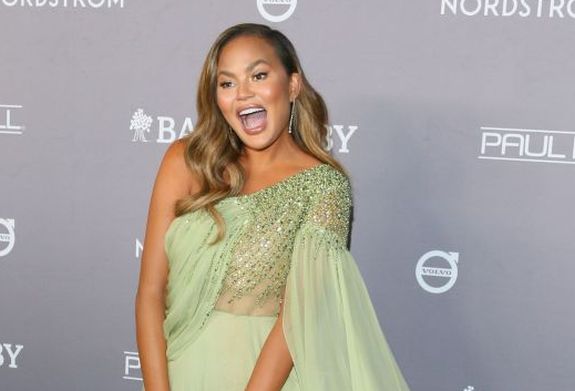 Chrissy Teigen is known for being an open book — something that bodes well for inquiring fans who follow her on Twitter.
The Lip Sync Battle host took to Twitter Sunday night for an impromptu Q&A with her followers, during which she shared what it's really like to be "a super huge A list celebrity." Chrissy, who is married to singer and current The Voice coach John Legend, held nothing back as she answered our Frequently Asked Questions about famous people.
Here are some of the most interesting (and surprising) answers Chrissy shared with her fans:
1. Celebrity life has its perks… especially if you have kids.
"It is good because I am comfortable but I have an awesome life and zero life at the same time," Chrissy said when asked what it's like being a celebrity.
As for the "best perk of being a celebrity," she said it's the fact that her kids are treated well when traveling.
"No one gives my kids nasty looks on the plane. If anything, they're creepily nice and it is crazy unfair because they are just as annoying as other kids on a plane," she explained.
2. In an effort to safely get through airports, some celebrities opt for special accommodations.
When asked how celebs make it through airports amid crowds of fans, Chrissy revealed a secret that even she seemed to think was kind of over-the-top.
"There is a terminal a mile from the airport that you pay membership for. They do the same security privately and take you to the plane in a car. I know. I know," she said.
3. On being a fan-friendly celebrity:
Even when she's feeling exhausted, Chrissy says she keeps an open mind when approached by fans in public.
"You have to understand that maybe you have done this all day but for this one person, it's their first time and they're excited," she explained.
And for those wanting to take photos with Chrissy, she said she isn't bothered by that either… except for one small detail.
"No if anything I'd wish they'd ask sooner instead of it being super weird for a while lol," she said.
4. There's one thing Chrissy wishes fans would stop doing when meeting her.
While she's all about the love when it comes to her fans, Chrissy has one request that she'd like fans to follow going forward: stop telling her stories about something that happened long ago or asking her if she remembers certain people.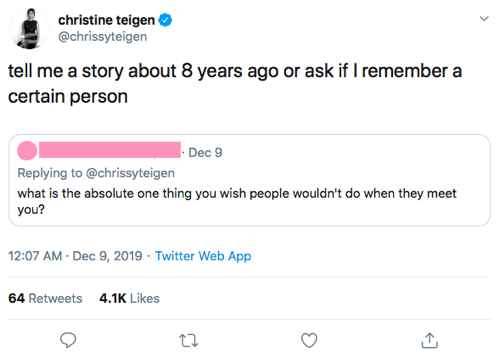 5. Surprisingly, Chrissy doesn't have issues with fans taking photos of her kids, Luna and Miles, in public.
"I don't. I know they're being sweet. A lot of people touch and hug which is weird to most people but I'm also a toucher without realizing. I dunno. I'm not mad at touch but I get people who are," she said.
6. As for paparazzi, however, Chrissy's daughter hates them more than Chrissy does.
"Luna hates them. In New York they don't really hide and they apologize when she freaks out and stop photographing. Here in LA, they've learned to hide more and you don't know you're being photographed. I'd rather know," she said.
7. Aside from the sneaky paps, Chrissy doesn't have too many issues dealing with the paparazzi on a regular basis.
"If you're nice to them, they're good to you. One time I dodged one for miles and hid in an alley. He found me. I lept from my car, shaking and crying that he had gps on my car. He was so kind and I ended up feeling terrible. It's a job," she explained.
However, one incident in particular involving a paparazzi shooting "directly into a dressing room" landed the pap a permanent spot on Chrissy's s**t list.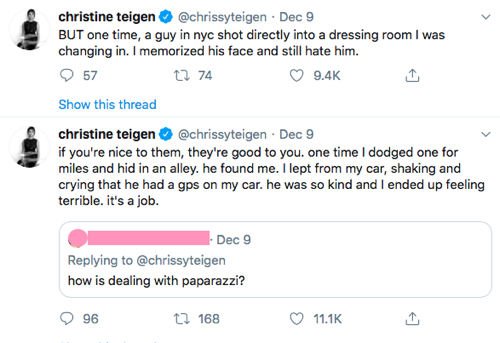 8. Chrissy and John's house (and lives) run smoothly with the help of a solid team.
Chrissy said instead of one full-time nanny, she and John employ "4 incredible people, not all at once" who rotate staying through the night. They also have a house manager who "works at the house all day" handling the couple's day to day businesses, packages and scheduling for household staff and an accountant to pay their bills.
"I have a business accountant who handles everything and sends me summaries of my spending/income. I don't get mail," she revealed.
When traveling, Chrissy brings along her hair and makeup team and confirmed that she pays for everything — "rates, flights, baggage, hotel, agency fees."
9. She isn't above name-dropping her husband.
"I make reservations and don't give them the option to say no. 'Hi it's Chrissy Teigen and I'd like to make a reservation for 2 for John Legend, do you have any availability?' If you just say, 'Hi can I make a reservation for 2?' They say no. Gotta say it all at once," she said.
10. Oh, and awards shows are a total snoozefest for famous people, too…
"Unbelievably boring and you are pulled in 100 different directions and yelled at to sit down," she said. "The bar is never close to you and everyone is so mean to seat fillers, I dunno why anyone wants to do it."
11. She's serious about her ranch dressing preferences.
Chrissy admits to having one strange item on her rider: a very specific ranch dressing.
"My only weirdo thing is buttermilk hidden valley ranch, not from the bottle and not the dip. The package, marked buttermilk," she explained.
12. On the celebrity perk she feels most guilty about and what she'd be doing if she weren't famous:
Chrissy says "money" is the perk she feels most guilty about and if the whole fame thing wouldn't have worked out, she predicts she'd be living a very normal life as a teacher.
" … probably pre-k. Or a stay at home mommy," she said.
13. There's one "normal" thing Chrissy misses being able to do since becoming a celebrity.
"Grocery store but I still try," she said.
14. She's all about paying it forward.
Instead of turning down freebies from various brands, Chrissy finds something else to do with the piles of products that land on her doorstep.
"Our counter is full every single day of random s**t. I've thought about asking them to stop, but then I wouldn't be able to donate it," she said.
Chrissy also resells some of her expensive outfits and donates the proceeds.
" … I have worn a lot of expensive things but always have to give them back. Since the babies, I'm not sample size anymore so I buy almost everything I wear and then resell on TheRealReal and donate the $ to charity," she said.
15. On her encounters with other celebrities:
When asked if she has ever been let down when meeting someone she is a fan of, Chrissy said the encounters typically go how she'd expect them to go.
" … One time I met someone who seemed stupid and mean who turned out to be stupid and mean," she said.
"The bigger the celeb, the nicer. I've met a lot of borderline people who had super attitudes lol (but also a lot of shitty big celebs so I guess there is no clear path here)," she added in another tweet.
(Photos: Photo by JEAN-BAPTISTE LACROIX/AFP via Getty Images;Instagram, Twitter)