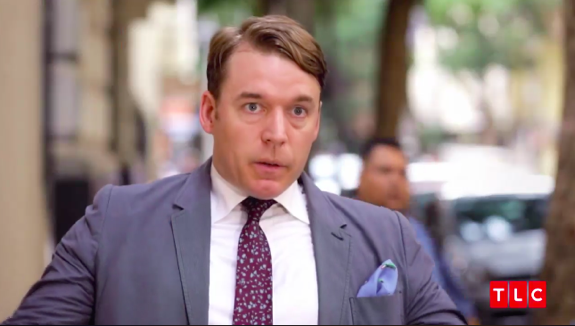 Michael Jessen is steaming mad at TLC and the production company behind 90 Day Fiance!
Micheal took his grievances to Instagram (where else?) on Sunday, taking aim at TLC and Sharp Entertianment over a recently aired scene featuring him and his partner Juliana Custodio that he called the "biggest bunch of manufactured bulls**t."
"Shame on you Sharp Entertainment and TLC," he added to the caption.
The "manufactured" scene Michael was referring to showed him and Juliana meeting with a mediator prior to their wedding. At the beginning of the scene we learn from Michael that they are there to discuss a potential prenup. Michael explains that he wants to look out for the well-being of his two children from a previous marriage to his ex-wife Sarah and also prepare for the worst-case scenario in the event that he and Juliana eventually part ways.
Michael explains to the mediator that he is self-employed "with a few different wine companies" and that he plans to keep everything in his name after he and Juliana are married. The mediator then switches her focus to Juliana who has listed her occupation as "model," but has yet to disclose her income to Michael.
After the episode aired, Michael attempted to explain his frustration on Instagram Live, calling his experience on the show "a very interesting journey."
" … Tonight's episode and really last week sort of planted the seeds and I think next week we're going to see more of this stuff," he continued. "It's been a little difficult for us, to be quite honest. You know, look, it's a reality TV show. We're not paid actors. There's certainly a lot of liberties that are taken in the filming of this and that's all well and good and it's fun and games but I gotta say, Sarah and Juliana and myself, we appreciate all the positivity and support because we are living real lives here."
Micheal then specifically addressed "the set up of the whole prenup," which he said has "created quite a backlash" for Sarah, himself and Juliana. While Michael said he's happy people are passionate about the show, he needed to clear up some misconceptions.
" … it's something where I feel like I need to call a little bit of bulls**t because it's not really who we are," he said. "It's not really reflective of our reality."
Michael alluded to the fact that he felt the producers played up the prenup scene and exploited it for drama.
"Prenuptial agreement, is it important? Is it something people should consider? Yeah, of course. For our situation, is it important? I guess. I don't know. I won't give any spoilers. You'll see how this plays out next week," he said.
Even though Michael said he was unable to elaborate further, he did admit there's "a lot of second-guessing" regarding his decision to be on the show in the first place.
"Was this the right decision for us to make? I don't know. That remains to be seen, okay. We don't know," he said. "Here we are, we're halfway through the season and we're at an arc in the narrative that I'm sure the network and the production company is happy with. Unfortunately, it's just, there's a fine line.
" … This is still our real lives," he continued. "But when there's such distortions of concepts that are happening in our life and end up not only misrepresenting who we are but actually affecting our lives, that's something that becomes upsetting."
Aside from the backlash from viewers, Michael went on to mention some hate he received from former "90 Day" star Paola Mayfield who was seen reacting to the prenup scene in a preview for an upcoming episode of 90 Day Fiancé: Pillow Talk.
" … she looks at us and says, 'Oh he only thinks of himself,'" Michael explained. "That's exactly why I get upset about this, Sarah gets upset, Juliana gets upset. It shows how the show distorts the reality of who we are. Anybody who knows who we really are, come on … ."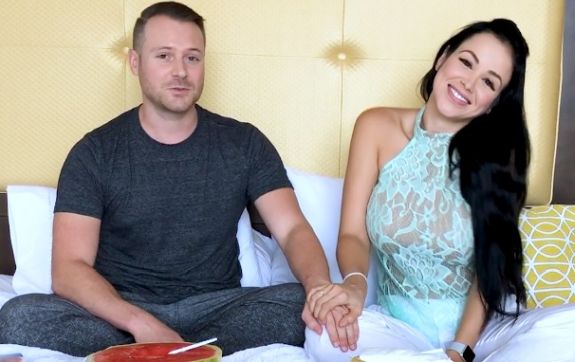 Michael then revealed that he and Juliana may be expanding their family very soon as they've "just initiated the process of adopting" Juliana's niece and nephew from Brazil—another reason the 42-year-old may be concerned for any backlash that may come from the show.
"They're eight and six years old," Michael said. "And they're in [a] dire situation. The only way to give them a chance at a good life is to bring them to America. We've reached out to my lawyer, we're bringing them over here.
"So Paola Mayfield, I always think of myself. OK. Thank you," he concluded. "But that's how TLC and Sharp Entertainment want to shape it, isn't it? But ultimately, we have to live lives after this is long over. We have to live with the consequences."
In response to the negativity the couple (well, mainly Michael) has received, Juliana shared a collection of photos on Instagram praising Michael for the sacrifices he made to be with her and attempting to take the blame for the prenup drama.
" … the fact that I haven't been smart with my own stuff have nothing to do with him, he doesn't deserve all this hate, he is a prince," she wrote. "I'm so happy that on the real life he is the most amazing human being I have ever met and has a beautiful soul."
RELATED STORY: Dean Hashim Denies His Comments About Tim Malcolm Being Transgender Got Him Cut from "90 Day Fiancé: Pillow Talk"; Hints That He'll Appear on Another TLC Show
(Photos: TLC, Instagram, YouTube)