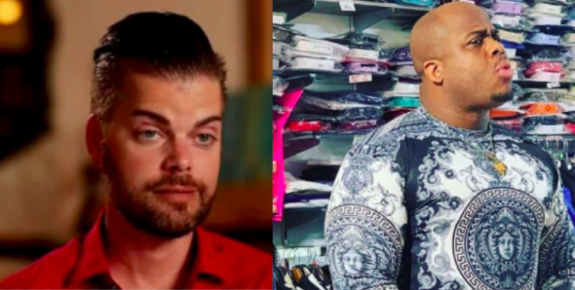 Brothers Tarik Myers and Dean Hashim's recent absence from 90 Day Fiancé: Pillow Talk has fans wondering what happened to the popular duo and some suspecting their removal came after Dean made offensive comments about 90 Day Fiancé: Before the 90 Days star Tim Malcom on a podcast.
The comments in question were made by Dean during a September episode of the Domenick Nati Show. During the episode, Dean gave his thoughts on Tim possibly being gay or transgender.
After asked by the host if he believed Tim was gay, Dean mentioned the way in which Tim crosses his legs as if he doesn't have a "pair of balls between them."
"I don't know man cause look, I can't even cross my legs like that," he continued. "Hey man, I'm blessed, ya know what I mean? I can't cross my legs like that man."
Dean was then asked if he believed Tim was transgender.
"Man, me and my brother was just saying that the other day, we was like, 'I think that used to be a female that turned himself into a man.' He tryna grow a peter, ya know? It ain't ready. It ain't fresh out the oven yet, he can't pull his pants down yet, man," Dean said, speaking to Tim's decision this season to abstain from sex.
Dean then elaborated on his theory (in a very non-PC way).
"I think what it is, ya know, is when they get that sex change, they got to give it time for the peter to grow, like a sprout, ya know," he continued.
Dean and his brother have been missing from recent 'Pillow Talk' episodes, spurring rumors that TLC gave them the boot due to what Dean said. In an Instagram Live video posted on Friday, Dean stated that his comments about Tim were not mean to be hurtful.
"People looked at that as bullying…I didn't look at it as bullying," he said on Instagram Live on Friday. "I would have told any of my homeboys that.
Around 10 minutes into the hour-plus Instagram Live video, Dean began talking about 'Pillow Talk.'
"I'm still under NDA [the non-disclosure agreement he signed to be on the show] y'all," he said. "So I can't explain too, too much….everybody's making their own assumptions of what happened, what's going on, you know what I mean, because I really can't talk about it like that.
"But, one thing I can say for sure, one thing for sure and two things for certain, it is NOT the last time y'all are gonna see me in the franchise. Straight up. You know what I'm saying? Wink wink?"
He also cleared up the rumor that TLC didn't want to work with him anymore.
"Ain't NO beef between me and TLC. As a matter of fact, hold up," Dean said as he popped a "TLC" hat on his head. "I'm still reppin' TLC….Ain't nothing between us, ain't nothing between [us and] the other cast members."
When one follower suggested that Dean may be hinting that he's going to appear on "90 Day Fiance: The Other Way," a telling smile came across his face.
"OK, that's the answer to that!" he stated.
He then again clarified that his absence on 'Pillow Talk' is not because of his comments about Tim.
"It ain't got nothing to do with Tim, so get that out of all y'all's blogs and your little fake news and all that stuff," Dean said. "It ain't got anything to do with Brah. I apologized to Brah, Brah turned his nose up at me. Acted like he ain't want to say nothing back. It's done."
"But it's all good. Everything's good with me and TLC," he added later.
Tim's sexuality (and the rumors that he is transgender) have been a topic of discussion for fans since Tim first appeared on the season. In October, Tim addressed the rumors during a red carpet interview.
While he admitted to having "feminine traits," he said the idea that he was born a woman was "laughable." In the same interview, Tim spoke about a specific episode from the show in which fans were looking for physical proof that he had undergone breast removal surgery.
"[They were] looking for scars from where I had my 'breasts removed,'" he said. " … I'm not transgender. I think it's cool for people that want to do that, if that's what you want to do with your life, but that's not me."
Listen to Dean's clip from the 'Domenick Nati Show' below.
RELATED STORY: TLC Explains Why "90 Day Fiancé" Has Yet to Feature a Same-Sex Couple; Reveals If They Plan to Incorporate LGBTQ Couples Into Future Seasons
(Photos: TLC/Instagram, YouTube)