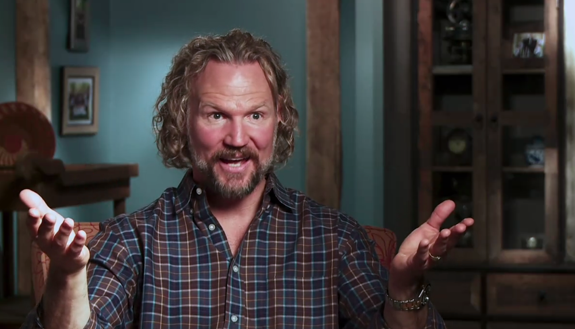 Pack away the positivity and throw on something dark and brooding — it's time for another episode of Sister Wives!
This week's episode kicks off in Las Vegas where Janelle is back in the Cul-de-sac of Broken Dreams, armed with her awful open house signs and a fresh dose of desperation for her bi-monthly attempt to unload the two Brown family homes that are currently on the market.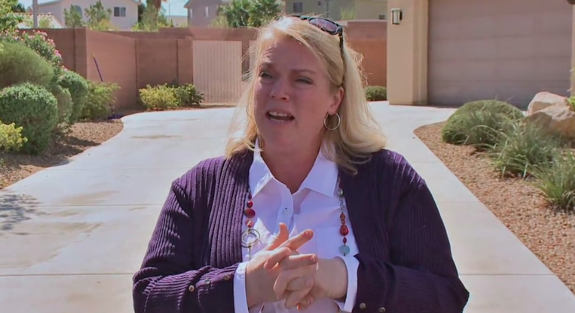 While Kody was initially apprehensive about Janelle taking on the role of listing agent, Janelle guilted him into it and assured the family she could handle it and that it wouldn't be too much for her.
Not to add any pressure to the situation, Kody continues to remind the wives that every month the houses go unsold, they are inching closer to financial ruin.
If only they didn't have to make that very senseless and expensive move to Arizona!
Oh…wait…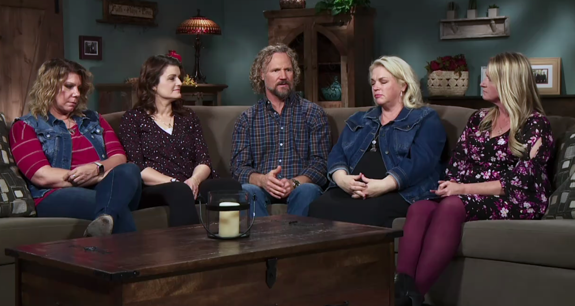 Despite Janelle's best efforts (aka a sad faux floral arrangement placed on the kitchen island) the homes have yet to get any love.
(Janelle really missed the mark on getting people to come to her open houses. She could have done a catfish-frying demo in Meri's kitchen, given people a chance to take photos at the famed wetbar and in the bathtub Maddie gave birth in…the possibilities are limitless!)
Back in Flagstaff, it's the week before Christmas (2018 mind you…this show is literally years behind!) and Christine is getting into the holiday spirit by picking up some pillow cases she had embroidered to say "home is where your wives are." Ordinarily we'd throw some shade at this sort of thing, but honestly, it's nice that the wives will finally have something to put over their heads when they go out in public with Kody.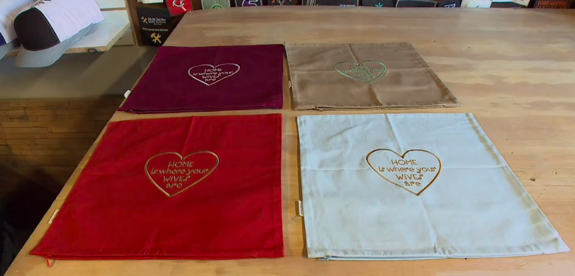 Continuing in her holiday giving, Christine picks up a puppy for Gwendolyn as a way to bribe welcome her into the new Arizona home, which she admits she isn't too fond of. However, the excitement of the puppy quickly wears off when Truly reminds her mom that she's afraid of dogs, wants a cat and is also unhappy in Arizona.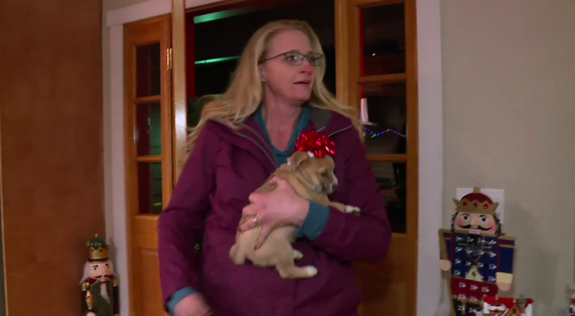 It's the morning of Christmas Eve and the Brown girls are whipping up breakfast while secretly hoping that their wack-a-doo parents will surprise them and give them what they really want this holiday season: a move back to Las Vegas and/or emancipation papers.
Little do they know, their father has a very different surprise in store.
And it involves a slide show presentation. Dear God, haven't these children suffered enough!?
First, he piles a concerning amount of bodies into the living room at Christine's house. (WHY NOT HAVE EVERYONE GO TO MERI'S MANSION INSTEAD?!)
Kody prepares the family for a video presentation and is acting all weird and shifty, so everyone knows he's about to drop a bombshell on them. The older kids all do their best to look interested, but you can tell they're just waiting for Dear Old Dad to come up with yet another self-indulgent, self-serving idea that will wreak havoc on everyone's lives.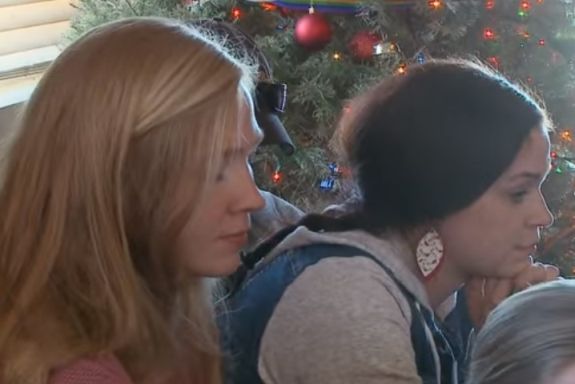 Kody says he's worried his family will have "prejudice" toward his big idea.
Um….maybe that's because ALL OF THEM have told you the one thing they DON'T want is to live in a big house that they can't afford with a bunch of other women they can't stand. Just sayin'.
Kody begins his slideshow, announcing that this is "his house" and everyone is confused.
"You're moving out?!" one person yells hopefully.
Kody tells them that, once again, he's pushing the "one house" idea, but this time he's spent a ton of their rapidly-dwindling cash to have plans and photos drawn up.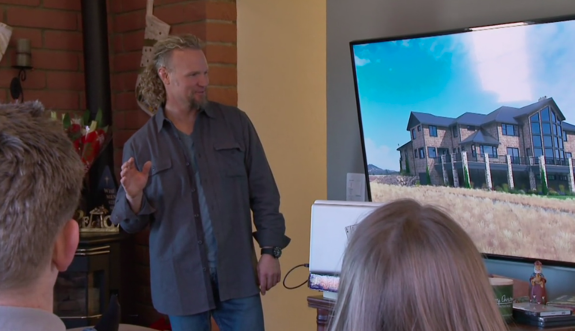 Naturally, his wives are initially confused, as they all think they're going to be getting their own Flagstaff McMansions. It's no surprise that pretty much everyone is upset about Kody's Polygamy-Barbie Dream House vision.
Just when you think Kody's face couldn't get any more punchable, he tells everyone to hush up and he refuses to answer any of their questions until his keynote presentation is complete. Of course, this only gives the Sister Wives more time to become more worked-up by his ludicrous proposal — aside from Janelle, who actually seems pretty into the idea.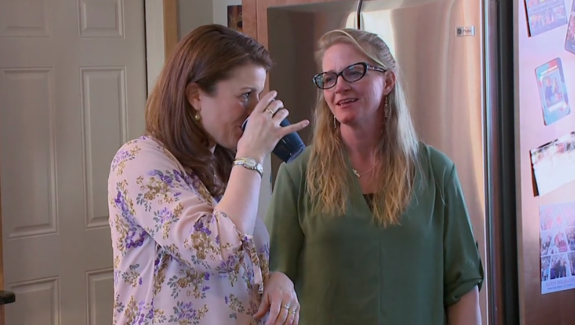 Kody tells us that his "one house" idea is really special to him and that his wives should be willing to make "some sacrifices" to make his dream a reality.
SO.PUNCHABLE.
After Kody wraps up the virtual tour of his dream home, he does nothing to help his argument by announcing to the group that he "needs a break from this sometimes" and that he may also want a cabin where he can get away from the tension of the big family (that he willingly helped create) from time to time.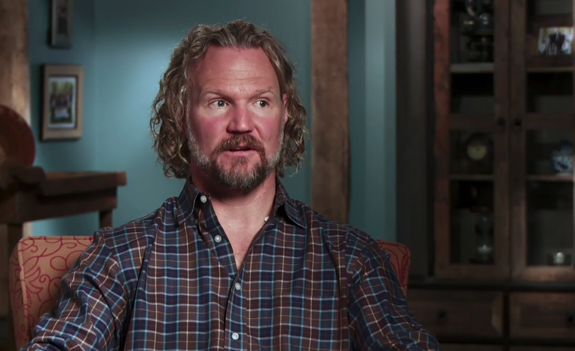 Everyone stares in disbelief. This is the same man who, just days ago, was bitching about being close to financial ruin because they already own so many houses, but now he's saying he wants to buy/build TWO MORE.
Kody then spins this conversation into whether or not he and Robyn should have more kids, whom he can also avoid occasionally… in his cabin.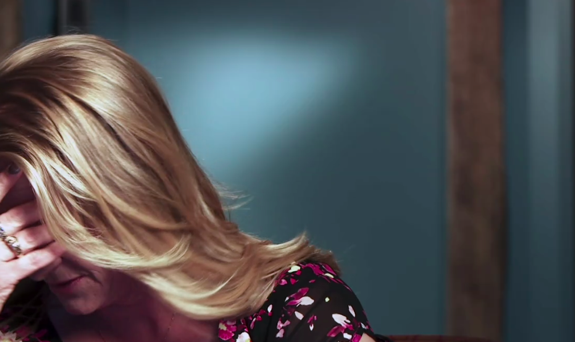 That's all for this week!
On the next episode of 'Sister Wives,' Kody proves that he must have a build-up of hair gel in his ears, making him unable to hear ANYTHING his wives are saying.
To read The Ashley's previous 'Sister Wives' recaps, click here!
RELATED STORY: Baby Brown 19? 'Sister Wives' Stars Kody & Robyn Brown Say They're Considering Having More Kids
(Photos: TLC)