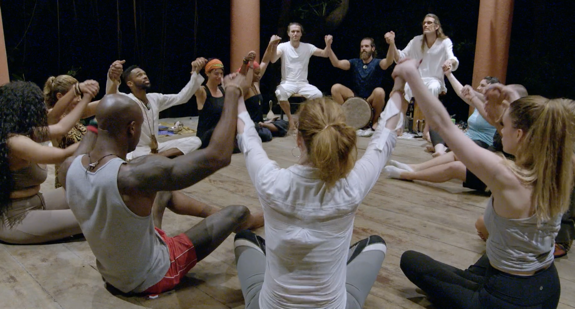 Nine strangers nearing their breaking points will attempt to open up and find happiness with the help of five eclectic alternative healers on the new TBS reality series Lost Resort.
According the TBS, while embarking on this exotic wellness retreat, the group will take part in exercises ranging from rage rituals and vulnerability circles to orgasmic healing and more!
"As the emotional barriers crumble, the upstairs/downstairs drama explodes; the motley crew hooks up, breaks up and opens up in ways they'd never expect," the series synopsis reads.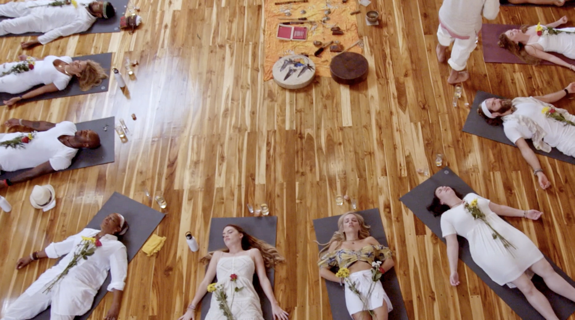 "From a married couple on the brink, to a mother/daughter pair with serious trust issues and a hothead with a painful past, the guests comes from all walks of life hoping to leave better than they arrive."
Meet the cast of 'Lost Resort' below, beginning with the five Healers:
HEALERS: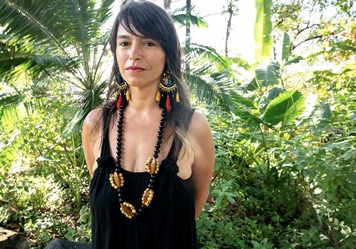 Chrissie Fire Mane, the retreat leader who brings with her collected wisdom from her backgrounds in shamanic psychotherapy, the Andean cosmological tradition, empowered motherhood and raw passion to heal.
As owner of the MANA Movement, Chrissie has been healing and empowering for more than 20 years, leading retreats with fierce love and protection, all while pushing clients to their goals.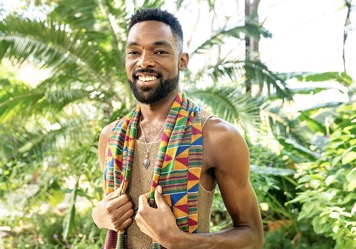 After moving to Los Angeles to pursue a career in dancing and acting, Atasiea quickly found his calling when he was introduced to the world of Ecstatic Dance. Since then, the co-founder of Ecstatic Dance LA's primary soul life purpose has been to heal through sound and movement.
Atasiea has been in the wellness world for 12 years, becoming a reiki master, channel and energy healer. Though naturally charismatic, he uses his dry sense of humor to help get to the heart of his clients' issues.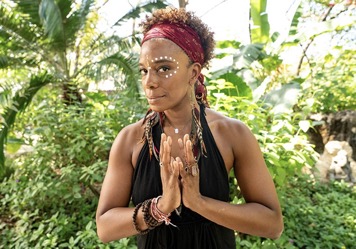 Oneikia works as a Mindfulness Coach at a prison in New York, where she works one-on-one with incarcerated individuals. With more than a decade in the field, she also facilitates workshops around cultivating resilience and compassion through meditation and believes mindfulness practices can forge a path to freedom and build resilience.
Oneika is passionate about helping her clients in maintaining optimal health and creating sustainable social change.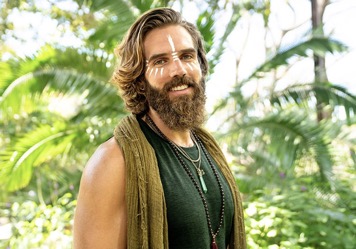 Benjamin is described as a big teddy bear with a sunny disposition who found his calling to alternative healing when he himself struggled with past traumas and obesity. Those struggles led him to become a wellness coach who helps clients reach their fullest potential through breath work, yoga instruction, life coaching and body work.
While Benjamin is new to the retreat world, he has worked in the world of wellness for more than 7 years, helping to heal his clients.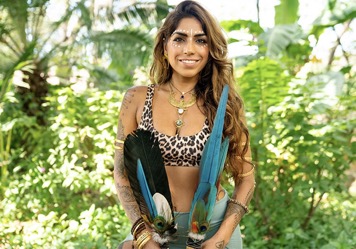 Acqua Cena Heart is a free spirit and founder of Sacred Orgasmic Dance. While she feels she has been doing healing work for multiple lifetimes (not just in this current life), she has 10 years of experience centered around shamanic sexual healing and working with tantric modalities.
Acqua uses her skills to help people heal from their trauma and step up into their empowered selves, with a mission to raise the vibration of this planet.
GUESTS: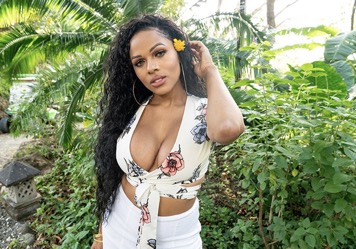 Meco, a 26-year-old nanny/model from Marina, California, recently survived a mass shooting at the Gilroy Garlic Festival. She admits to having major trust and abandonment issues.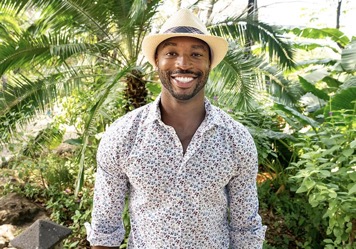 Vairrun has an outgoing personality, but has experienced deep trauma due to his work as Chicago firefighter and EMT. With the goal of someday marrying and having a family, he hopes the retreat can help put him on the right path.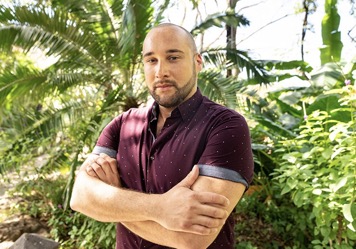 Greg, 32, was born in a small town where being gay wasn't acceptable so after high school, he made the move the New York City, where Greg fell into the party lifestyle. A year ago, he made the lifesaving decision to move back to his hometown and open a restaurant, though it unfortunately failed and is now closing. Work stress has taken a toll on Greg and he's found himself getting angry easily and taking it out on those around him.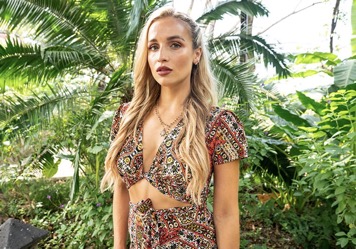 Thea, a 28-year-old professional dancer/dance studio owner, has deep-rooted issues with men, stemming from an abusive father who later committed suicide. Thea met her husband Brandon at the gym; however, they've experienced many breakups along the way, resulting in Thea getting involved with another man at one point and Brandon recently filing for divorce. Still, they've decided to try to make things work.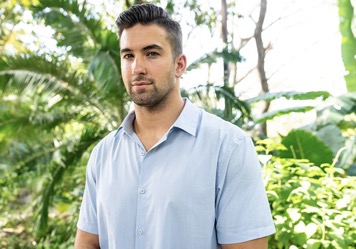 Thea's husband Brandon, a 28-year-old market sales manager, is unable to attend the retreat at the beginning due to work, though Thea is there from the start. As a child of divorce, Brandon is convinced that Thea is the only one for him and despite their issues, he's adamant they not give up on their marriage.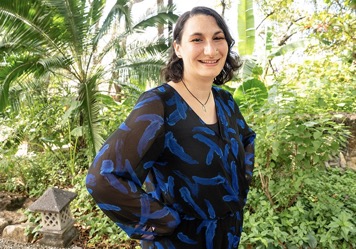 Becca is a 35-year-old Lutheran pastor who has been so busy tending to her parishioners, she hasn't allowed herself to heal from the death of her stillborn son. Now living with a chronic illness that prevents her from having children biologically, Becca is struggling to accept both the illness and the idea of never having a child naturally.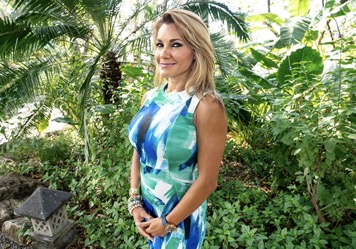 Claudia, 51, is outgoing, quick-witted and bubbly. She's also been proposed to nine times, engaged six times, married four times and now runs away from men before they have a chance to leave her. After years of traditional therapy to deal with her childhood trauma, Claudia needs the retreat so she can learn to only settle for quality men.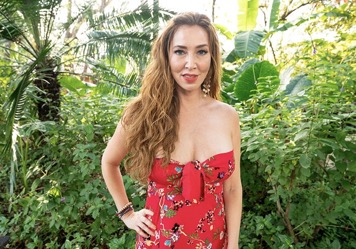 Robin, 48, is a real estate investor and designer who had a very troubled and abusive childhood. Following her traumatic divorce, Robin entered a party phase in an attempt to reclaim her youth, choosing men and fun instead of the responsibilities of motherhood. With her relationship with her daughter on the verge of completely collapsing, Robin wants to save it by working through her past traumas.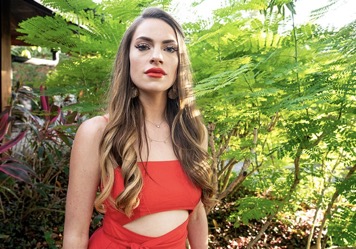 Robin's 26-year-old daughter Christine's life fell apart when her parents divorced. Not only was Christine left without the material things from her previous life, she was also left to care for her siblings and her mother. When Robin started dating again, she chose her boyfriends over her children – causing Christine to cut her mother out of her life. Christine and Robin have just started speaking again, and Christine hopes the retreat will bring them back together.
'Lost Resort' premieres Thursday, July 23 on TBS. Watch the trailer below!
(Photos: TBS; Instagram; YouTube)