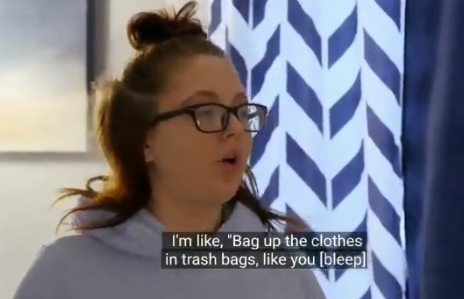 Hey y'all! Gather 'round! It's time for another Teen Mom 2 recap! Things have been getting pretty crazy in 'Teen Mom 2' Land, what with all the assorted baby daddy/assorted trashy family member drama and whatnot, so let's dive righ to into this cesspool of TV show, shall we?
We kick things off in Indiana with Jade, where she tells us that Sean has been coming over more to see Klowye er… Cloowy… Khloie? Jade tells him that she's tired of living with mooching, useless people (aka her parents). She proclaims them to be the "worst roommates ever" because they don't help and they trash the house.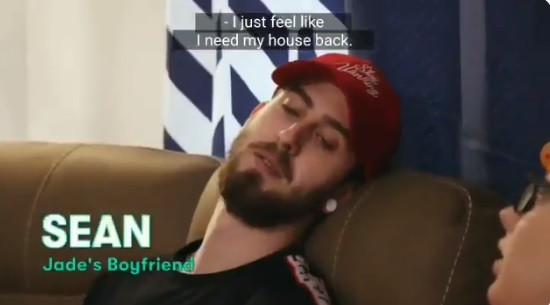 Jade tells her friend and Sean that her parents are up all night, scurrying all over the house (like cockroaches?) She said they try to wake Kloweeee up in the middle of the night and are often up cooking late into the evening. (Jade didn't say what exactly they're cooking but I presume it's either some sort of processed meat product and/or meth.)
Jade says when she asked her parents to take a drug test, they told her no.
"They were like I'm grown, I don't need to do that," Jade said.
Um…you're so grown you are shacking up in your daughter's house against her will? Besides, we all know they're are higher than the level of Ax Body Spray in a room containing Tyler Baltierra and Jeremy Calvert.
Jade vows to tell her parents to move out.
Next we check in with Briana and learn Briana & Co. are finally moving out of their overcrowded, filled-to-the-brim apartment. Hell has frozen over (or, you know, the apartment has fallen over, due to the weight of all the crap the DeJesus coven has thrown in it).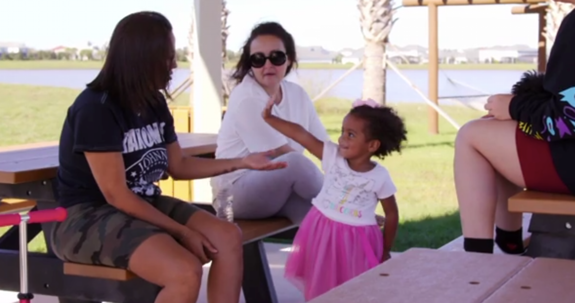 Roxanne praises Briana for securing a home for Stella and Nova… one that she and Brittany fully intend to live in rent-free from now until the end of eternity.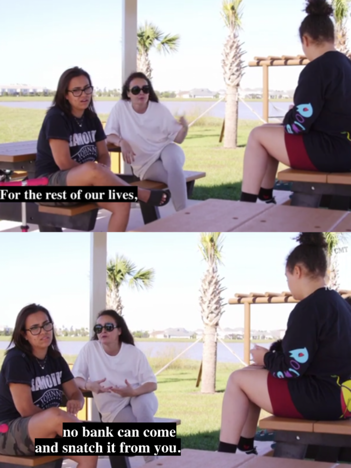 Nova tells Briana she won't miss the fire-hazard apartment they've been piling into all these years, but Stella feels differently. However, once moving day arrives and Stella gets a look at the larger accommodations, she immediately changes her mind.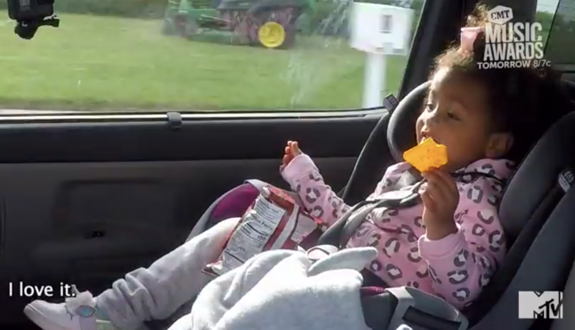 The following day, Roxanne tells Briana and Brittany that she went ahead and invited Devoin and his family to have Thanksgiving dinner at Briana's their new house, despite Briana saying the day before that she just wanted to have a "chill" holiday.
Briana tells Roxanne she doesn't want to feel uncomfortable in her own house and Brittany, fearing her sister may kick both her and her couch-bed to the curb, sides with Briana, telling Roxanne she does "too much" – an accusation made rarely, if ever, on this show.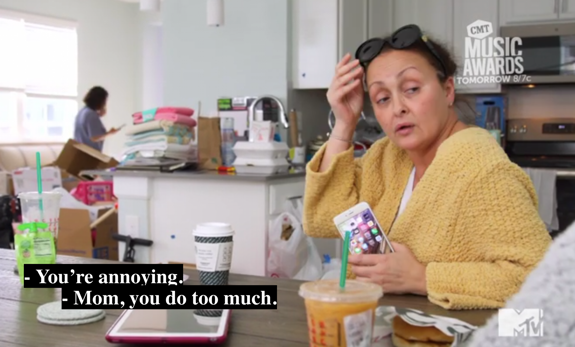 Later on, Roxanne tells Briana that Devoin's family confirmed they will be coming to Thanksgiving dinner. Briana says she isn't down with Roxanne's plans, but because it's too late, she knows she just has to deal with it.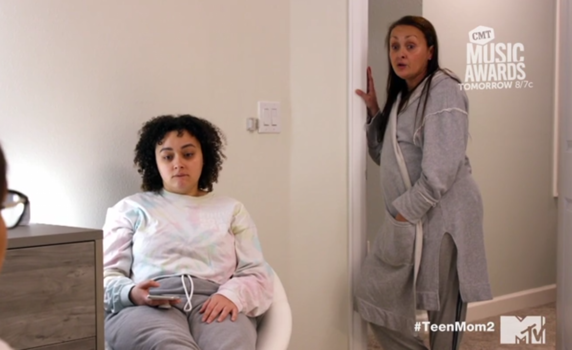 Next, we head to South Dakota to see what's happening with Chelsea.
I'll give you one guess as to what her storyline this episode is…
In what can only be a cruel joke at this point, we are immediately smacked in the face with Week 49 of AUBREE'S CELLPHONE STORYLINE.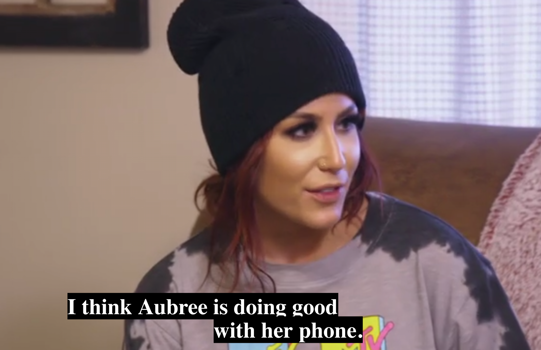 Life in the DeBoring DeBoer cabin can't actually be this uneventful, right?! There has to be something – anything! – else going on in Chelsea's life. What about that leather jacket storyline she was kicking around for a hot second? Can we just go back to that disaster? Or maybe Randy could come in and drop a snarky comment or two about what a trashcan Adam is? Anything but the cell phone.
Anyway, Chelsea tells Cole that Aubree wants to download an app on her phone.
This is what it's come to? Watching an 11-year-old download crap on her phone? Oh, how I miss the days where Chelsea was Top-Ramen-fying her hair and peeing out her IUD.
Later on, Grandma Donna drops Aubree off so the family can celebrate Watson's birthday.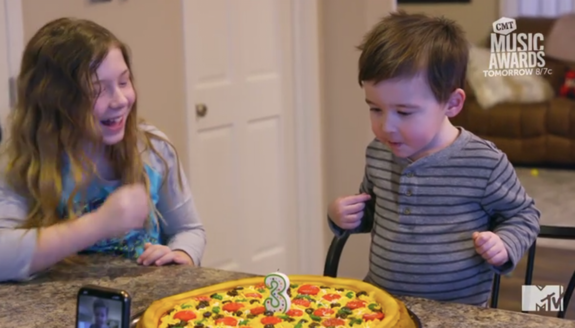 Over in Delaware, Kail is considering a move to Dover. She said that she only moved to her current location to be in the middle of all of her assorted baby daddies, but now she's getting tired of driving her assorted kids around all the time. She then admits that she moved to her current residence because she wanted to be closer to Chris so he could "help with Lux."
Sure, Jan…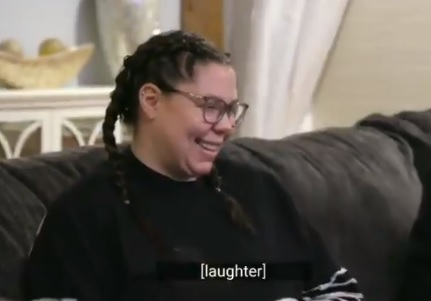 She then tells us that living 35 minutes from Javi and Jo has been hard, and there's no sense in staying out in Chris Land if he isn't going to mumble his way over every once in a while and help with Lux.
"I need to get back to the people who are actively trying," Kail declares.
Meanwhile, in West Virginia, Leah is concerned about Ali's struggle with walking, and suspects it may be caused by her muscular dystrophy. Obviously, that's not funny so let's skip right over to the next Leah scene, which shows her and Addie heading over to see Leah's sister Victoria and her new Baby Green Card Cai.
Addie is holding the baby and has a question for her Aunt Victoria.
"How's it been havin' him outta your crotch?" she asks.
ALEXA. PLAY "HERO" BY MARIAH CAREY!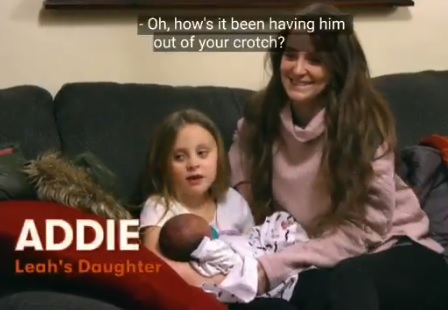 Seriously, Addie is the only good part of this compost heap of a show.
Victoria is taken aback by Addie's question but confirms that it is, indeed, good to have the baby out of her crotch. Then the baby starts crying and Addie freaks out.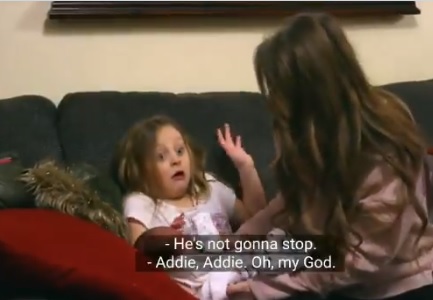 Leah then proceeds to tell Victoria— who just gave birth and is taking care of a newborn baby and two young kids, mind you— how tired she is and how exhausted her body is. Victoria refrains from smacking Leah in the face with a rattle and even bothers to ask, "Why? What's goin' on with you?"
Leah talks about Ali's foot, saying that the X-rays showed no fractures. However, Leah is still worried about Ali's condition going forward. Victoria reminds Leah that Ali is handling things well and that they can see "how successful she has became."
Later, Leah sits down with Ali to discuss her using her wheelchair full-time.
Back in Florida, Thanksgiving arrives, so Briana puts on a resting b*tch brave face and welcomes Devoin and his sister. An hour later, Briana explains via voiceover that Devoin's parents and other family members have arrived as well, but Devoin's mom Charita has for some reason decided to stay in the car.
Briana tells "Shirley" that Charita is refusing to come inside with the rest of the family and like Briana, "Shirley" is extremely confused.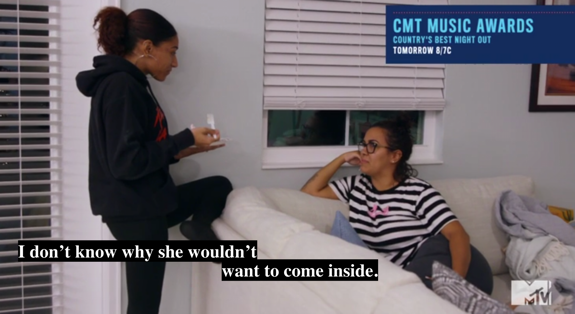 After Devoin and his family leave, Briana and her family talk about how strange Charita's behavior was. Roxanne, who was outside puffing a cigarette when Charita "rolled up," says Charita was evidently not feeling well and her feet were hurting. (Apparently she thought the DeJesus gals would make her do laps around the house before they'd give her piece of turkey and a scoop of yams?)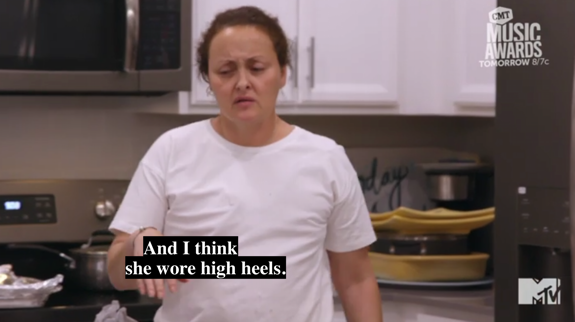 Despite the alleged ailments, Roxanne says Charita's actions prove that Nova isn't a priority. Briana says her plan is to go back to treating Charita like she doesn't exist.
I think that's nice…
Meanwhile, in South Dakota, we launch into another discussion about— wait for it— AUBREE'S CELL PHONE.
Jesus God Leah. Are the producers getting a kickback from T-Mobile or something for every time they mention the cell phone on the show?!
Chelsea tells Cole that while Aubree was with Grandma Donna, the Linds added Adam's number to Aubree's phone contacts. Chelsea says Aubree didn't want Adam's number in her phone and backs this theory by pointing out that every other person in Aubree's phone has emojis next to their name, while Adam's entry only says "dad."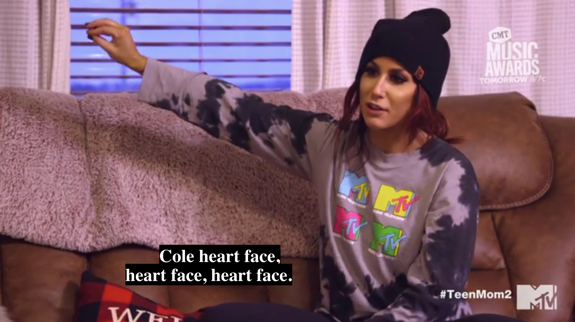 Cole says he was hoping to be in Aubree's phone under "dad," but vows to "get there one day." Chelsea tells Cole he's being sensitive and proceeds to dissect a text Aubree received from Adam… and then slam Adam for not texting Aubree more.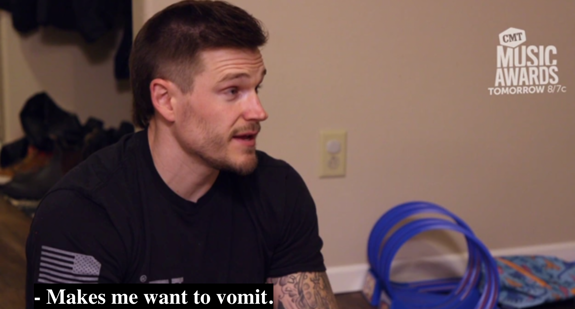 Later on, Chelsea swears on her favorite beanie that she doesn't mind Adam contacting Aubree, she would just prefer that he do it on her Aubree's terms, so that Aubree does not feel uncomfortable.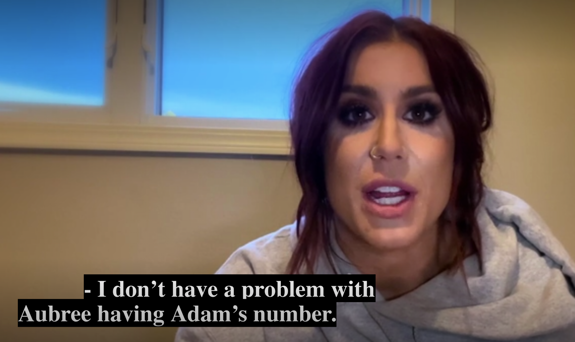 Chelsea also wants Grandma Donna to stay in her lane and stop trying so hard to force a relationship with Aubree. Chelsea ultimately decides the best thing to do is contact her lawyer to "see what the options are regarding the custody agreement."
Over in Delaware, Kail finds a house in Dover she likes so she makes an offer on it. She sits her litter down to explain that they may be moving yet again.
Later, Kail says that she didn't get the house because they accepted another offer. She tells Producer Patrick that she's tired of driving all around town toting her assorted litter of kids.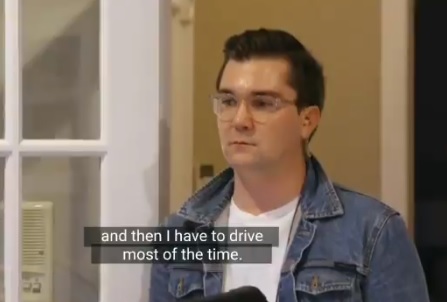 Producer Patrick then casually asks about the status of Javi's attempts to bang Kail in the gas station parking lot. Kail just says that they only talk about Lincoln now. She then goes back to blabbing about driving and Producer Patrick looks crestfallen.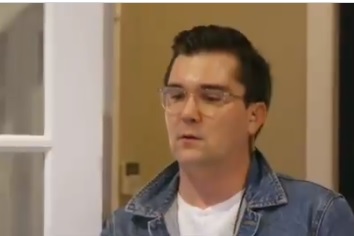 Meanwhile in Indiana, Jade has had it up to her overdrawn eyebrows with her parents. We are treated to some shots of the disgusting mess Jade's parents have made in "their" room, leaving old food plates everywhere, not to mention trash and crap. (That room probably smells like a rest stop bathroom in the middle of an Arizona summer.)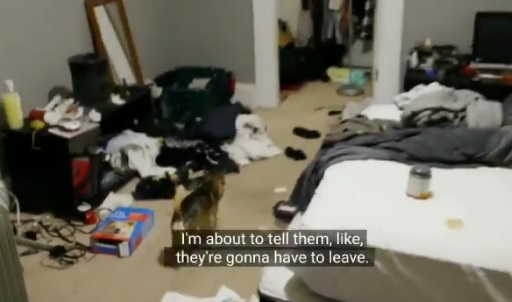 Jade tells her parents that they need to move out…by tomorrow.
As you can imagine, that did not go over well with Christy and Corey, who are fightin' mad that they will no longer be able to trash (and live in) their daughter's home for free. They meet up with Jade's sister Jessica to bitch about the situation.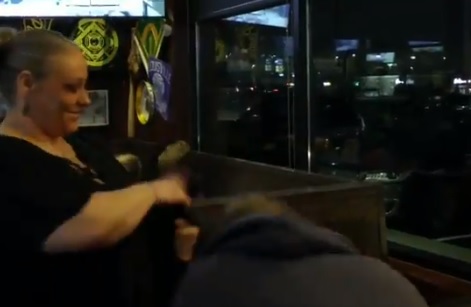 Christy tells Jessica that "Jade texteseses us and told them to get the hell out." Jessica then gets a look of horror on her face, and grimly asks Christy and Corey where they plan to go next. You can almost see it on her face that she's silently saying, "Please not my house, please not my house…"
Christy blames Sean for getting them kicked out of their mooch-pad, stating that Sean did it so he could move back in and mooch for a while.
"He don't want Jade close to us!" she declares.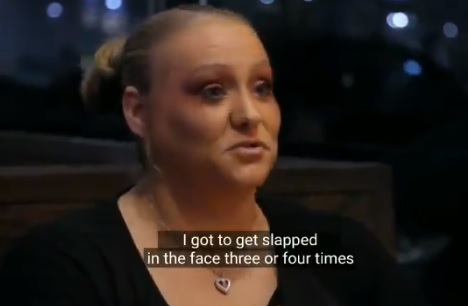 Christy and Corey sadly say that they have no where to go the next day when Jade throws them out in the street. Corey says that Jade "don't care" that they have no where to live, but Jessica stays quiet, being careful not to somehow volunteer her home for her parents to trash next.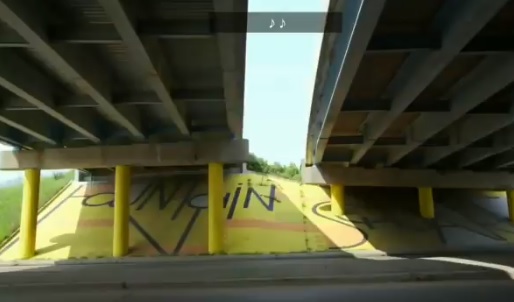 The next day, Jade is waiting to see when her parents are planning to collect their fermenting gas station hot dogs and the other crap they left in her house. She gets a text from Christy, who tells Jade that's it's simply too late in the day for them to leave the house tonight.
Jade insists that her mom "bag up her clothes in trashbags" like she did when she moved in, and get the hell out so she can torch the place. (Let's face it…all the Lysol and Febreeze in the world isn't going to clean whatever rotting corpse smell is lingering in that room.)
Christy again blames Sean for "convincing" Jade to throw them out on the streets. Jade says she wants to leave and get a hotel room, because she's tired of paying for a place that's overrun by human cockroaches that she's paying all the bills for.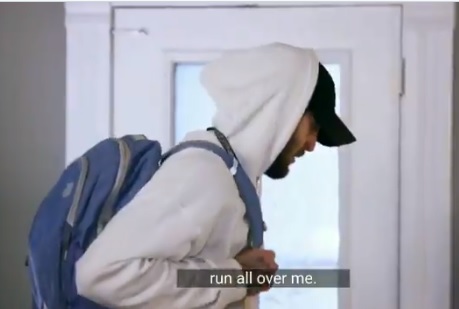 Jade starts running around the room, yelling that she's about to lose her mind.
"I'm about to go to jail because I'm about to f**king murder her!" Jade yells.
It's nice to see some maternal murder threats up in here again! Jade is here to save us all from dying from cell-phone-storyline boredom!
We'll have to wait until the next episode to see if Jade carries out her threat to bludgeon Mommy Dearest to death, because that's all for this episode!
To read The Ashley's recap of the previous episode of 'Teen Mom 2,' click here!
(Photos: MTV)