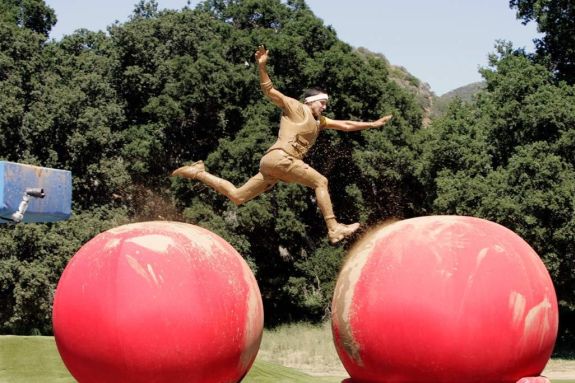 A contestant on the 'Wipeout' reboot died earlier this week after completing the show's obstacle course.
CBS News spoke with sources close to the production and the L.A. County Coroner's Office, and reports that the contestant, a man in his 30s, needed medical attention shortly after completing the course Wednesday. The contestant was assisted by on-set medical staff before paramedics arrived and transported him to the hospital, where he was later declared dead.
The cause of death has not been released and the contestant's name was being withheld, pending notification of his relatives, CBS News reports.
All 'Wipeout' contestants undergo a medical examination before competing on the show, which features teams of two running through a multi-stage obstacle course for a chance to win a $25,000 cash prize.
'Wipeout' ran on ABC from 2008–14 and is being rebooted by TBS and production company Endemol Shine North America. Both companies behind the reboot released statements following the contestant's death.
"We are devastated to have learned of his passing and our deepest sympathy goes out to the family," the TBS statement reads.
"We offer our heartfelt condolences to the family and our thoughts are with them at this time," Endemol Shine released.
Production was halted on the Santa Clarita, California, set Thursday and Friday following the death. A break had already been planned for next week.
TBS announced production of the reboot back in April but no release date has been announced for the show, which will be hosted by John Cena and Nicole Byer.
TMZ first reported news of the contestant's death on Friday, citing unnamed law enforcement and production sources.
(Photo: ABC)