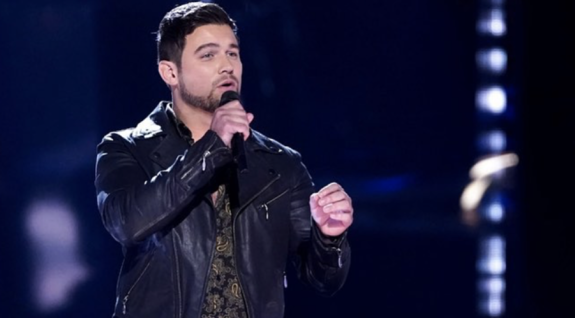 Ryan Gallagher's journey on The Voice ended abruptly this week, but the singer wasn't eliminated from the show, nor did he choose to walk away. His exit left the show's fans confused as to what happened behind the scenes to cause him to be booted from the show.
According to MLive.com, the 32 year-old was forced to leave the NBC competition series because he violated the show's COVID-19 rules. Show host Carson Daly did not disclose this information during the episode; however, he did inform viewers that "Gallagher had to exit the competition."
Ryan, who just days before his forced exit had asked fans on social media to help him select a suit to wear on the show, reportedly broke the strict COVID-19 protocols that NBC/Universal has in place to ensure a safe filming environment. To avoid potentially putting others at risk, the show claimed it could not allow Ryan to continue in the competition.
A statement from NBC/Universal, posted by Parade.com states "Ryan broke those protocols and out of an abundance of caution, we cannot have him continue in the competition and potentially put others at risk."
The opera singer later took to Instagram to tell his followers he hadn't dropped out of the competition and to assure them that his family was fine, as he had revealed prior to his Battle Round performance that his mother was battling COVID and had recently been released from the ICU. (Some fans speculated that Ryan may have visited with his mom, which would have likely been a violation of the COVID-19 rules. However, this has not been confirmed by NBC or Ryan.)
"Thank you for your concern for my family, however, everybody is fine," he said. "That's not the cause of what happened tonight on 'The Voice.' I didn't drop out of the show. Details are still to come."
Before his exit, Ryan had been a member of Team Kelly, headed by coach Kelly Clarkson. After Ryan's Blind Audition, Kelly told the singer that "no one in this competition" could touch him, calling him "totally unique."
"I'm so excited," Kelly said after Ryan chose to be on her team over Blake Shelton's team. "He sounds so effortless and it sounds like a conversation from the gods."
Ryan has stated on his Instagram that he would provide more info on his exit "soon."
RELATED STORY: 'The Voice' Coaches Gwen Stefani & Blake Shelton Are Engaged After 5 Years Together
(Photos: NBC/Instagram)