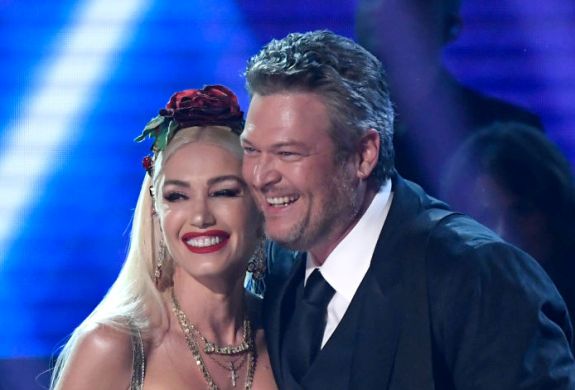 The tabloids have been falsely reporting it for years, but now it's officially official: Gwen Stefani and Blake Shelton are engaged.
The stars of The Voice announced their engagement on Tuesday by posting a photo of themselves kissing as Gwen flashes her left hand, which now has a ring on it.
"Hey @gwenstefani thanks for saving my 2020… And the rest of my life.. I love you. I heard a YES!" Blake captioned the photo.
"Yes please!" Gwen wrote in the caption of the same pic, which she also posted to Instagram.
Gwen and Blake— who got together five years ago after meeting on the set of 'The Voice'—have stated many times that they are committed to each other but in no rush to get married. Both have been married and divorced before— she to singer Gavin Rossdale and he to singer Miranda Lambert and, before that, his high school sweetheart Kaynette.
"Two divorced people at the same time…But to be super honest, it is kind of crazy we both went through the same thing at the same time," Gwen said in 2015 when she and Blake confirmed their relationship. "There's been so many people that I've gotten comfort from."
"When you're where she and I were, and you just feel so betrayed and on bottom, this bond that we formed when we found out what each other were going through, it's still there," Blake told People at the time.
Gwen and Blake recently bought a home in Los Angeles together, and last week, Gwen talked to Extra about their relationship.
"Do you know how many people say my 'husband' about him?" she said. "I guess we're just together. People got used to [calling Blake my husband] or something like that. But it's pretty cute."
During an appearance on Jimmy Kimmel Live in August, Gwen had to correct singer Dua Lipa when Dua referred to Blake as Gwen's husband.
"Um, well … he's not my husband, but that sounded cool when you said it," Gwen said at the time.
Dua was one of the many celebrities that congratulated the couple on Tuesday on their engagement.
"I guess our little interview aged well!" Dua wrote. "Congratulations!!! Best news."
"I couldn't be happier for two more deserving people!" Gwen's makeup artist and friend Gregory Alt commented.
"AMAZING! Congratulations to you both!!" John Legend, Gwen and Blake's co-star on 'The Voice,' wrote.
Gwen and Blake have yet to announce when they plan to tie the knot.
(Photos: Kevork Djansezian/Getty Images; Instagram)