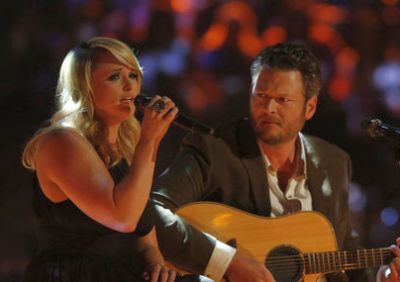 Country music fans woke up to quite a shock this morning. Superstar singer (and coach of The Voice) Blake Shelton and his wife, singer Miranda Lambert, have announced that they are divorcing after four years of marriage. The split comes as quite a surprise to fans, who seemed to be under the impression that the couple was happily married.

Blake, who is currently filming the Blind Auditions for 'The Voice' Season 9, released a joint statement with Miranda this morning via their representatives.
"This is not the future we envisioned," their representatives told Us Weekly in a statement. "And it is with heavy hearts that we move forward separately. We are real people, with real lives, with real families, friends and colleagues. Therefore, we kindly ask for privacy and compassion concerning this very personal matter."
Unlike most celebrity couples who announce that they are divorcing, Blake and Miranda's statement didn't say anything about remaining, "forever friends who will always support each other" (or some generic variation of that). However, it looks like the couple is still on friendly terms, at least for the time being. They both still follow the other on Twitter, and Blake currently has a photo of Miranda as his Twitter cover photo. Miranda's Twitter profile photo is of her with Blake.
Outside of the statement, neither Blake nor Miranda has mentioned the split on their social media accounts. In between filming the Blinds for 'The Voice,' Blake has been on the road this month touring.
Miranda is also out touring right now. It's been a rough month for her. In addition to having the breakup of her marriage go public, Miranda has also been suffering from vocal chord issues. Earlier this month she had to cancel her show in Calgary due to vocal chord inflammation.
During past seasons of 'The Voice,' Miranda has appeared as a guest mentor who helps the coaches with their contestants. There's no word whether or not she will appear on Season 9, now that she and Blake have split.
This marks the first divorce for Miranda and the second for Blake. He was previously married to his high school sweetheart, Kaynette. It is rumored that Blake and Miranda began seeing each other while Blake and Kaynette were still married and that led to Blake's first divorce.
Wanna see Kaynette's attempt to hawk her wedding dress on eBay? Of course you do! 
According to TMZ, it was Blake who filed for divorce from Miranda, and it was done a while back.
"A judge is expected to officially end their four-year marriage today," the site reported, adding that all of the financial stuff has already been worked out, given that the couple had a prenup. Blake is expected to get the couple's Oklahoma home, while Miranda will get their house in Nashville.
(Photo: NBC)