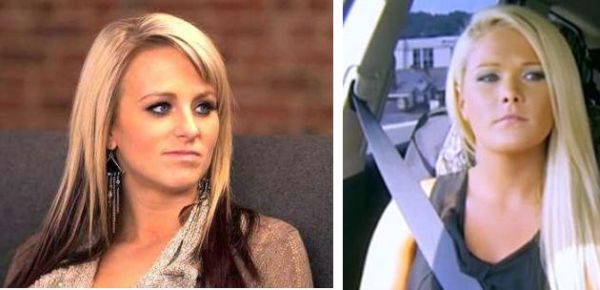 The Teen Mom 2 crew was in Los Angeles this weekend filming the Season 6 reunion show, as well as the Unseen Moments show. With the four girls, their new boyfriends/husbands, their ex-boyfriends/husbands and kids all in town for the taping, things were bound to get tense, and The Ashley can confirm that things got downright heated during portions of the Season 6 reunion taping between Leah Calvert and Miranda Simms.
Miranda, who married Leah's ex-husband Corey Simms two years ago, frequently appears on 'Teen Mom 2' but rarely says anything in regard to Leah and the custody battle going on for Leah and Corey's twins. However, The Ashley can confirm that Miranda finally spoke up (publicly) during Saturday's taping, and came out swinging!
According to an on-set source, Leah had been speaking to Dr. Drew Pinsky about her battle with Corey Simms for their five-year-old twins, Ali and Aleeah. Miranda had been standing to the side seething while Leah talked, and when she finally had the chance to say something, she went off on Leah.
"She is fed up with Leah's lies and inability to take responsibility for her poor parenting choices," a person close to the families told The Ashley. "Despite what you see on TV, Leah and Miranda have not gotten along for years.
"Leah's entire family hates Miranda," the family source continued. "They blame her for severing the decent coparenting relationship that Corey and Leah had, but really there were many reasons that they stopped getting along, not just because of Miranda."
The on-set source told The Ashley that during the reunion taping, Miranda accused Leah of talking bad about Corey to the twins, and stated that the girls have confirmed to her that Leah is lax in her parenting duties.
"Miranda called Leah out for putting the twins in potential danger," the set source stated. "Everyone on set was stunned. No one expected Miranda to go off like that because she's usually quiet. Leah couldn't really even deny that she bashes Corey in front of the kids, because it's true. Leah couldn't really deny anything Miranda was saying."
The source also confirms that Leah's mother, Dawn Spears, was furious that Leah was attacked on stage, and was screaming from the audience!
"She's concerned that Leah could snap at any minute," the family source tells The Ashley. "She knows how fragile Leah is right now and didn't even want her to go to LA for the reunion, but she had to because of her MTV contract. They have to attend the reunions."
Miranda has no use for Leah's family either and basically refuses to speak to any of them. The tension has gotten even worse since Miranda and Corey announced that they are expecting their first child.
It seems that Corey is tired of staying quiet about his ex-wife as well.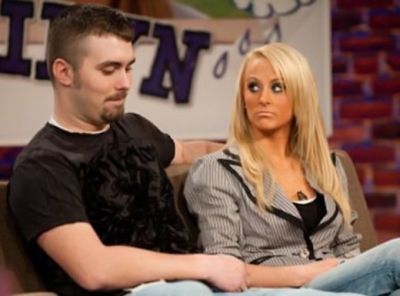 "Honestly, I've had enough," Corey tweeted on Friday night. "I usually keep my mouth shut and don't say much but, yeah, you'll see…If you only knew."
As The Ashley told you, Leah's divorce from her second husband, Jeremy Calvert, was recently made official. While Jeremy was in LA and did film a segment for the reunion on stage with Leah, the set source tells The Ashley that things went smoothly.
"They didn't really fight or anything," the source tells The Ashley. "Everyone was expecting this big showdown but Jeremy decided not to nail Leah like he had planned to do."
Jeremy did bring his new girlfriend, Brooke Wehr, with him to LA, and, as The Ashley told you, Jeremy, Brooke, Corey and Miranda all went out on Friday night before the reunion taping. They even captured the Kodak moment with a photo, which Corey tweeted (and soon deleted), along with the hashtag, "#LifeAfterLeah."
Seeing her two ex-husbands happy with their new significant others no doubt upset Leah. (She did, however, have her new boyfriend, TR Dues, with her in LA, so that may have helped buffer things a bit.) However, her battles with Corey aren't over yet.
The Ashley can exclusively reveal that, while Leah and Corey were seen going to court for custody of the twins during a recent episode of 'Teen Mom 2,' the court battle wages on. Corey is not stopping his battle for custody of the twins, and the exes are scheduled to meet up again in court early next month. Corey is still trying to get full custody of Ali and Aleeah.
The Ashley can't confirm how much of the Leah/Miranda spat will be shown during the reunion taping (if any), but you can be sure that it did, indeed, happen, and was pretty brutal. It's likely what caused Corey's father, Jeff Simms, to tweet out this very telling tweet on Sunday.
"How did a show that was pitched to us as being about young mothers coping with having a baby evolve into a soap opera? Ratings perhaps? #TM2"
Stay tuned– The Ashley has more reunion tea to spill!
(Photos: MTV)