JJ Lane didn't get "forever" with Kaitlyn Bristowe from his time on The Bachelorette— but he did get a swollen face and black eye!
TMZ broke the news that JJ (who is probably best remembered for his odd "bromance" with fellow contestant Clint Arliss) was beat up by a group of thugs last Saturday after the taping of the "Men Tell All" episode of 'The Bachelorette,' which airs tonight. JJ confirmed the report on his Twitter as well.
According to TMZ, JJ was leaving the post- "Men Tell All" taping party when a group of at least five guys jumped him and a crew member from the show.
"It got ugly, real quick — we're told JJ took a few shots to his face, and the brawl continued until someone ran into the club to grab fellow contestant Ben Zorn," TMZ reported. "The hard-bodied, badass jumped in and broke up the fight."
On his Twitter account, JJ cleared up a few details that he says TMZ got wrong. He stated that it was actually he and fellow contestant Joe Bailey who tried to fend off the thugs.
"Joe was my boy and had my back!" JJ tweeted. "Joe landed a few good punches. We were the only two actually involved."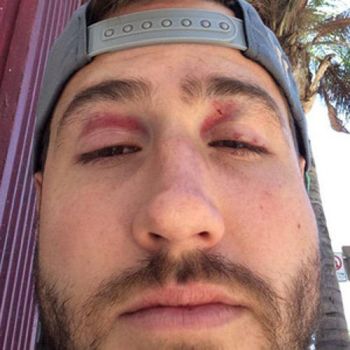 He added that while TMZ made big Thor-like Ben Z. sound like the hero, that wasn't actually the case.
"[Ben Z.] wasn't outside during [the fight]," JJ tweeted. "He only came out at the very end."
JJ ended up going to the emergency room after the fight, but seems to be doing fine. In deleted tweets, JJ explained that the fight started due to him standing up for a friend. (Perhaps Clint?!)
'Wrong place and wrong time……It was an unfortunate situation and I'm thankful it wasn't worse for myself or my friends," JJ wrote.
The "Men Tell All" special airs tonight on ABC. We'll be seeing more of Joe and JJ, as the guys are both starring on the upcoming season of Bachelor in Paradise, which premieres on August 2!
(Photos: ABC, Twitter)