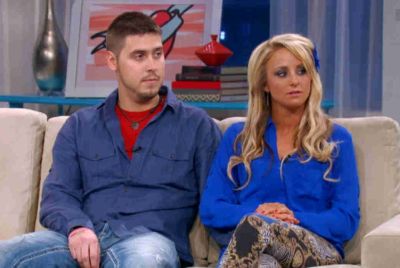 Teen Mom 2 star Leah Messer is moving on after her second divorce; She's once again using her maiden name, Messer, on all of her social media accounts. Late last week, Leah finally removed her (now ex) husband, Jeremy Calvert's last name from her Twitter and Facebook accounts.
Leah, who just saw Jeremy and her other ex-husband, Corey Simms, at the 'Teen Mom 2' Season 6 reunion in Los Angeles last weekend, seems to be getting along well with Jeremy, despite their divorce being finalized last month.
Leah has moved on from Jeremy and is currently dating much-older father of two TR Dues, who was/is her personal trainer. Still, she took to Twitter today to praise Jeremy for being a great dad to their two-year-old daughter Addie.
"[Jeremy] is hands down one of the best dads I know," she tweeted. "Couldn't imagine co-parenting with anyone else. Addie ALWAYS comes FIRST!"
As The Ashley told you yesterday, Leah and Jeremy filmed a segment together on stage at the reunion show on Saturday, but managed to keep things civil. (Of course, the same couldn't be said about Leah and Corey's current wife, Miranda Simms. As The Ashley told you, Leah and Miranda got into a nasty spat during the reunion taping!)
Several fans saw Leah's praise of Jeremy as a jab at the other man that Leah co-parents with, Corey.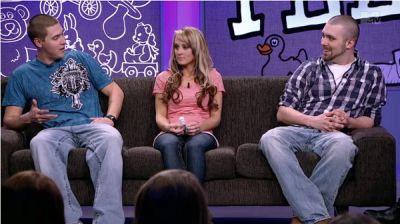 "This isn't anything about Jeremy. It's only to dig at Corey," one fan wrote. "And Corey is an amazing father who loves his kids."
Leah denied that she was trying to make Corey angry.
"This has NOTHING to do with Corey. Thank you," she responded.
Corey is certainly not on Leah's list of favorite people these days. The Ashley told you yesterday that Corey is continuing his battle for full custody of the twins. Leah and Corey have another court date in August.
Corey and Jeremy have become quite friendly lately. Not only do they share the same divorce/custody lawyer, but they spent some quality time hanging out in Los Angeles on Friday night with their ladies. (Corey's wife Miranda joined them, as did Jeremy's new girlfriend Brooke Wehr.)
Before coming to LA, Leah had yet to meet Brooke. It's not known whether or not they crossed paths while the reunion was taping, but it's unlikely. The 'Teen Mom 2' girls stay at a different hotel than their exes (no lobby run-ins!) and The Ashley's reunion set source reports that Brooke was not at the studio during the taping.
That was likely a huge relief to Leah Messer Simms Calvert Messer!
(Photos: MTV)