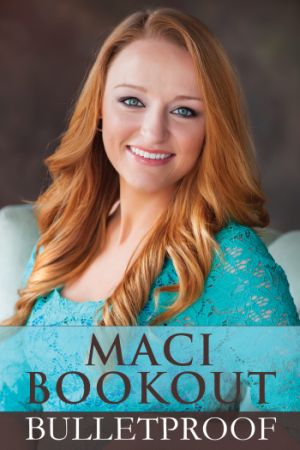 Teen Mom OG star Maci Bookout is celebrating the release of her new book, Bulletproof, which officially hit store shelves today! The book release day has been a long time coming for Maci (and for her fans who are eager to read her book!)
In an exclusive interview with The Ashley, Maci explained why she thinks Bulletproof will change the way 'Teen Mom' fans view her, and what it was like reliving the major events of her life and putting them into words.
"Fans will get a different picture of me," Maci told The Ashley. "It may change their mind of how they think of me. My goal is to just tell them my story from my point of view, rather than what they took away from the show."
According to Maci, Bulletproof gives readers a lot of background on her childhood and then jumps to Maci's life at the age of 15, when she met her son Bentley's father, Ryan Edwards.
"It goes over our relationship and goes basically through the last six years and everything that went on," Maci said. "In the end, it talks a little bit of what's going on in my life now. It talks about how I met [my boyfriend] Taylor [McKinney], how he moved out here and then the pregnancy with Jayde, but the book was finished before I gave birth to her."
Maci said that fans often tell her that she's their "favorite 'Teen Mom'" but she feels that they may think this because they didn't get the full picture of her life from the show.
"I felt like I was constantly hearing people say, 'You make it look so easy' and 'You are always so put together' but I always keep my emotions very internal and I think that came across as me making it look easy," Maci said. "I want people to know that I was struggling and there were times where I had breakdowns and things were really difficult for me. People can really understand what I was going through, even though I may not have said it or put it out there on the show."
She added that Bulletproof will give readers a good idea of how much help she has had raising Bentley.
'When people say I'm a favorite 'Teen Mom,' sometimes people don't put into perspective that I'm one of few girls, if not the only girl, who grew up in a very stable household," she said. "When I had Bentley I had my parents' full support and Ryan's parents' full support and all of my friends. That made it much easier for me to have that behind me. I don't know if any of the girls, except for maybe a couple, had an army behind them like I did. I don't know where I would be or how I would be if I didn't have the support that I did. It's pretty rare to have the support that I had and still have today."
Writing the book was fun, yet painful at some points, Maci said.
"There were things that I had to write about that I didn't want to relive or think about because of how I felt while it was going on," she said. "So a lot of the book was really kind of sad, having to go back and relive those times was difficult. It was all enjoyable though to get it out, and look back and realize things from myself."
Reliving those moments made Maci realize that she sometimes didn't make the best decisions as a young mom.
"It was funny to write about things that I did, or decisions that I made back then," she said. "Now I think, 'Oh my God, you were such an idiot! Why did you ever think that was a good idea?!' But I was a teenager trying to do the best I could. "
Stay tuned for Part 3 of The Ashley's exclusive interview with Maci!
To read Part 1 (and learn why Maci is nervous for Ryan and Taylor to read her book), click here!
To order Maci's book, click the link below: