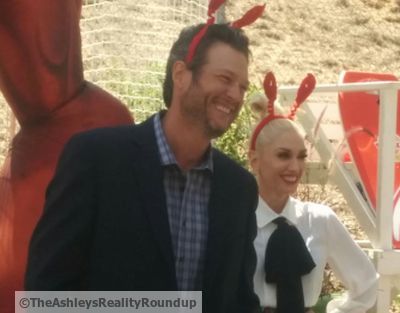 The rumor mill was right! Gwen Stefani and Blake Shelton are officially dating, her rep just confirmed!
Gwen and Blake are both very recently divorced, and have been at the center of a tabloid frenzy for months over the possibility that they may be dating. The Ashley had previously avoided posting anything about the possible Gwen/Blake romance, but now the rumor has been confirmed to be true!
In an exclusive statement to Us Weekly, Gwen's rep finally announced the big news.
"Gwen and Blake are longtime friends who have very recently started dating," Gwen's rep told the magazine this afternoon.
Speculation about the singers' possible romance heated up after they sang a duet together on a recent episode of The Tonight Show. They have also been spotted attending events together in recent weeks, which added more fuel to the rumor fire.
Just yesterday, Gwen appeared on Ryan Seacrest's morning radio show and played coy when she was asked if she was dating Blake.
"Blake? Who's Blake?" she joked, adding, "I think he's hot, don't you?"
She hinted that the fact that she had recently divorced her husband of 13 years, Gavin Rossdale, and Blake is now divorced from Miranda Lambert, has made them find comfort in each other.
"Two divorced people at the same time…But to be super honest, it is kind of crazy we both went through the same thing at the same time," Gwen said. "There's been so many people that I've gotten comfort from."
Gwen reportedly flew to Nashville today with Blake to attend the Country Music Awards and after-parties tonight.
By all accounts, Gwen and Blake did not divorce their spouses in order to date each other.