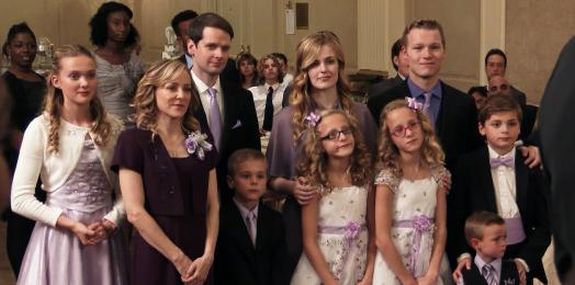 The Duggar family has famously claimed that they rarely, if ever, watch television. (Even 'The Andy Griffith Show' can prove to be too risqué for them, they have said in the past!) Their lack of TV-viewing may be a "blessing" to the former 19 Kids and Counting stars, as their recent sex abuse scandal will serve as an inspiration for tonight's episode of Law & Order SUV.
Anyone else think that ol' Jim Bob will be secretly wheeling out the black and white boob tube tonight to watch the episode?
Anyway, NBC has released a promo ad for the episode, which centers on a supersized, squeaky clean religious family with their own reality TV show. (Sound familiar?) The family stars on a show called "Baker's Dozen," which is an obvious nod to their large bounty of children.
The official description for the episode, entitled "Patrimonial Burden," explains that a sex abuse scandal will rock the 'Baker's Dozen' clan, just as it did the real Duggar family.
"The SVU investigates an unraveling web of secrets when the virtuous 13-year-old daughter of a famous reality TV family discovers she's pregnant," the episode description reads.
"One of the virgin daughters is knocked up," says Kelli Giddish's character Amanda Rollins says in the clip. "There goes the TV show."
The scandal on the show is obviously different from the Josh Duggar sex abuse scandal, in which eldest Duggar son Josh admitted to molesting four of his sisters and another young girl while he was in his teen years. In this scenario, one of the fictional family's virginal daughters turns up pregnant. It's insinuated that the baby's father is someone in the family (possibly a brother or the father?) In real life, Josh never had actual intercourse with any of his sisters, according to all accounts from the family.
The fictional family's mother, played by actress Geneva Carr, is obviously inspired by Michelle Duggar. In the promo, the mother is confused as to why the police are investigating her daughter's incestual pregnancy.
"You see a crime, we see it as a blessing," the mother tells the cops.
In another clip posted by Entertainment Weekly, the 13-year-old pregnant daughter tells character Olivia Benson that she's confused as to how something like this could happen.
"My being pregnant is God's will," she says. "I just didn't think that God would let it happen before I was married."
'Law & Order: SVU' star Ice T insisted that the episode is only loosely based on the Duggar scandal.
"They just used it as a starting point for the story," he told Entertainment Tonight. "They can't go directly by the story or you guys would know how it's going to end. So we've got to twist it."
The Duggar-inspired episode of 'Law & Order: SUV' airs tonight on NBC. Watch the sneak peek clip below:
(Photos: NBC, TLC)