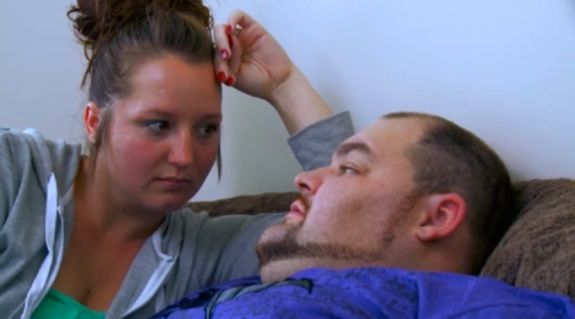 Amber Portwood seemed to be the next Teen Mom OG star in line to get married– but it appears that her ex, Gary Shirley has beat her to the altar!
The Ashley can exclusively reveal that Gary and his longtime girlfriend, Kristina Anderson, quietly filed for a marriage license at the end of September, and it appears that the two have since tied the knot! From what The Ashley can tell, Gary and Kristina were married on September 28, 2015.
Gary and Kristina have not made any mention of the wedding on their social media accounts. In fact, they never even announced that they were engaged! Their wedding, however, will almost certainly be featured on the upcoming fifth season of 'Teen Mom,' which is currently being filmed. The season will also feature the August wedding of 'Teen Mom OG' stars Catelynn Lowell and Tyler Baltierra.
This marks the first marriage for Gary and the second for Kristina. (She began dating Gary in 2013 while she was separated from her first husband, Greg. She and Greg divorced in April 2014.) Gary and Kristina are the parents of six-month-old Emilee, and both have a daughter from their previous relationships. (Gary shares daughter Leah with Amber and Kristina has daughter Karley with Greg.)
While this is the first actual marriage for Gary, he was previously engaged (multiple times!) to Amber. After Amber went to prison and Gary met Kristina, the couple officially said "I'm done!" (and meant it!) Amber is now engaged to Matt Baer, whom she plans to marry in October 2016.
Congrats to Gary and Kristina!
UPDATE: According to Starcasm's sources, Gary and Kristina wed in Michigan. Unfortunately for 'Teen Mom OG' fans, the nupitals may not make it on the air after all.
"Wedding footage won't be included because producers are cutting way back on Gary's camera time," Starcasm's source reports.
(Photo: MTV)
Media outlets must link back and credit The Ashley's Reality Roundup.com for this exclusive.