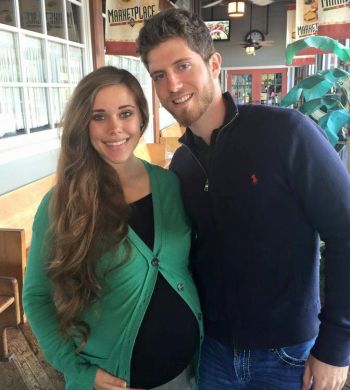 UPDATE: People magazine has confirmed that Jessa has given birth to a baby boy. The magazine, which had the exclusive rights to announce the birth, is probably scrambling after hearing that Jessica spilled the news of the delivery before they could!
Ben Seewald's sister, Jessica, just couldn't contain her excitement over becoming a first-time aunt. Less than an hour ago, she posted "I'm an auntie" on her Instagram account to let her over 12,000 followers know that her brother, Ben, and his wife Jessa Duggar have welcomed their first child.
The only problem? The 19 Kids and Counting stars had yet to announce the news of the birth themselves. Additionally, Jessica spilled the beans on the baby's sex. (Jessa and Ben had been keeping the sex of their baby a secret.)
"Duh it's a boy!" Jessica wrote to fans in the comments of her Instagram post. "I had a hunch the whole time!"
On her personal Facebook page, Jessica shared this message.
"IM A FREAKING AUNTIE. I HAVE A HEALTHY NEPHEW. I KNEW IT WAS A BOY. I KNEW IT."
Jessa, who just turned 23, posted photos of herself and Ben yesterday, proudly showing off her 40+ week baby bump. Her original due date was November 1, so Duggar fans have been on alert for the baby's arrival for the last week or so.
Jessa and Ben have not shared what they planned to name their baby, but they did say that they won't give all of their children names that start with the same letter, as Jessa's parents did.
"We thought to ourselves, if we do that, we'll kind of limit our name selection," Ben said in September. "We thought maybe we'll keep our options open."
Jessa had planned to give birth at home, just as her older sister, Jill Dillard had planned when she gave birth to her first child, Israel, earlier this year. Jill ended up having to give birth at a hospital, however. It is not yet known whether Jessa was able to have the home birth that she had wanted. 

The rest of the Duggar and Seewald clan have remained silent on social media in regard to the baby's birth.
The Ashley will update this story when more information becomes available.
See Jessica's poorly timed Instagram post below: