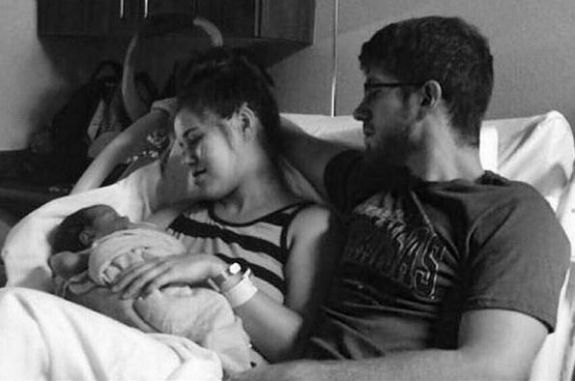 Jessa Duggar Seewald delivered a healthy baby boy last night, according to the Duggar family (and Jessa's sister-in-law, Jessica Seewald, who essentially ruined not only the birth announcement but also the gender reveal last night). This morning, Jessa and her husband Ben Seewald posted the first photos of Baby Boy Seewald to their family's website. From the photos, which show the baby being held by his grandpa, Jim Bob Duggar, and other family members, it seems that the baby was delivered at Jessa and Ben's home.

However, according to TMZ, Jessa didn't exactly get the peaceful home birth she had hoped for. The site reports that Jessa was rushed to the hospital after experiencing problems during her home birth.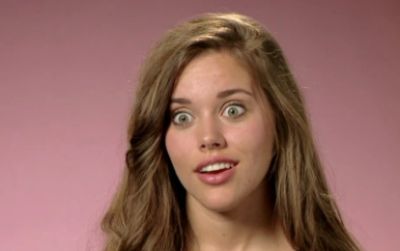 "We're told Jessa was taken by ambulance from one of the Duggar homes in Fayetteville, Arkansas, to the local hospital," TMZ reported. "It's unclear what happened, but we do know she was trying to do a home birth."
Baby Boy Seewald weighed in at a whopping 9 lbs., 11 oz. and measured 21 inches long.
Jessa's labor and delivery sounds a lot like what happened to her older sister, Jill Dillard, when she gave birth to her first child, Israel, in April. Jill had also planned to have a home birth, but ended up having to go to the hospital and get a C-section after enduring over 70 hours of labor. Israel weighed 9 lbs., 10 oz., which is one ounce less than Baby Boy Seewald. (Those Duggar gals certainly know how to create some giant "blessings!")
It's no surprise that Jessa had a big baby. After all, she was the largest of the Duggar's 19 children, weighing in at 9 lbs. 15 oz. at birth. Ben's mother reported that Ben was also a large baby with a birth weight of 8 lbs. 15 oz.
Jessa and Ben have not yet released their baby's name. (Ben's sister Jessica is probably foaming at the mouth to steal the thunder from the name reveal as well!)
To see photos of Baby Seewald, click here!
The birth of Jessa and Ben's baby (as well as the trip to the hospital) will likely be featured on the upcoming TLC specials starring Jessa and Ben, as well as Jill and her husband Derick Dillard. The specials, called Jill & Jessa: Counting On, will begin airing in December.
UPDATE: According to the 911 call made last night by Jessa's mom, Michelle Duggar, it appears that Jessa was bleeding heavily after the birth.
"We need her to get checked out…There was quite a bit of blood  when the placenta detached, but uterus is hard now," an extremely calm Michelle tells the 911 operator, before telling presumably Jessa to "hang in there."
Michelle assured the operator that the baby was "doing wonderful" as Jessa and others can be heard talking in the background.
(Photos: Seewald Family, TLC)