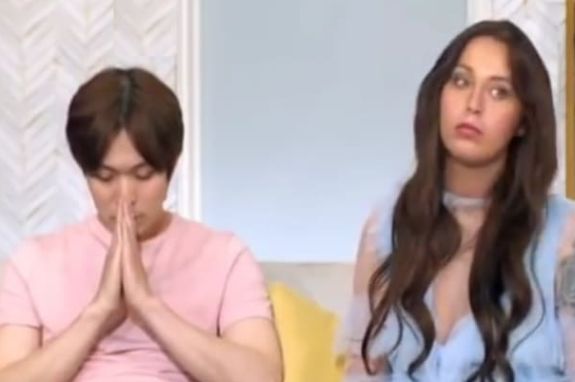 Deavan Clegg and Jihoon Lee of 90 Day Fiancé are at it again…
The latest social media spar between the former couple went down Monday after Jihoon attempted to (once again) shut down allegations that he wants nothing to do with his and Deavan's son, Taeyang. Jihoon claimed on Instagram that he sends clothes and toys to his son, despite Deavan not telling him what size the infant wears, nor the address where they currently reside. Deavan fired back with a lengthy statement insisting Jihoon put her and her kids in danger.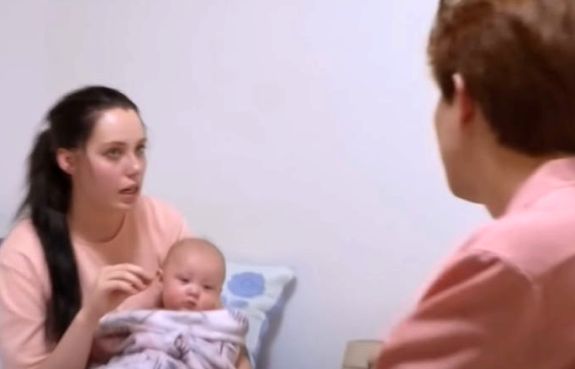 "I regularly send the goods to my son through my friend in America," Jihoon stated on his Instagram Story.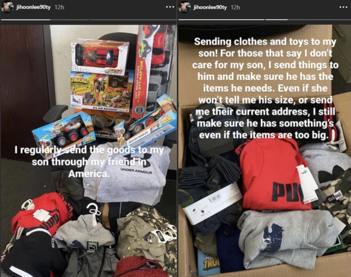 In a series of lengthy Instagram Stories of her own, Deavan issued a statement responding to Jihoon's posts. In her statement, Deavan argued that Jihoon has only sent one package to Taeyang in six months and that he has blocked her from contacting him. She also claimed the package they did receive was not sent by Jihoon's friend, but rather a "90 Day Fiance" "super fan" who has written statements on Jihoon's behalf.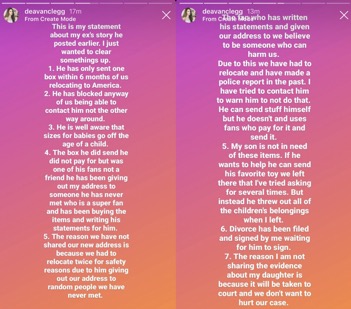 "The fan who has written [Jihoon's] statements and given our address to we believe to be someone who can harm us," she said. "Due to this, we have had to relocate and have made a police report in the past."
According to Deavan, she has filed for divorce from Jihoon, but is still waiting for him to sign. As for her "evidence" that Jihoon abused her daughter Drascilla, Deavan said she isn't sharing it with the public because "it will be taken to court and we don't want to hurt our case."
Deavan's statement went on to claim Jihoon "can come to America whenever he pleases" to see Taeyang, whom Jihoon reportedly saw six months ago, not a year ago, as Jihoon has stated. She also accused Jihoon (once again) of wanting "nothing to do with Taeyang" as she has mentioned previously. Deavan claims to have these statements on film and said she plans to release the footage when she is able to.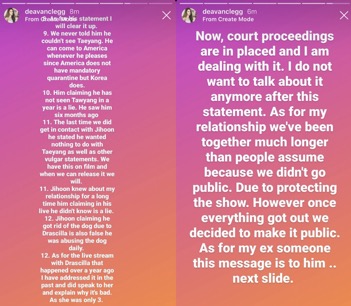 Regarding her relationship with boyfriend Topher Park, Deavan says Jihoon knew about it "for a long time" and that she and Topher "have been together much longer than people assume," but they had to keep their love quiet due to Deavan's role on "90 Day Fiance."
(Jihoon claimed in August to know about Deavan's new relationship.)
Deavan also addressed rumors that Drascilla abused a dog during a live stream, which she claimed happened "over a year ago" when the child was 3.
"… I have addressed it in the past and did speak to her and explain why it's bad," she said. " … Now, court proceedings are in [place] and I am dealing with it. I do not want to talk about it anymore after this."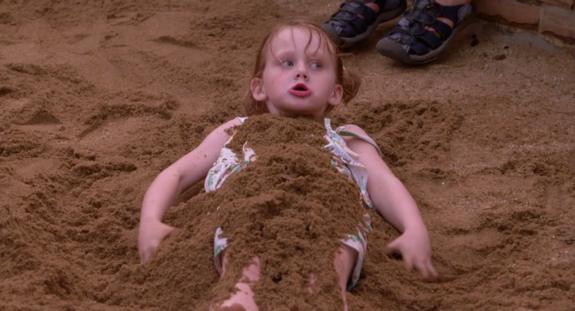 Deavan went on to blame her having to relocate multiple times on Jihoon's "fake statements," which she said caused people to show up to her house at night. She also said the "lies" Jihoon told to cover up the fact that he abused Drascilla have resulted in death threats towards the child and that she and the children have received threats from one of Jihoon's fans, as well.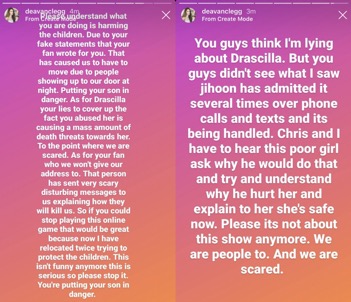 "That person has sent very scary disturbing messages to us explaining how they will kill us," she said. "So if you could stop playing this online game that would be great because now I have relocated twice trying to protect the children. This isn't funny anymore this is serious so please stop it. You're putting your son in danger."
Deavan maintains she is telling the truth about Jihoon abusing Drascilla and even claims Jihoon "has admitted it several times over phone calls and texts," noting that the situation is "being handled."
"Chris[topher] and I have to hear this poor girl ask why [Jihoon] would do that and try to understand why [Jihoon] hurt her and explain to her she's safe now," she continued. "Please, [it's] not about this show anymore. We are people [too]. And we are scared."
Jihoon has yet to respond back…
RELATED STORY: Former "90 Day Fiancé" Star Ashley Martson Says She Lied Out of Embarrassment About Her Split From Husband Jay Smith; Claims Jay Took Her Money & Possibly Cheated Again
(Photos: TLC; Instagram)