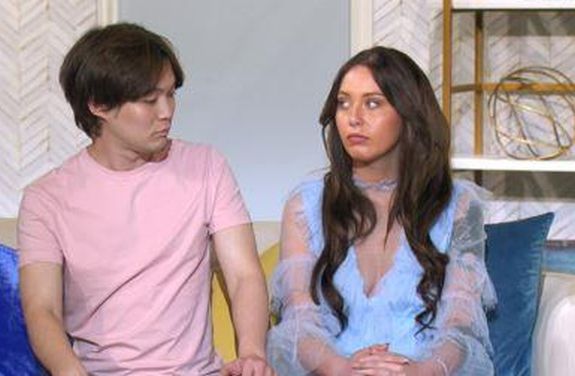 Deavan Clegg of 90 Day Fiancé is slamming her ex Jihoon Lee after fans accused her of denying Jihoon parental rights to the couple's infant son Taeyang.
Critics came for Deavan on social media this week after she shared photos from a recent outing that included her alleged new boyfriend, who happened to be holding Taeyang in one of the photos.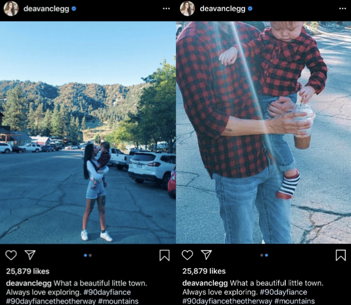 Before disabling the comments on her post, Deavan was asked if Jihoon ever gets to see his son, to which Deavan claimed her ex "wants to forget and pretend we never had a baby."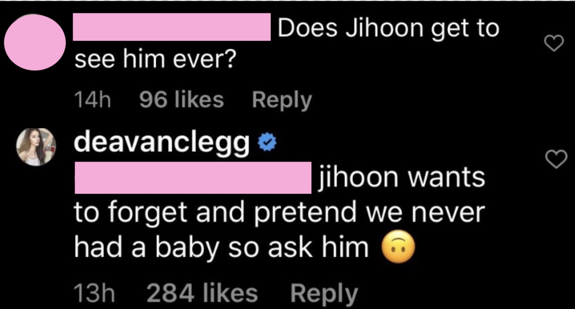 After being accused of lying, Deavan insisted she was telling the truth and told the individual to "wait till the [Tell All]."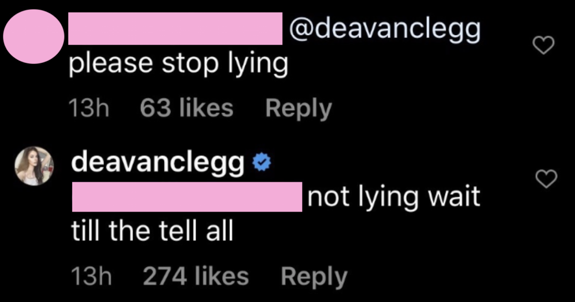 In response to a similar question, Deavan again stated that "Jihoon doesn't want to raise [Taeyang]." She also claimed Jihoon's family has not reached out to see Taeyang.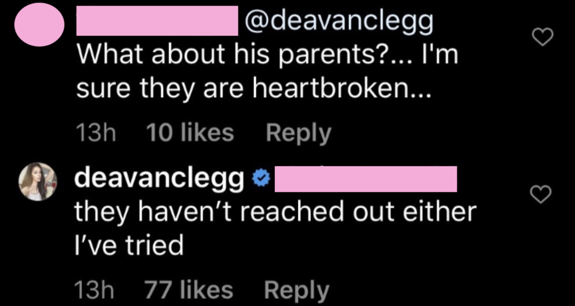 Deavan opened up more about where things stand with her and Jihoon, claiming that she had made many attempts to co-parent with him – all of which have been unsuccessful.
" … I'm blocked on social media, my number is blocked," she revealed. "I've reached out sent photos of my son with no replies. I've tried and offered to come to Korea. I'm sick of being blamed when I'm the one trying to co-parent. I was told several times to just pretend it never happened because that's what this certain person wants."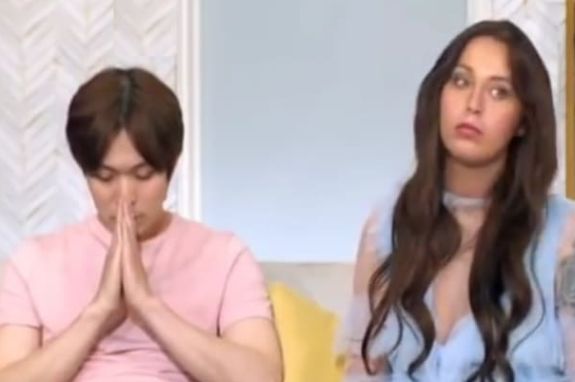 She went on to address the lack of financial support she's received from Jihoon, saying that she paid for all of her hospital bills as well as everything while she and the kids were in Korea, adding that she's the one "still supporting [her] son with no help."
"I'm the one doing everything so why [am I] being attacked," she asked. "Because I moved on? Because I was tired of being used and not getting any help in return? I tried and this person has said some vile things about my son and has blocked any way of me getting in contact to even send photos of my son? But yet you guys attack me?
"You don't know what happened behind [closed] doors you don't know the type of evil that happened," she continued. "I'm sick of being attacked and blamed and being told I'm a horrible person and I took my son away. You guys don't know the half of it."
Deavan again told her followers to "wait until the Tell All" to hear the full story.
"Something bad happened that can never be forgiven," she said.
A week ago, Jihoon confirmed that he and Deavan had split, at which point he also acknowledged Deavan's new relationship.
"I want my ex and her boyfriend, just be happy," he said. "Cause [it's] her choice and [that's the] way she will be happy and I'm just [going to] walk to my own way. But we're still Taeyang's parents."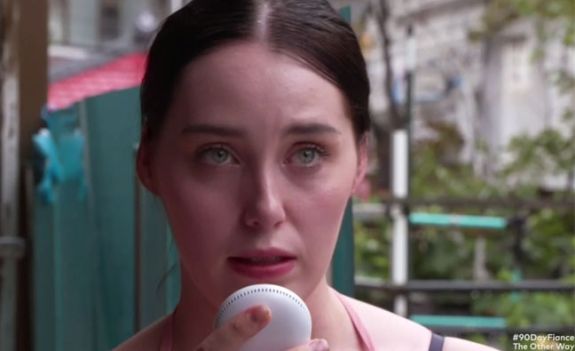 Jihoon admitted he missed Taeyang "very much" while noting "[Deavan] said [she would come back] every summertime back to Korea with Taeyang."
UPDATE! After seeing Deavan's post, Jihoon posted his own message to Instagram Stories.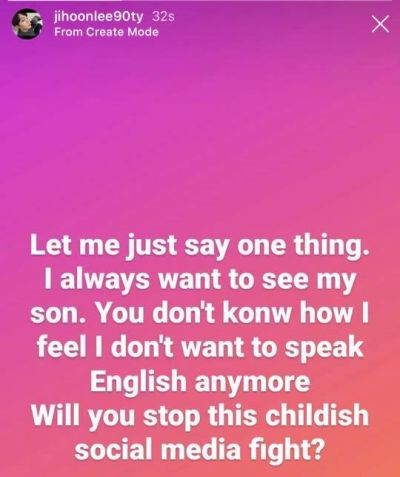 "Let me just say one thing," he wrote. "I always want to see my son. You don't know how I feel. I don't want to speak English anymore. Will you stop this childish social media fight?"
Later, in the caption of a photo of his son that was posted to Instagram, Jihoon revealed that, so far, he and Deavan have not officially filed for divorce, and that he does care about his son and is upset that Deavan will have other men around the boy. He also expressed in the comment section of the post how bad he feels for his parents, who will now have very limited access to their grandson.
"The reality is terrible. I know all this s**t," Jihoon wrote. "Like he's going to have a new father. Do you know how that feels? My heart is always breaking. It happened without my knowledge. There's no divorce on paper right now. Do you really know how it feels?
"…Don't pretend to be a victim," he wrote in response to what Deavan posted. "I never did that. I'm just a normal person…I'd like to forget the pain. I'm tired of speaking English. Everyone, just watch all the results at Tell All.
"Did you forget your son? Don't ask me that stupid question. I'm human too. And no psychopath."
He admitted that he did block Deavan on social media.
"I don't want to get involved in their lives so I blocked them all," he wrote. "So extreme. But that's how I organize my mindset. I will never forget my son and love him forever."
"Right now I fu**ing sorry to my parents," he wrote.
See Jihoon's full post below.
RELATED STORY: "90 Day Fiancé" Star Paul Staehle Says He "Will Probably Never See" Pregnant Wife Karine or Son Pierre Again; Denies Karine is Back in Brazil
(Photos: TLC; Instagram)