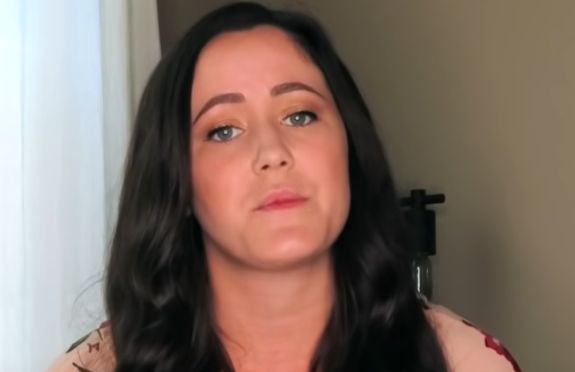 Jenelle Evans released the first of her "I Have Something To Say" Video series, after months of promising to show her followers "the real story" behind incidents such as her firing from Teen Mom 2, the 2019 CPS battle to get her kids back after they were taken away and more.
The first video— which was posted on Monday and includes cameos by her (also-fired) husband David Eason and her mom Barbara Evans— featured plenty of stories told from the point of view of Jenelle, as well as a bunch of footage of Jenelle sobbing over various things, such as her kids, how MTV held her against her will at the last 'Reunion' she attended and more.
The Ashley realizes that, because most of us have actual jobs and can't devote over 45 minutes of our lives to watching Pinocchio Evans Jenelle tell her Tales From The Swamp, The Ashley has taken one for the team and recapped the entire video for you. The Ashley has also included links and behind-the-scenes info from her own sources that tell another side to some of the stories Jenelle & Co. tell in this video.
The Ashley realizes this is a long recap, but she has done her best to break it into easy-to-read sections for you. She is also breaking the recap into two parts: one talking about the CPS stuff and death of her dog, Nugget, and one part about MTV and her firing from 'Teen Mom 2.'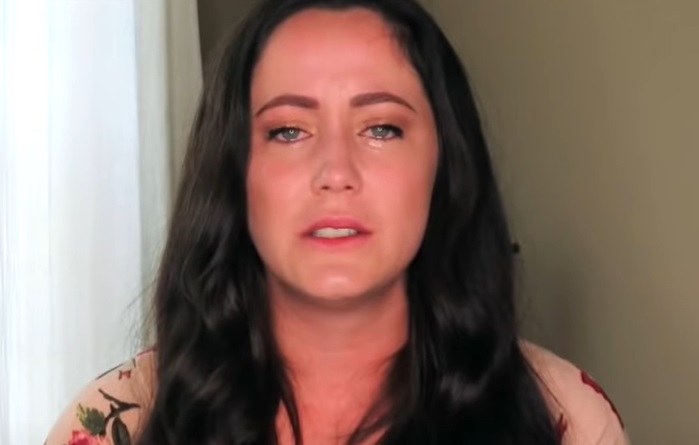 Without further ado, let's get started…
The video kicks off with Jenelle (using her serious voice that she uses to talk about "serious" issues), explains that she will be telling the real story behind the CPS investigation and court battle that occurred in the spring/summer of 2019 and saw her and David's kids temporarily being taken away.
"Within the next few episodes, I'm gonna explain the corruption, distress, trauma introduced to my family by CPS of May 2019," Jenelle says. "I am doing this to expose the truth to what happened, despite all the media reports made. I'm also doing this to share with my fans what has really happened."
Jenelle starts by saying that "family life before CPS was great," and the "kids were happy" and doing well in school.
"No one had any concerns from any of the other parties…Maryssa's grandparents, David's side, my mom, no one had any concerns. Everything was going pretty smoothly."
(Except for, you know, little incidents like this…but hey, who hasn't hid in the attic while they're husband smashes their front door, right?!)
On the Death of Her Dog, Nugget
The peaceful family fun time on The Land came to a halt that spring, though…
"Then, there was the Dog Incident," Jenelle says.
(By "the Dog Incident," Jenelle is referring to the death of Nugget, her French bulldog who was shot and killed by David.)
Then, David's mug appears on-camera to tell his side of "the Dog Incident."
"About Nugget," David begins. "She was a loving dog toward me but she was not loving towards our kids at all. I mean, I loved the dog, the kids loved it but she didn't love the kids."
David explains how Nugget would make it so they couldn't even post videos of their kids to social media (!!) due to Nugget misbehaving in the videos.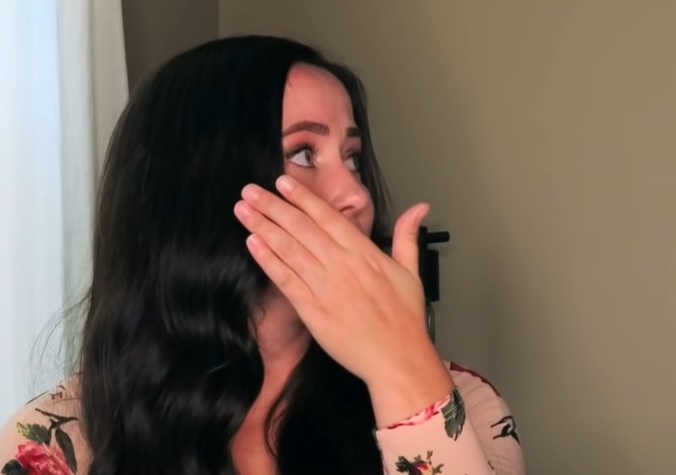 "She was really kind of mean," David says. "We put up with it for a long time…she bit Ensley on the face more than one time. The first time it happened, we should have gotten rid of her, but we had been working with the dog and we were trying to reward her whenever she was being nice to Ensley or Jace or Kaiser and it seemed like it was working."
David explained he was videotaping the day of "the Dog Incident" (when Ensley put her face near Nugget's and the dog nipped at her) because "we hardly ever had any good videos of the kid playing with the dog."
After Nugget bit Ensley, David says he "took it upon myself to put the dog down."
David explained that his family has always shot a dog if they bite somebody.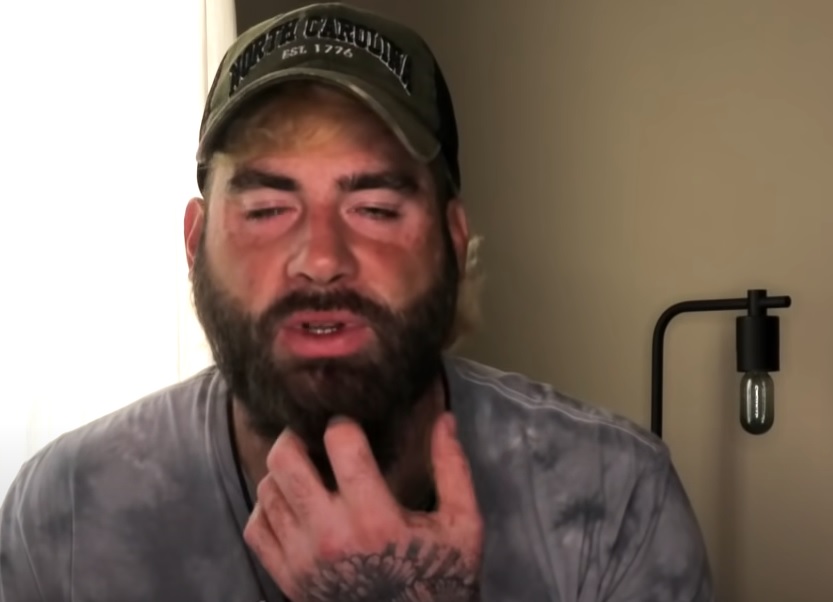 "I regret it, but sometimes that's the way it works," he added. "I wish it hadn't had to have happened that way."
In his retelling of the story, David fails to mention that, when Columbus County officials visited him on The Land shortly after the reports of Nugget's death surfaced, David told them that Nugget was still alive, even though the dog clearly was not. (You can read about that here.)
On the kids being taken away by CPS in May 2019
Jenelle appears on the screen again, and musters up some tears, telling her audience that this next part is hard for her to talk about.
"Then on May 10, 2019, CPS took my children away," Jenelle says. "First they started with Kaiser…"
(Jenelle then shows a screenshot of The Ashley's article, which broke the news about Kaiser removed by CPS.)
"I received a voicemail from the teacher at Kaiser's school. It said that his grandmother [Nathan's mother, Doris] came and picked him up. She had no rights, she had no grounds, she had no custody. The dad, Nathan, he has supervised visits with Kaiser…
"[The teacher] said that day, CPS had came to the daycare and actually was asking her a bunch of questions. They interviewed Kaiser and they didn't tell her any details about that interview, or any allegations or concerns that they had," Jenelle said. "They just went back, told Nathan's mother, 'Go pick up Kaiser,' and she drove from Myrtle Beach, South Carolina, all the way to Leland, North Carolina, to pick up Kaiser."
Jenelle added that, "the social worker took it upon herself to tell all the other parties to take away my children."
Jenelle names that actual social worker and states that she "illegally took my children out of the home with no signed judgement saying that she had any grounds to; no signed paperwork."
Jenelle said her lawyer instructed her to go get Kaiser, so she drove to Doris' house, but Doris didn't answer the door. (Naturally, Jenelle had David filming from the car at Doris' house.)
When Jenelle didn't get Kaiser, she says she called the social worker, who Jenelle claims refused to tell her what the allegations were against her, unless she signed the kids over to foster care or a relative. Jenelle says she and her lawyer then called the superintendent of CPS of the county, but (shockingly) their calls were ignored.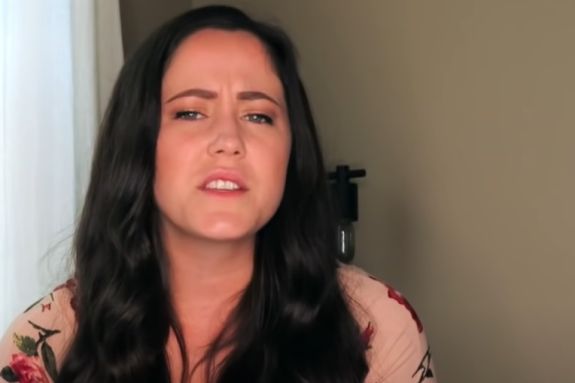 Later, Jenelle plays a video of a video call she has with Kaiser, who tells her that Doris told him that he would be staying with her forever.
Barbara on why Jace wasn't allowed on The Land & her feelings on David at the time
Jenelle then called her mom, Barb, who refused to give Jenelle Jace for Mother's Day Weekend, due to CPS telling Barb not to allow Jenelle to have Jace.
Barb then comes on the screen to explain why she kept Jace away from Jenelle that weekend. (Of course, the real story is a lot less cordial than Barbara and Jenelle are making it out to be here. This incident, in fact, caused a feud between Barb and Jenelle, which you can read about here.)
"CPS called me and told me I was not allowed to take Jace to her house," Babs says, adding that she never saw any CPS paperwork. "They just told me on the telephone that they did not want me sending Jace to Jenelle's house for Mother's Day. They just told me there was some calls made to their office and at this time, they felt that it was unsafe for Jace to be at Jenelle's house. I just thought it was kind of strange but I said OK.
"They would not give me an explanation at that time," she added.
Babs insists that, even after the dog was killed, she didn't have "any concerns" about the kids' safety.
"I thought this call was really kind of weird," she said. "It really took me by surprise…Jace didn't really understand it either. He just said 'OK.' Because I couldn't really explain to him why he couldn't go."
On why CPS told her they took the kids away
Jenelle pops back in, sobbing that she had to spend Mother's Day without her kids, except Ensley.
(She did have David with her to pat her on the back with his giant meathooks, though, so there's that…)
After crying into the goat stand that David built for her for Mothers Day (as you do), Jenelle called her lawyer for an update. The lawyer told her that CPS was trying to get the judgement signed to say they could take the kids away, and that he demanded to be there and told what the allegations against Jenelle were before the papers were signed.
"And what did they do? Behind lawyer's back, without him being present, went and got the papers signed to legally take my kids away!" Jenelle exclaims.
Jenelle said she then found out that CPS had interviewed Jace at school, and he had told them he doesn't like David's "anger problem."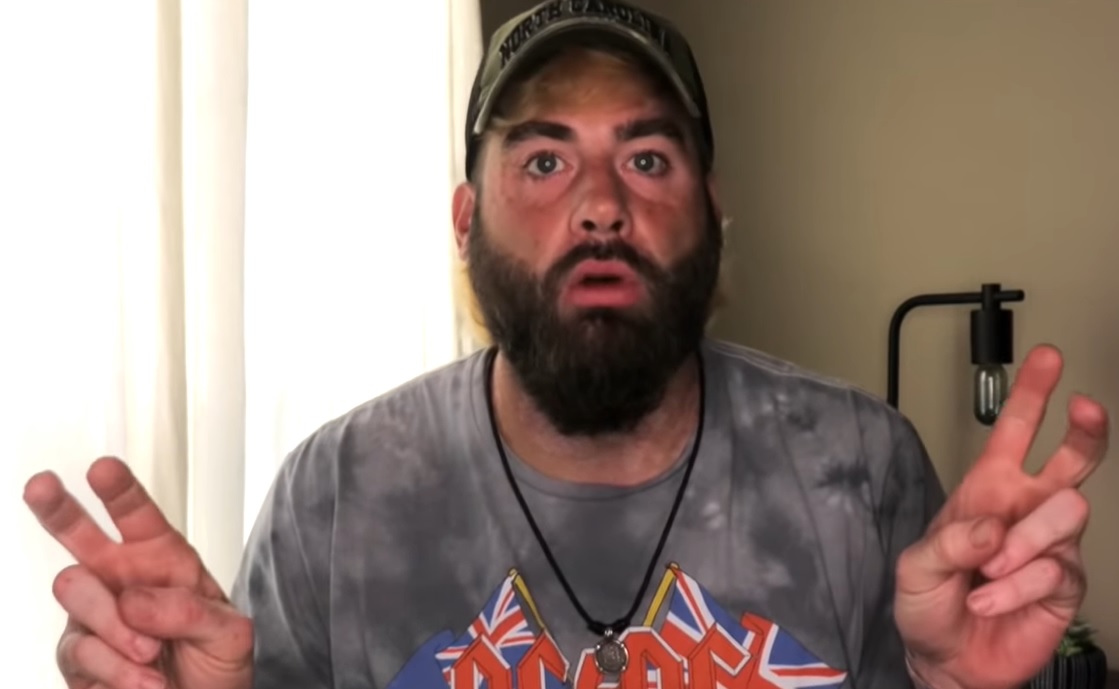 "Number 2, was the Dog Incident," Jenelle says, which she (surprisingly) agreed with CPS for investigating.
Number 3 was when the CPS agent interviewed Kaiser at his school.
"She said, 'Do you like David? Do you love David?' All the regular questions. And all [Kaiser] said was, 'I don't like when they call David when I'm in trouble at school.' That is it. No hitting. No neglect. Just an anger problem by David."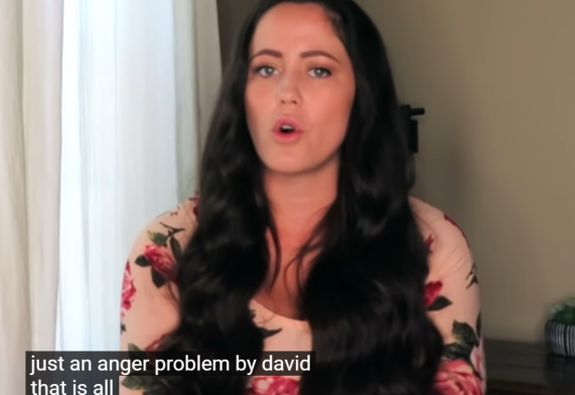 "That is all their allegations against us!" Jenelle proclaims. "And they took my kids away like that."
Jenelle throws in there that there were "a bunch of little allegations in there," but she doesn't reveal what those are.
On her history with CPS, which began when Jace was born
Jenelle then launches into her long history with CPS, who has been on her tail since she had Jace.
"CPS has tried to come at me since I had Jace," she says. "When I had Jace they made me sign papers, scared me into signing papers, voluntarily giving my mother temporary custody, because they said I was neglectful, I didn't know how to measure a baby bottle and give him formula. All these fake allegations that weren't even true."
Jenelle admits she didn't bother to read the paperwork before signing it.
"Why? Because I was so scared of going to court and fighting," she wails. "I was 17 at the time! I needed time to learn! I did know how to measure a baby bottle. I would feed Jace his baby food."
She even made baby videos, guys!
(Of course she was also doing things like this at the time…)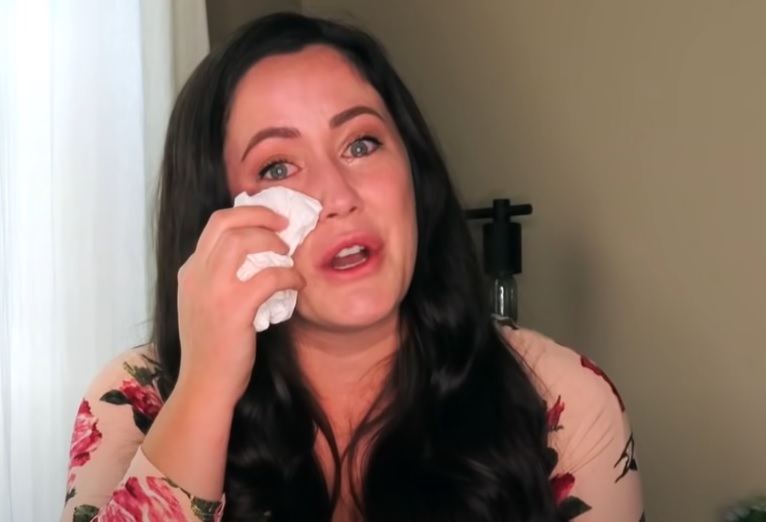 "But all of that went unnoticed!" Jenelle cried. "So CPS had me sign my kid to my mom. I was so insecure for so long, because I was backed up against a wall! Backed up into a corner, for years. I was so scared."
Then, out of nowhere, Jenelle switches to talking about MTV, and how they "owned" her.
"I was owned by a network, and then because of being on this show, and because of being on TV, I have people calling CPS over the years!" Jenelle says. "I had them show up in Myrtle Beach, I had them show up in Brunswick County, which is where I used to live with my mom, New Hanover County, which is Wilmington [North Carolina], and Columbus County."
Jenelle stresses that all of these CPS investigations have all been closed.
"They have been investigated, they interview the kids every time and they do home safety assessments," she said, adding that Columbus County CPS has checked on her on The Land three times before Nugget was killed (or, as they call it "The Dog Incident.")
"I have nothing to f**king hide!" Jenelle yells. "Nothing to hide! And they thought I did. They thought I had secrets and I don't have any secrets."
Jenelle then tells everyone not to believe "any of the media" and instead "believe my voice!"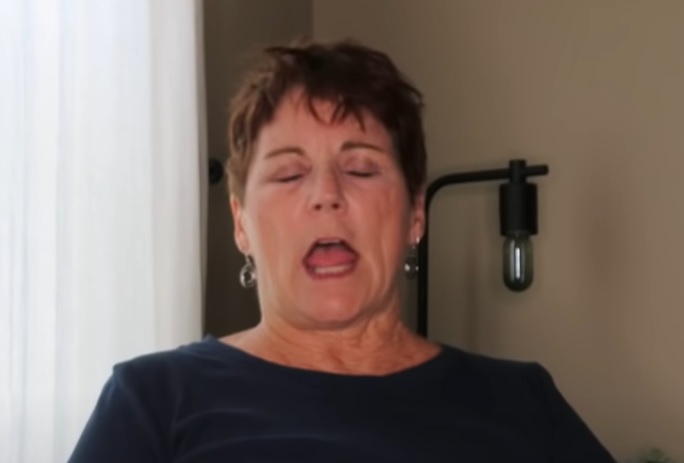 Jenelle demands people, "believe what I tell you!"
(Of course, she didn't tell people which version of her story they should believe.)
The Ashley will be recapping the second half of the video and will post the link here! Stay tuned…
RELATED STORY: Briana DeJesus Wants Jenelle Evans to Return to 'Teen Mom 2': Says Jenelle "Made the Show What It Is Today" But Admits They Don't Talk Much