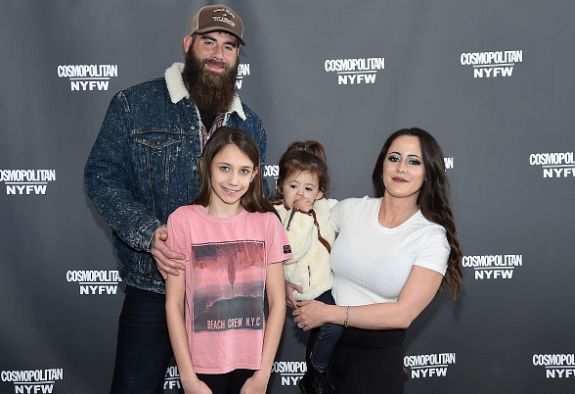 Please file this as a "report" until The Ashley can officially confirm it!
The Ashley broke the news this morning that Jenelle Evans' son, Kaiser, has been removed from her care as of Friday, and, according to Radar Online, Kaiser is not the only kid in care of Jenelle and her husband David Eason who may be yanked from The Land!
Radar reports that CPS is also reportedly looking into the safety of Jenelle's and David's youngest child, daughter Ensley, and David's oldest daughter Maryssa who, as of press time, remain in the care of the Easons. "CPS is looking to take Maryssa and Ensley away too," a source told Radar.
The site also states that Child Protective Services has tried to contact the former Teen Mom 2 stars, but David and Jenelle have been reluctant to get in touch.
"CPS wanted to talk to Jenelle and David, but they both refused to talk to them," the source told Radar. "David cussed CPS out."
Maryssa and Ensley are the last of Jenelle and David's combined five children who remain in the couple's care. David is not currently allowed to see his son, Kaden, whose mother, Olivia Leedham, recently received over $5,000 in back child support from David by court order.
The Ashley told you last week that Jenelle has not been allowed to see her oldest son, Jace, since her mother Barbara Evans heard about David shooting the family dog last week. The Ashley's sources told her that Barbara refuses to allow Jace to go to The Land and/or be around David. Radar states that, since then, CPS has visited Jace at his school and has instructed Barbara to keep Jace– whom she has custody of– off The Land, which is reportedly A-OK with the nine-year-old.
"Jenelle was told that Jace doesn't want to go over there at all," Radar's source stated. "She was told Jace is terrified of David because David is escalating."
Jace was not on The Land at the time David killed Jenelle's dog, Nugget. Kaiser, Maryssa and Ensley were home, however, and Jenelle has admitted that Maryssa took the dog's death especially hard.
After The Ashley broke the news about Kaiser being picked up by a family member at his daycare of Friday, TMZ reported that the local authorities have not attempted to go on The Land to discuss the care of Ensley and Maryssa, "partly because authorities believe it's treacherous to enter the property given David's temper combined with his firepower."
In the past, David has made it no secret that he will not tolerate trespassers on The Land and is willing to shoot anyone he deems a trespasser.
David currently has full legal custody of his 11-year-old daughter, whose mom is David's ex Whitney Johnson. He was granted legal custody back in 2017, and Maryssa's mom was given a specific visitation schedule, provided she follows certain parameters spelled out in the agreement regarding drug and alcohol use. To The Ashley's knowledge, that arrangement still stands as of press time.
Although she initially denied The Ashley's report when she broke the news Monday morning, Jenelle has since confessed to Us Weekly that Kaiser was, indeed, taken; that Jace is not allowed to come to The Land and that Maryssa remains in their custody.
RELATED STORY: Jenelle Evans' Son Kaiser Removed from Her Care by CPS: Get the Details!
(Photo: Jamie McCarthy/Getty Images; Instagram)