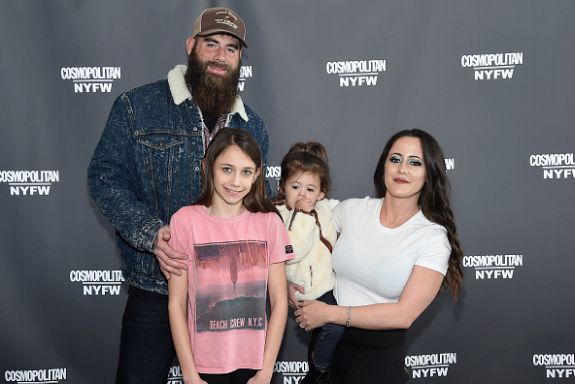 Jenelle Evans has given her first on-the-record interview following the murder of her dog at the hands of her husband, David Eason.
In a new interview with Us Weekly, Jenelle recounted what happened on Monday night when David shot Jenelle's Frenchie mix puppy, Nugget. It marks one of the first times Jenelle has made negative comments about David publicly.
Jenelle confirmed The Ashley's report from Tuesday that Nugget was shot after the dog snapped at Jenelle and David's daughter Ensley.
"He doesn't put up with that and those are his beliefs," she told Us. "He just took [the dog] and shot her in the woods … about two acres away from the house.
"It's making me feel he's very cruel and doesn't have a heart on many ends," Jenelle later added.
On Wednesday, David confirmed on Instagram that he killed Nugget, and the police were on The Land investigating Tuesday afternoon. While Jenelle was at her friend's house with Ensley and Kaiser on Tuesday afternoon, she eventually returned to The Land on Tuesday night. (The police confirmed that they went to The Land to perform a welfare check on Jenelle and the kids and they checked out OK. Jenelle, Ensley and Kaiser were back on The Land by Tuesday night.)
However, in her interview with Us Weekly, Jenelle states that she is not currently speaking to David.
"David and I are not on talking terms," she told the magazine. "I'm too hurt and upset at the fact he did that. It's taking time to get over this whole situation.
"At this time, we are dealing with this rough situation. I want to focus on what's best for me and my kids," she added. "[Divorce is] in thoughts, but nothing is finalized."
Sadly, Kaiser and Ensley, as well as David's older daughter Maryssa, were home at the time of the dog murder. According to Jenelle's story, the kids did not see the dog being shot by David, and the two younger kids are not aware of what happened. (Jenelle's oldest son, Jace, is currently on a cruise with Jenelle's mom Barbara Evans and was not on The Land on Monday night.)
"Kaiser and Ensley had no idea and [haven't] said anything about it since," Jenelle said.
Maryssa, who is 11, is aware of what happened and apparently was very upset by the incident.
"[She] immediately went to her bedroom and didn't come out all night until the next day," Jenelle said.
Although David defended his actions by saying that Nugget was being aggressive toward Ensley, a video he posted to Instagram shows the toddler sticking her face in the dog's face and the dog snapping at her. David also posted a photo of Ensley's cheek which was red but does not appear to have any sort of bite on it.
Jenelle posted a tribute to Nugget on her Instagram on Wednesday, apologizing to the dog for what happened to it.
"You still had a lot to learn and a lot to grow from your lessons," she captioned a photo of her with Nugget. "Everyday I wake up you're not here, when I come home you're not here, when I go to bed… you're not here. You're gone forever and there's no coming back. #Heartbroken #Distraught"
Jenelle told Us Weekly she has not decided yet whether or not she will stay with David.
"[I] would like for everyone to just give me my own time right now to figure things out and clear my head," she said.
As The Ashley previously reported, David reportedly told the cops when they visited on Tuesday that Nugget was alive; however, he refused to let them see the dog. TMZ reported that, according to the Columbus County Sheriff's Department, the only way David would be further investigated for the death of Nugget is if Jenelle makes a report about it on her own.
"We're told officers won't act on 'sensationalized media reports or social media posts,'" TMZ reported. "The source said it's irrelevant to cops what Jenelle says on IG."
To read the previous updates for this story, click here and here!
RELATED STORY: Jenelle Evans' Husband David Eason Admits to Killing Her Dog: "I Don't Put Up with That S**t!"
(Photos: Jamie McCarthy/Getty Images; Instagram)