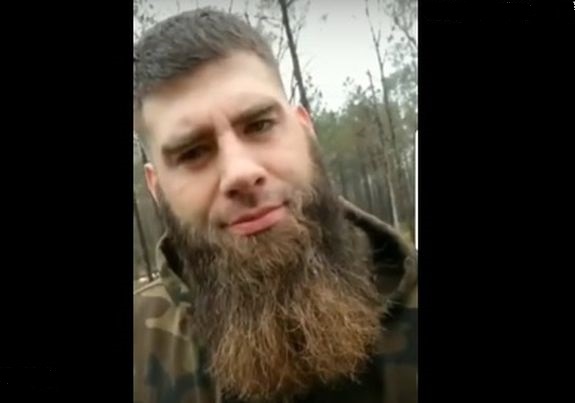 After nearly a day of silence, David Eason is admitting he killed the dog belonging to his wife, Jenelle Evans.
As The Ashley told you yesterday, David shot and killed Jenelle's Frenchie mix, Nugget, on Monday night after the dog snapped at their daughter Ensley. Although Jenelle was posting to social media that she was "devastated" on Tuesday, no action was taken until an unknown male called 911 and reported that David had killed the dog.
In a post made to his Instagram, David admitted that he did, indeed, kill Nugget, and seemed to be trying to justify his actions by showing a video of Nugget snapping at Ensley after Ensley put her face in Nugget's face. In the caption of the post, David showed no remorse for killing the dog. (On Monday night, Nugget did not bite Ensley. She simply snapped at her.)
"I dont give a damn what animal bites my baby on the face… whether it be your dog or mine, a dog is a dog and I dont put up with that s**t at all," David wrote on Instagram. "I'm all about protecting my family, it is my lifes mission. Some people are worth killing or dying for and my family means that much to me. You can hate me all you want but this isnt the first time the dog bit Ensley aggressively. The only person that can judge weather or not a animal is a danger to MY CHILD is ME."
Even Briana DeJesus, who has been a friend to Jenelle, advised David to remove the post (before David turned off the comments for it).
"You should delete this David," Briana wrote. "I know you want to protect your baby girl but there could have been other ways of doing that. Your wife is already going thru enough and dealing with a lot of unnecessary s**t. Be her peace!"

It appears that David posted this video to prove that Nugget was 'aggressive' in the past.
I zoomed in the video of nugget and Ensley pic.twitter.com/QgbT6KiJTh

— 🅰️non 🅾️pinion (@AnonOpinion411) May 1, 2019
Jenelle, Kaiser and Ensley were staying at her friend's house on Tuesday afternoon/early evening (during the time the police were on The Land investigating the dog-killing claim). However, from what The Ashley has heard, Jenelle has already returned to The Land.
In a series of tweet-and-deletes posted late Tuesday night, Jenelle told everyone to leave her aloooooone!
"I feel like all of you should leave me alone about MY PERSONAL BUSINESS," she tweeted, later adding "Until I speak about a situation don't assume a damn thing about me. #truth"
She also disputed reports that she fled The Land after the dog murder (although she did). She tweeted that she was just busy all day and didn't have time to greet the "vistors" (aka the police) who were on The Land Tuesday afternoon.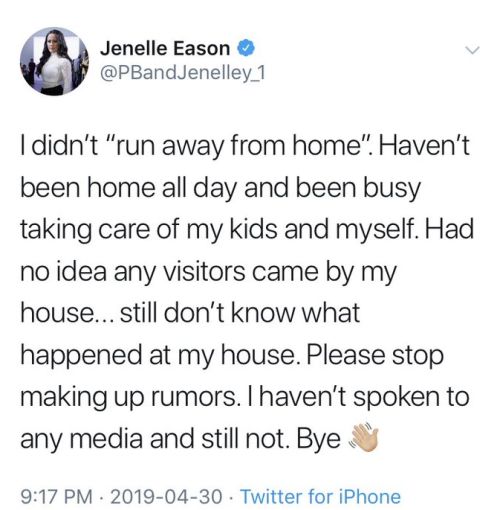 "I didn't 'run away from home,'" Jenelle tweeted. "Haven't been home all day and been busy taking care of my kids and myself. Had no idea any visitors came by my house…still don't know what happened at my house. Please stop making up rumors. I haven't spoken to any media and still not. Bye."
On Wednesday, Jenelle wrote on Instagram that she was "distraught" about the dog's death and even apologized to the pup for what happened.
"Nugget… I'm crying everyday. I love you so much and I'm so sorry. I'm speechless," she captioned a few photos of her with Nugget. "You were my side kick and knew the moment I felt bad and would cuddle with me. You still had a lot to learn and a lot to grow from your lessons. Everyday I wake up you're not here, when I come home you're not here, when I go to bed… you're not here. You're gone forever and there's no coming back. #Heartbroken #Distraught"
While the Columbus County Sheriff's Department confirmed to Radar Online that officers were on The Land on Tuesday, David was not arrested.
"No arrests were made," the Sheriff's Department told Radar on Wednesday. "An incident report has not been filed yet." The site reports that the investigation remains ongoing, however.
Jenelle and David got Nugget in August 2018. They currently have another dog, Jax, as well as chickens, geese, rabbits and pigs living on The Land with them.
UPDATE! According to TMZ, the police returned to The Land on Tuesday night to perform a welfare check on Ensley, and found that everyone was OK. (This also proves that Jenelle was back on The Land by Tuesday night, and not at her friend's house.)
A law enforcement source told TMZ that David told the police that Nugget wasn't dead! He would not, however, produce the dog so cops could see that he was alive and well.
"David told cops Nugget was alive, although he would not let them see the dog. We're told cops have no evidence showing anything happened to the dog," TMZ reports.
The site reports that, according to the Columbus County Sheriff's Department, the only way David would be further investigated for the death of Nugget is if Jenelle makes a report about it on her own
"We're told officers won't act on 'sensationalized media reports or social media posts,'" TMZ reported. "The source said it's irrelevant to cops what Jenelle says on IG."
Stay tuned for more updates…
RELATED STORY: Cops Head to Jenelle Evans' House After 911 Caller Accuses David Eason of Killing Jenelle's Dog: More Details