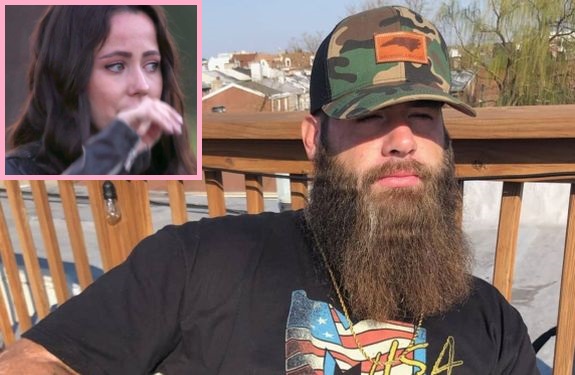 Cops are once again at The Land, and Jenelle Evans' husband David Eason is back under police investigation after a caller contacted the Columbus County police department via 911 to report that David allegedly killed the Teen Mom 2 star's dog.
Radar Online broke the news on Tuesday that a "panicked" male caller phoned in the claim and was referred to the non-emergency number. (Just to clarify this "male" was not Jenelle's oldest son Jace, as he is currently on vacation with Barbara Evans. It was also not Jenelle's younger son Kaiser.)
The Sheriff's Department confirmed to Radar that the call took place.
"A call was made today, and it was relayed that the woman's husband had killed her dog. The Sheriff is out there right now investigating and there will be an incident report filed later."
The Ashley's sources tell her that Jenelle's Frenchie mix puppy, Nugget, was the dog that was (allegedly) killed, and he died after (allegedly) being shot.
View this post on Instagram
The alleged dog murder allegedly happened on Monday night after the dog allegedly snapped at Jenelle's daughter Ensley. Since that time, Jenelle has been posting to her social media accounts that she is "devastated" and "sad." While many 'Teen Mom 2' fans assumed that Jenelle was reacting to the episode of the show that aired on Monday night– in which David put a stop to Jenelle's trip to Kentucky with her son Jace– it appears that her posts may have been about this alleged incident.
Jenelle also changed her relationship status on Facebook to "separated" and unfollowed David on Instagram.
David and Jenelle got Nugget in August 2018. On the day David "introduced" the dog on his Instagram account, fans were already skeptical that Nugget would be alive for very long.
"STOP getting animals. They never make it with you people," one person wrote in the comment section of the post.
"They don't need or deserve dogs," another person wrote.
As The Ashley told you on Monday, Jenelle recently had a secret phone call with a VP of MTV in which she was given another chance to be part of the show, despite David's antics causing the crew to be unable to film. The Ashley is not sure if and how the latest accusations against David will affect that decision, but The Ashley has reached out to MTV for comment on this story.
UPDATE! Click the links below to read the latest news regarding this story!
David admits to killing Nugget; Jenelle posts tribute to the dead dog
Jenelle gives first on-the-record interview on Nugget's murder, reveals how kids are dealing with it