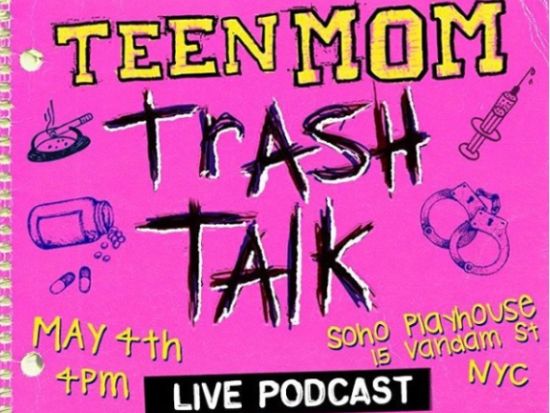 Reporting by Amber Belus
If you love Teen Mom (or are like The Ashley and love to hate it), and find yourself talking about Farrah Abraham's "belligerent, anti-Christ attitude" or various hi-jinks happening on The Land on the regular, the Teen Mom Trash Talk podcast may be for you!
The podcast, which was launched back in 2017 by NYC-based comedian Tracey Carnazzo and her two friends, Gabrielle Fragala and Noelle Winters, will be doing a live show next week to bring New York 'Teen Mom' fans together to laugh and, of course, talk trash on everyone's favorite 'Teen Mom' train wrecks!
"We have a live event on Saturday, May 4 in NYC at the Soho Playhouse," Tracey told The Ashley's reporter Amber Belus in a recent interview. "It's going to be really great — we're going to cover Farrah's 16 and Pregnant episode. We're going to have some surprise guests…tons of giveaways, games, prizes, and lots of surprises!"
While 'Teen Mom' stars Leah Messer and Kail Lowry each have their own podcasts that often talk about the show, the Teen Mom Trash Talk podcast is different in that it gives the show's fans and haters a place to discuss recent episodes and online shenanigans without the fear of being judged. The podcast is not in any way associated with MTV or the show; however, many of its stars have admitted to listening.
Tracey counts Kail Lowry, Javi Marroquin, Jeremy Calvert, Bar Smith and Michael Abraham as fans of their podcast who understand that the topics discussed aren't always going to be sugar-coated.
"We're pretty up front about what we talk about, and as long as everyone understands that we are taking this all as entertainment, not to make anyone feel bad about themselves — we're shown what MTV wants us to see," she said. "That's something I've learned talking to the girls and doing these interviews. MTV edits things the way they want it to be seen."
The Teen Mom Trash Talk podcast girls even made an appearance at Kail's Pothead Hair Care launch party, which ended up being featured on 'Teen Mom 2.'
"Kail is all about [the podcast]," said Tracey. "We've developed a personal relationship…it's funny, because she asked us the other night, 'I know you guys recorded the podcast today, what did you say about me?' And we're like, 'Oh we talked s**t!'"
While they may talk negatively about the show and its cast, Tracey insists that she and her co-hosts are not "haters."
"It's just a show we like to gossip about, just like any other show or any other non-reality show," she said. "People want to shame for everything, but if there was no drama on the show why would we watch it? Something we don't really think about — I watch these girls and think, 'Wow, I wouldn't have done that. That was really petty. That was really nasty. She made a bad decision,' but I'm 35 years old. These girls at the oldest are like, 26.
"You have to remember especially when you're watching older seasons or '16 & Pregnant' — maybe it's not something you would do NOW, but who were you when you were 16? I wasn't the best. These girls are juggling sometimes three baby daddies, then step parents and co-parenting, and they're 10 years younger than I am. I couldn't even think about doing it right now."
Tracey, who runs a Teen Mom Trash Facebook group in addition to the podcast, says that she hopes to one day interview 'Teen Mom 2' star Jenelle Evans.
"I would love to get Jenelle," she said. "I would love to get Jenelle without [her husband] David [Eason.] I would say Jenelle and Farrah because the media makes them out to be one thing, and I want to see if that's real. I've even seen with Kail, as much as I like her, she's portrayed so differently on the show than she is in real life."
Although it's safe to assume that Jenelle won't be making an appearance at the Teen Mom Trash Talk live show, Tracey promises that fans will get a hefty dose of fun and drama at the event.
You can purchase tickets to the event here.
Listen to the latest episode of the Teen Mom Trash Talk podcast below!
(Photos: Courtesy of Teen Mom Trash Talk podcast; Instagram)