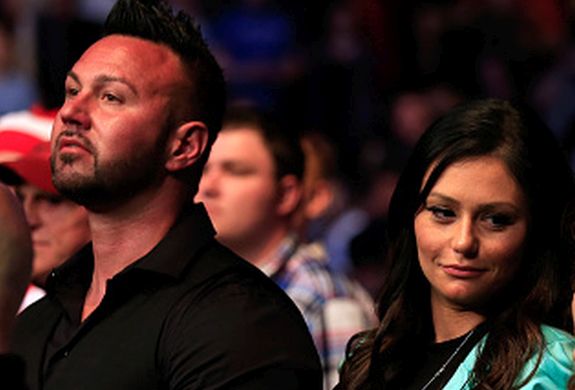 After a few days of truce, it appears that the feud between exes Jenni Farley and Roger Mathews is back on!
The divorcing Jersey Shore couple– who earlier this year were battling viciously online and in court and making claims of mental illness and domestic violence against each other– seemed to be getting along better in recent days. On Sunday, though, Jenni reignited their battle by calling out Roger for going out partying during his time with their two kids, Meilani and Greyson.
"When you find out on Wednesday your kids will be with someone other than their father over the weekend because he wants to rage during HIS time because it's been planned 'for months,'" Jenni wrote on Instagram Stories. "Yeahhhh ok. Loving all your 'dad posts.'"
"Please keep over posting…really shows how involved you are," she added.
In his own post to Instagram, Roger tried to tell his side of the story.
"Had this night planned for a few months now," he captioned a series of party pics he posted to Instagram. "Kids are enjoying a sleepover with my best friends kids…and Dads going to see @louiedevito tonight with some 20 year friends…"
"Rare dad night out. Leeeeeeets goo," he added.
Jenni filed for divorce from Roger in September 2018, and after a brief period in which Roger was trying to win back Jenni's affections, the couple's divorce turned bitter. One of their fights in December ended with the cops being called (twice!) and Roger being escorted from their shared New Jersey home. Jenni later filed a restraining order against Roger, and the two began posting negative things about each other online.
Just last week, though, the exes seemed to have turned a corner in their co-parenting relationship. They spent Easter Sunday together with their kids, and Roger told Page Six that he was happy for Jenni in regard to her new relationship with 24-year-old Zack Clayton Carpinello.
"He seems like a terrific guy and they seem to really be happy, and I'm very happy for them," Roger told the site at the time.
He also mentioned that he and Jenni were getting along wonderfully.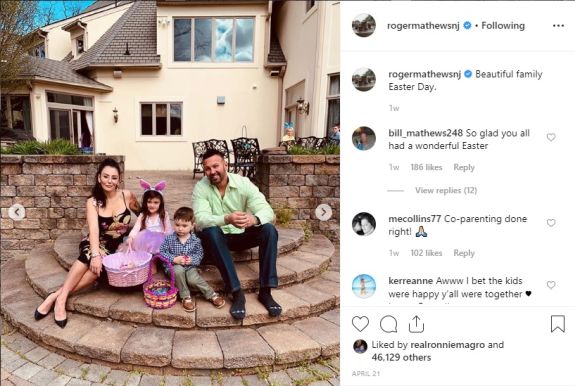 "Co-parenting has been getting much easier and we have a very friendly relationship and do things as a family together which makes the kids very happy," Roger said. "Wish her nothing but positive things."
RELATED STORY: Roger Mathews Comments On His Ex Jenni Farley Being in a Relationship with a 24-Year-Old
(Photos: Alex Trautwig/Getty Images; Instagram)