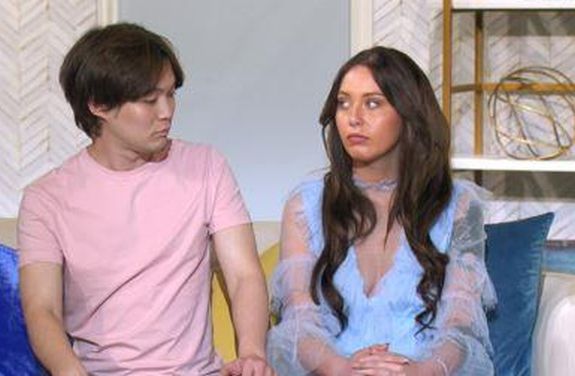 Jihoon Lee of 90 Day Fiancé: The Other Way is being investigated for child abuse as a result of claims made last year by his estranged wife, Deavan Clegg.
On Monday, Deavan and her rep told Us Weekly police had "received the evidence of abuse and are taking it very seriously and working with us closely."
The claims reportedly involve five-year-old Drascilla, Deavan's daughter from a previous relationship. (Deavan is also a mom to son Taeyang, 22 months, whom she shares with Jihoon.) Because the "investigation is ongoing," Deavan and her rep said they are not able to speak further on the matter at the moment.
Jihoon's attorney, Joseph Alamilla, has denied Deavan's claims.
"Deavan herself indicates that she was not there when it happened and so given the length of time between the incident and her lack of first-hand knowledge," Jihoon's attorney said in a statement. "He denies the allegations and is actively seeking documentation concerning any alleged proof."
The attorney also noted Deavan's delay –- nearly a year-and-a-half after leaving South Korea -– in initiating the investigation into Jihoon's alleged actions.
"She did not make a complaint while she lived there and only filed the complaint after he filed his answers and counterclaim in this case," Jihoon's attorney said. "We are presently seeking to obtain records of the actual complaint and should have an update after we receive the documents. It is unclear why she would wait so long to make such an allegation, but again, we should have more information soon.
"Jihoon is actively seeking these records to clear his good name," the attorney added.
Deavan appeared to respond to Jihoon's attorney's comments on Monday, posting two photos on Instagram of Drascilla, whom she said "has a voice … and deserves to be heard."
"I will continue to fight for your right," she continued. "A child takes time to open up. No time limit should be placed on victims."
Deavan included in her post "#TeamDrascilla" – something that may have influenced Jihoon's most recent Instagram post, as he included in his caption "TeamJihoon." (Some of the other hashtags on Jihoon's post included #DadsHaveRights, #Lawyered and #yourenotastarbaby.)
Deavan first spoke of the abuse allegations against Jihoon (which Jihoon has denied) in September, the same month she reportedly filed for divorce. However, she had told fans in August that "something bad happened that can never be forgiven," promising to reveal more during the Tell All. Deavan spoke about the abuse allegations again in October, claiming to have "evidence" that Jihoon abused Drascilla. At the time, Deavan said she was unable to share this evidence publicly because "it will be taken to court and we don't want to hurt our case."
As The Ashley previously reported, there is currently a GoFundMe in place for Jihoon where fans and supporters can contribute to the legal costs associated with the "90 Day Fiancé" star's international custody case.
The page has raised $10,000 as of this month, with a goal set at $50,000.
On Tuesday, Deavan used the situation as clickbait on her Instagram account…as you do.
RELATED STORY: It's a Boy! "90 Day Fiance" Couple Paul & Karine Staehle Welcome Second Child; Paul Livestreams Aftermath of Baby's Birth
(Photos: TLC; Instagram)