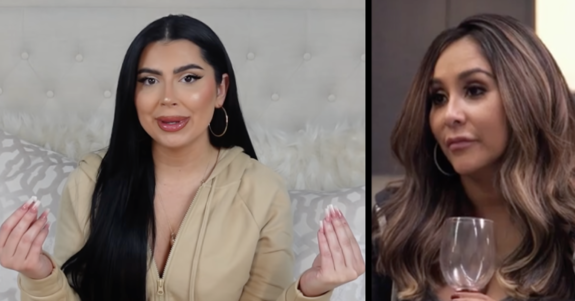 Despite Angela Babicz and Nicole "Snooki" Polizzi being reality TV stars (of multiple shows) who hail from MTV, Angela says her first encounter with the former Jersey Shore star left her feeling "so disappointed." In a new video, Angela claims Nicole was "super rude" to her and was talking about her in another room.
The Challenge and Ex on the Beach alum posted a video on YouTube this week, recalling the time she met a certain "mean celeb." Angela broke into this "mini storytime" while explaining why she is so welcoming of fans who approach her in public.
"The reason I'm like this is because right before 'Ex on the Beach' Season 1 aired, I had the opportunity to go on TRL with the cast of 'Jersey Shore' and promote the show, which was one of the most exciting days of my life," she said. "You have to understand, I grew up on 'TRL' and MTV, and to actually like, do an episode was completely an out-of-body experience."
Angela, who also appeared on Bad Girls Club, went on to explain that prior to her 2018 'TRL' episode, she had flown from South Africa to Los Angeles after filming 'The Challenge' and 12 hours later, had to fly from LA to New York City on a red-eye, leaving her exhausted from traveling. Still, she was pumped to film the show and meet the 'Jersey Shore' cast – most of whom, she said, were "super nice."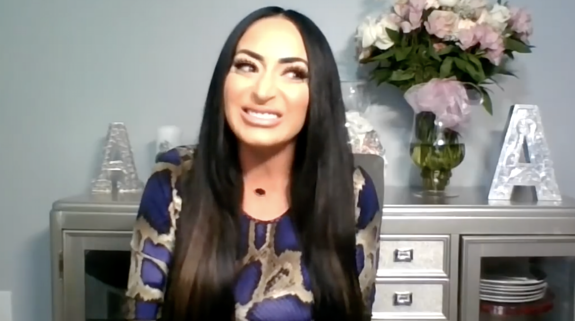 " … except for Snooki," she claimed. "She didn't want to shake my hand – this was pre-COVID – she didn't want to shake my hand, she was kind of annoyed that I was there. I think I was filling in for [Jenni] JWoww [Farley] because she couldn't make it.
"She was super rude and then I guess she didn't want me hanging out with them before the show, so I had to go into a separate dressing room to wait and she didn't realize that I could hear her talking about me from this dressing room," Angela continued. "It was so, so awkward because then I had to go on stage with her and do the show with her – and she was fine on stage."
Angela then shared that she posted a photo of herself with some of the 'Jersey Shore' cast after their 'TRL' appearance, but when Nicole posted the same photo, she cropped Angela out of the group shot.
"I just remember being so disappointed meeting her because I had been watching her for so many years and she just wasn't friendly," she added.
In response to Angela's story, Nicole claimed on Twitter that she remembered the encounter and wasn't aware she had been unfriendly.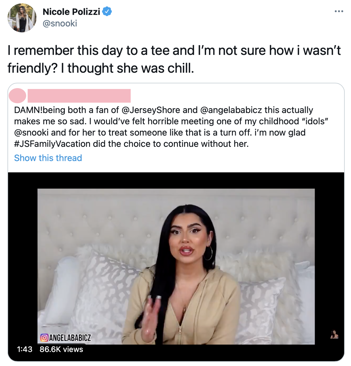 "I remember this day to a tee and I'm not sure how I wasn't friendly? I thought she was chill," Nicole wrote.
In another reply, Nicole provided an explanation for cropping Angela out of the photo she posted.
I didn't post her in the pic because i was just posting the cast of my show. I didn't think it was a big deal.

— Nicole Polizzi (@snooki) February 17, 2021
"I didn't post her in the pic because I was just posting the cast of my show," Nicole said. "I didn't think it was a big deal."
In another comment, Nicole attempted to explain again that she cropped the photo to only include herself and her castmates because they were on 'TRL' to promote their show.
"I didn't think anything of it, and I didn't think that hurt her feelings like that," she added.
Angela has yet to respond to Nicole's comments.
You can watch Angela's full video below!
RELATED STORY: 'The Challenge' Stars Jenna Compono & Zach Nichols Are Expecting Their First Child: See Their Cute Baby Announcement!
(Photos: YouTube; MTV; Instagram; Twitter)