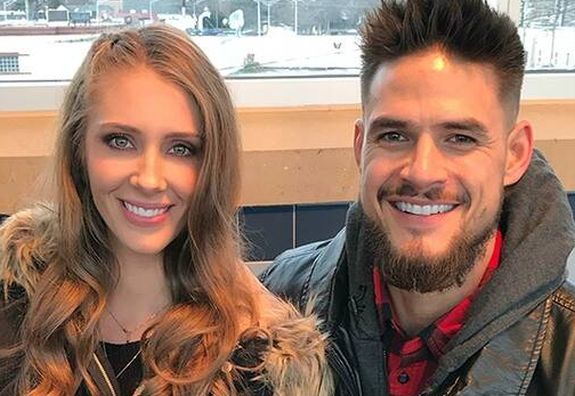 The next generation of The Challenge stars just keeps on coming!
Zach Nichols and Jenna Compono announced on Sunday that they're expecting their first child. The couple—who got engaged in December 2019— used the Valentine's Day holiday as part of their announcement. The holiday weekend had special meaning, as Zach and Jenna had set their wedding date as February 13, 2021, but, due to the COVID-19 pandemic, they've postponed their nuptials.
"Happy Valentine's Day! Zach & I are expecting our first baby," Jenna wrote in the caption of a photo of a sonogram and a letterboard announcing the pregnancy.
"After our wedding was postponed, we decided to start the next chapter of our lives. It really wasn't a hard decision for us, we were both super excited and ready. Luckily, we were fortunate enough to get pregnant on our first try and have had zero complications regarding my first trimester."
Jenna added that their child is due in August…and already has its own Instagram (naturally!)
Zach's baby announcement was slightly less sentimental, talking about how Jenna will be a MILF, and how the lovin' he gave Jenna made a baby. (Sorry, ladies— this sweet-talker is taken!)
"Happy Valentine's Day! I gave Jenna some lovin, and she's giving me a family," he wrote. "I have never been this excited. August couldn't come soon enough… because that is when Jenna will officially be a milf Follow @babynichols_ to follow our journey!"
Jenna and Zach received plenty of congratulatory messages from their 'Challenge' co-stars.
"Ahhh the pics came out soo good!! love you, I'm so excited for you guys," Kailah Casillas wrote in the comment section of Jenna's post.
"Yes! Rumor is you're naming the baby Wes," Wes Bergmann joked.
"Andddd the secret is finally out!" Nany Gonzalez wrote. "You're going to be the BEST mama ever, Jen.. I have not one doubt. Love you forever and I cannot wait to meet my new best friend."
The couple has dated on and off since meeting on the "Battle of the Exes 2" season in 2014. Zach last appeared on the "War of the Worlds 2" season in 2019, while Jenna's last appearance was "Total Madness" in 2020.
RELATED STORY: Surprise! 'The Challenge' Star Theo Campbell Announces He's Welcomed His First Child
(Photos: MTV; Instagram)