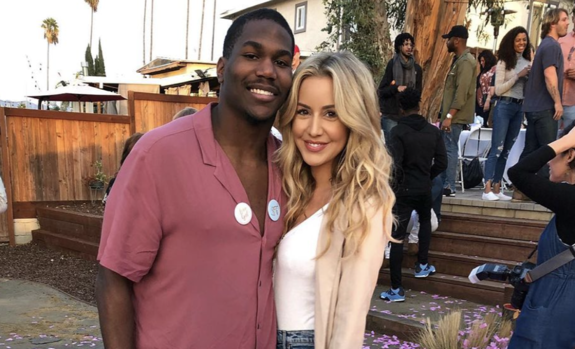 The Challenge: Battle of the Seasons champ Ashley Marie Kelsey is officially a mom.
The former champ, who made her MTV debut on The Real World: San Diego, revealed this week that she and her partner Kerryon Johnson— a running back for the Philadelphia Eagles— had welcomed a daughter on June 8.
The baby girl— who weighed in at 8 lbs., 13 oz. and measured 23 inches long— was given a very, um, interesting name: Snoh Marie Johnson.
(The name is pronounced "Snow," in case you were wondering.)
Ashley told People that Kerryon was the brains behind Baby Snoh's moniker.
"Kerryon came up with her name and I just loved it. We wanted something unique and beautiful, and it fits her perfectly," Kelsey said.
"Becoming a mom is so surreal. You see her tiny little face and just melt. I've just been staring at her since the minute I gave birth. I'm so in love."
Ashley announced the birth of her "little best friend" on social media.
" … I can't believe you are finally here, I just sit and stare at you because I never could have imagined you'd be this perfect," she wrote. "Pregnancy is the most incredible journey and ends in the most rewarding way! I'm so grateful and feel so beyond blessed to have you in my life. I can't wait to watch you grow."
Ashley also gave Kerryon a shoutout for being so supportive during her pregnancy, adding that she "couldn't have asked for a better man to take this journey on with."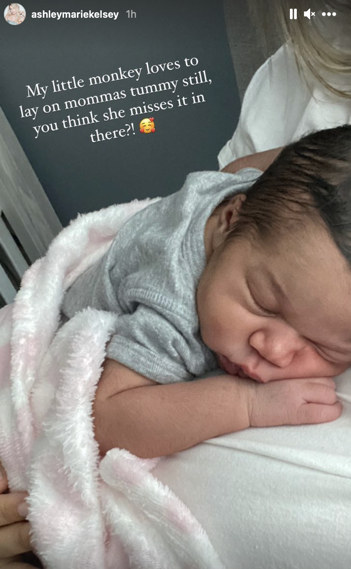 Kerryon shared the news of baby Snoh's birth as well, telling followers his daughter has his "full heart and cuddles forever and ever." He went on to praise Ashley for handling pregnancy "like a champ."
"I'm telling y'all one thing I am sure glad I can't get pregnant cause I ain't real enough," he added. "S/o to all the moms out there y'all got my respect even more!"
As fans of 'The Challenge' may remember, Ashley won 'Battle of the Seasons' back in 2012 along with teammates Frank Sweeney, Sam McGinn and Zach Nichols – the latter of whom is currently expecting his first child with wife and fellow 'Challenge' star Jenna Compono. The foursome took home the $250,000 grand prize, which was split equally between them.
RELATED STORY: Jordan Wiseley Says He Refuses to Return to 'The Challenge' On A Season with His Ex-Fiancé Tori Deal; Reveals They Were in Talks With MTV to Do Wedding Special
(Photos: Instagram)