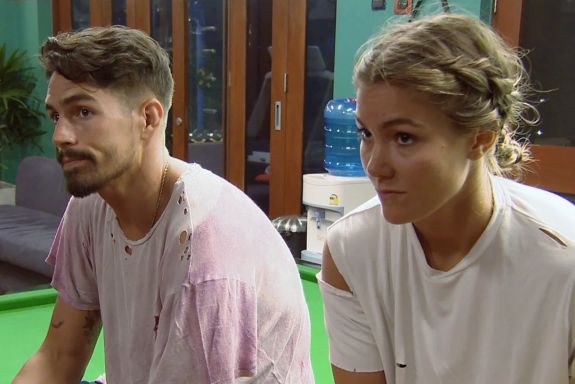 When The Challenge couple Jordan Wiseley and Tori Deal announced their breakup in November, they not only shocked viewers who had watched them date and ultimately get engaged on TV; they also missed out on the opportunity to be in an MTV wedding special featuring other couples from 'The Challenge' that were set to tie the knot.
On a recent episode of his All Out series on YouTube, Heavy reports, Jordan spoke to his guest, podcast host Danny Pellegrino, about his breakup from Tori, where their relationship began to unravel, his future on 'The Challenge' and more.
Jordan and Tori met on The Challenge XXX: Dirty 30 back in 2017 and Jordan went on to propose while the two were competing together on The Challenge: War of the Worlds 2 in 2019.
Prior to announcing their split in November of last year, fans had been speculating that the two had called it quits, due to a lack of recent photos of them together, and Tori being photographed without her engagement ring.
On the wedding series MTV was trying to plan with them:
"MTV and Bunim-Murray started talking about a wedding, and started bringing us in and really pitching," he said. "There were talks about building a show around [the wedding]. There were talks about building a show surrounding three or four weddings that were coming up—Zach [Nichols] and Jenna [Compono] tied the knot recently and they're having a baby. There was a lot."
On what caused their breakup:
According to Jordan, the relationship was going well until COVID-19 hit.
"Pre-COVID, pre-lockdown, we were really looking forward to, we were having fun planning a future together," Jordan said.
Part of that future, he said, included having children and buying a house – something he hoped the money from the wedding special would help with.
"We [were] having very, very deep conversations about children," he said. "This is my best friend, I trusted her, and now I have pie on my face."
Jordan and Tori's future also included some projects that they had already begun working on together, including music, branding and fitness. Because the two were already working together on a business level, Jordan said they actually waited a couple of months to announce their breakup to the public because they still had business obligations.
On how they got to be on bad terms:
When the news was finally announced, both parties claimed the split were amicable, but things changed once Tori spoke about the breakup on a podcast, despite the two agreeing not to do so.
"We had this discussion before she left the house … Let's agree we're not gonna do interviews about this, we're going to make a statement when we're good and ready because we do owe that to the fans and then that's it," he said.
Jordan said Tori's response to this was, "We're gonna show the world how to break up maturely."
Needless to say, Jordan was caught off-guard when Tori claimed on The Chicks In The Office podcast that she and Jordan had "been on the rocks for a lot longer than people know" and that the two had even broken up for a short time before she left to film The Challenge: Double Agents.
Jordan responded to the interview by jumping onto his Instagram Stories to let his followers know he wasn't happy about Tori's decision to speak about their breakup and that he was also surprised by some of what she had revealed, claiming "it's certainly news to me."
This week, Jordan explained that the Instagram Story was his way of replying to the "false narrative." He also revealed that once Tori saw it, she texted him about it, to which he told her, "We said we [weren't] gonna do this and now you're doing this because it seems like you're doing it to save your a**."
(The whole "save your a**" comment was likely referring to the rumors that Tori hooked up with Fessy Shafaat during 'Double Agents,' though Tori has denied these claims.)
On "MugGate":
Since their split, Tori and Jordan have made it pretty clear that things between them are no longer friendly – something Jordan confirmed back in February when he and Tori got into a bit of a social media squabble after he posted a photo of himself holding a coffee mug.
After Tori commented on the pic to let Jordan know the dish he was holding in the photo belonged to her, Jordan claimed that it didn't anymore and furthermore, "ain't nothing in this house yours anymore. You made your bed… "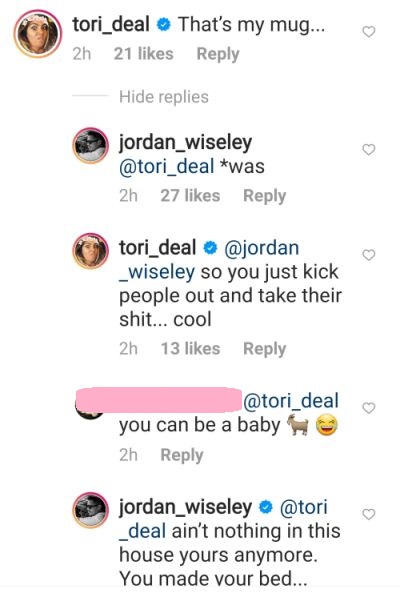 Tori attempted to make light of the exchange with some laughing-face emojis, only for Jordan to ask that she keep her drama off of his page.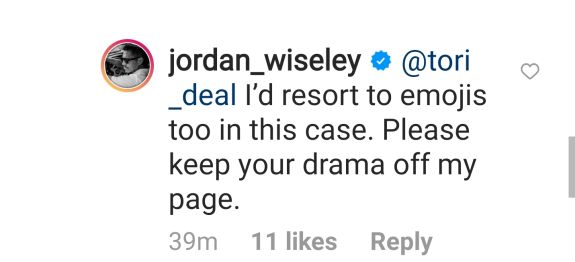 On why he refuses to appear on a season of 'The Challenge' if Tori is part of the cast:
As for Jordan, he plans to keep any potential drama between himself and Tori off of TV by not returning to 'The Challenge' so long as his ex is participating.
"I'm not going back with Tori," he said. "It's not because I have a personal vendetta against [production] it's just that I know how television works … And not that I can't control [the narrative], but that they can, do and will … And that's my biggest thing. It's not that I want to win this.
"I was so hurt by the way the Tori and I thing broke apart because, number one thing, it cheapened all of it."
You can listen to Jordan's full interview below!
RELATED STORY: 'The Challenge' Star Stephen Bear Officially Charged with Voyeurism, Harassment & Disclosing Private Sexual Photographs in Revenge P0rn Case; Georgia Harrison Responds
(Photos: MTV; Instagram; YouTube)