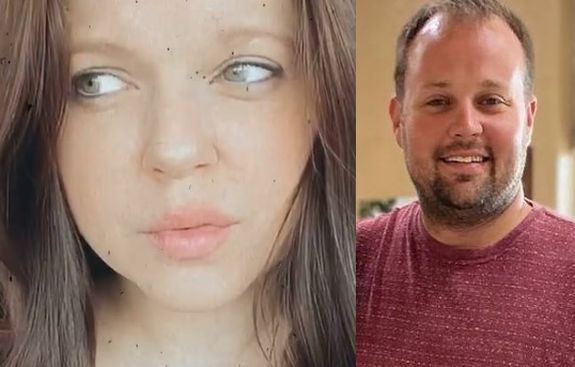 Josh Duggar is currently out on bail, and, while his father Jim Bob is reportedly worried about Josh's safety while he prepares to go on trial for allegedly possessing and receiving child sex abuse images, Josh's cousin Amy Duggar King is more worried about the safety of Josh's six children.
In an new interview with Today, Cousin Amy discussed the charges against Josh, calling his alleged actions "disgusting and sickening" and admitting she fears for the safety of his kids. She also opened up about the "sad" way girls in her cousins' religious circles are brought up, stating that they are encouraged to only pursue becoming a wife and mother.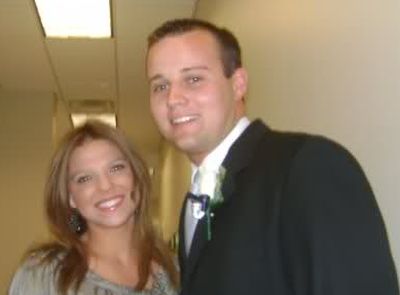 Amy— who has appeared on the Duggar Family's shows, 19 Kids and Counting and Counting On—stated that she was shocked by Josh's arrest for child p0rn last month. She also seemed surprised that Josh was later released on bail and given access to his six children, provided his pregnant wife Anna is present while he visits with the kids, who range in age from 18 months to 11 years old.
"Who wouldn't worry about that?" she said. "My heart goes out to all those innocent, sweet victims… It breaks my heart. I really hope justice is served… If you're going to look at such disgusting and sickening images, justice has to be served."
View this post on Instagram
Amy— who is the mother of a 19-month-old son—told Today that she was shocked to learn the details of the case against Josh, which includes the alleged viewing of sex abuse videos and photos of kids as young as 18 months old. (Josh has pleaded not guilty to all charges against him.)
"To look at my little guy who is 19 months old… my heart and my brain cannot comprehend that," Amy said. "It blows my mind. It's heartbreaking and disgusting and evil. It's so evil. I want nothing to do with it."
Amy told the site she has distanced herself from some of the members of the Duggar family, in order to preserve her own mental health. She added that her cousin— Josh's sister and previous victim Jill Duggar Dillard— is also doing that.
View this post on Instagram
"It's OK to protect yourself from negativity and it's OK to step back. I think that's where I'm at," she said. "Jill and I are very, very close. She's really such a sweet person and she's growing into her own… and to see her live her life that's freeing and still godly, but not being restrained, is a really, really beautiful thing to see. She has my full support."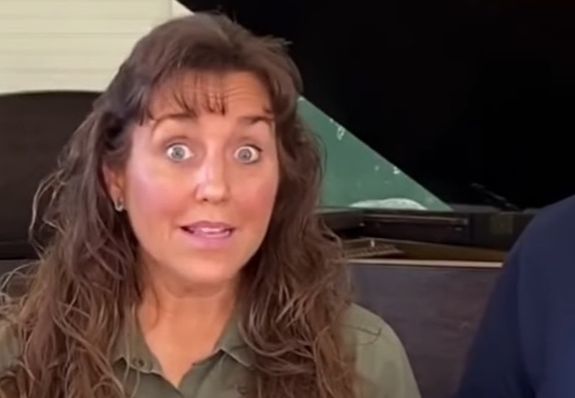 (Jill and her husband Derick are somewhat estranged from Jill's parents, particularly her father Jim Bob, who has banned Jill and Derick from his home unless he is present.)
Amy also talked about the "sad" way girls are raised in the Fundamentalist Christian circles. While Amy didn't grow up in the Institute in Basic Life Principles (IBLP), like Jill and the other Duggars did, she had a front row seat to what the Christian organization preaches, particularly to young girls.
"In the ultraconservative way certain families are raised, I don't necessarily feel like it's fair," she said, stating that the young girls are encouraged to only focus on having babies, rather than pursuing other careers or higher education. (To date, none of the Duggar girls have attended college, and all were homeschooled.)
"I think they should have schooling, and the ability to do other things besides being a mom and having babies," Amy said. "God gives you freedom, that's why there's so many different people, jobs and lifestyles."
Amy was raised by her mom Deanna (who is Jim Bob's sister), and was very close to her Grandma Mary, who died in June 2019. In a recent Instagram post, Amy hinted that Grandma Duggar wouldn't have been able to handle the family's current situation. (We can assume she's talking about the charges against Josh here.)
View this post on Instagram
"If you were here you would be heartbroken," Amy wrote. "[Your] heart was to[o] precious to handle that kind of weight. I believe God took you away because it was your time to go but also to protect you."
RELATED STORY: Jim Bob Duggar is Reportedly Concerned for Son Josh's Safety Following Recent Arrest; Plans to Build a Fence Around House Josh Is Living In While He Awaits Trial
(Photos: Instagram; YouTube)