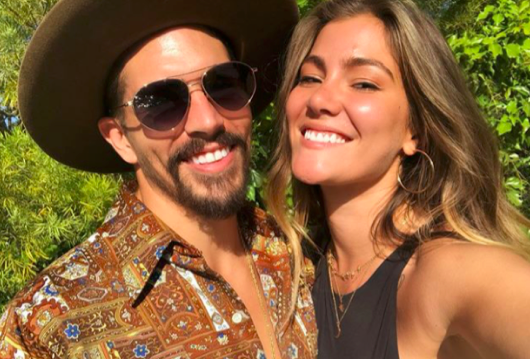 Jordan Wiseley and Tori Deal of MTV's The Challenge are getting ready to take on a whole new challenge: marriage.
Us Weekly reports that the reality stars, who met on "The Challenge XXX: Dirty 30" in 2017, are engaged and viewers will get to see the whole proposal play out on the upcoming season of The Challenge: War of the Worlds 2, premiering August 28.
"We could not be happier to spend the rest of our lives together," the couple said in a statement made to the magazine.
Prior to making their respective 'Challenge' debuts, both Tori and Jordan had already made a name for themselves on MTV—- Tori on Are You The One? Season 4 and Jordan on The Real World: Portland in 2013. While "Dirty 30" was Tori's first 'Challenge,' Jordan (who ended up winning "Dirty 30") previously competed on "Rivals II," "Free Agents," "Battle of the Exes" (which he won along with ex Sarah Rice) and "Champs vs. Pros."
Because of the couple's close ties to MTV and particularly 'The Challenge,' Jordan decided "War of the Worlds 2" would be the perfect place to pop question—- a plan he kept a secret from the cast and production until the last moment.
"I was really scared to ask Tori on the show because I know how important a woman's proposal is," he said. "But we met because of the show and I knew she would be super surprised."
Jordan's surprise paid off, as Tori revealed she was "absolutely shocked" about the proposal.
"We had talked about being together forever and getting married, but I had no idea that the proposal was going to happen the way that it did," she added.
Tori and Jordan have yet to nail down a wedding date, though the pair said they are "looking at Fall 2020."
"We have a lot coming our way in the next year so we are just going to take our time and really enjoy our engagement," the couple said.
I love you @JordanW_usa https://t.co/bf6Un1wuzd pic.twitter.com/G6PNDLfIOU

— tori deal (@tori_deal) August 13, 2019
When Tori and Jordan do eventually tie the knot, they will be the second couple from 'The Challenge' franchise to do so. As longtime fans of the show may recall, Tori Hall and Brad Fiorenza married in 2010 after having competed on three seasons of the show. The couple, who have two sons together, ultimately split in August 2015 and finalized their divorce in 2016.
Watch Tori and Jordan's surprise engagement go down this season on 'The Challenge: War of the Worlds 2,' premiering August 28 on MTV. (Click here for more info on the new season!)
(Photos: Instagram; Twitter)