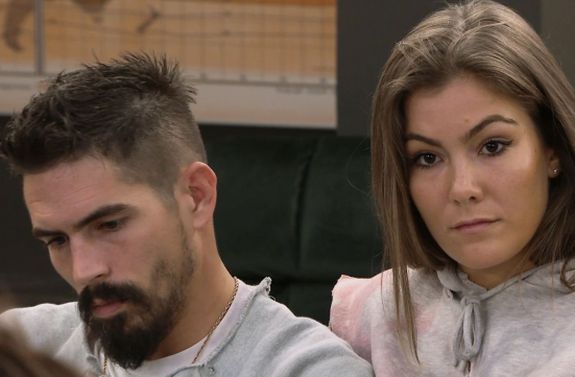 When Tori Deal and Jordan Wiseley announced their breakup back in November, both stated that their split was mutual and loving, with Tori even writing that their "love, support, and connection with one another only grows stronger and deeper."
Well….it appears that things between The Challenge exes have changed. Big time.
The latest spat between Tori and Jordan came via social media on Thursday and started over a coffee mug.
Jordan posted a photo of himself holding a yellow mug, something Tori apparently recognized as her own.
View this post on Instagram
"That's my mug," Tori commented under Jordan's photo.
:*was," Jordan responded.
That's when things between the ex-fiances began to smoke, with Tori revealing that she was "kicked out" of the home she once shared with Jordan.
"So you just kick people out and take their s**t…cool," she wrote.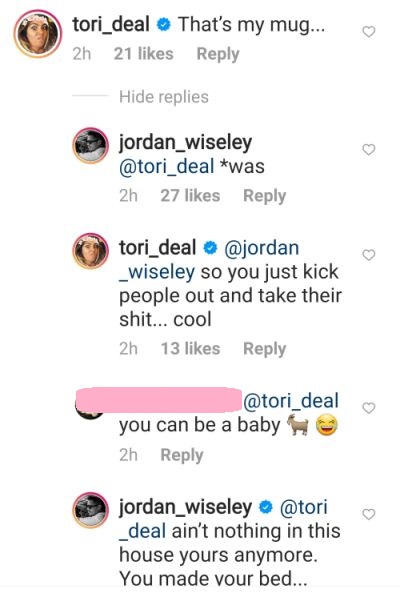 Jordan was not having it and clapped back with some accusations of his own.
"Ain't nothing in this house yours anymore," he wrote. "You made your bed."
'Challenge' fans speculated on the post that Jordan was referring to the rumors about Tori hooking up with 'Challenge' co-star Fessy Shafaat while still with Jordan. (Tori denied that she ever cheated on Jordan. However, she was seen vacationing with Fessy a week after she announced her split from Jordan.)
Tori simply responded to Jordan's "bed" comment with a bunch of laughing emojis.
"I'd resort to emojis too in this case. Please keep your drama off my page," Jordan replied.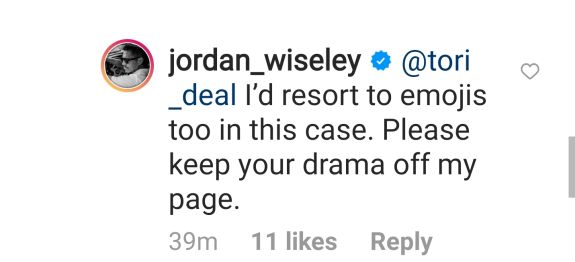 Jordan deleted his and Tori's bickering off his page; however, he continued to like comments left by fans that were less-than-favorable toward Tori, such as the comment below:
"Basically Tori chose the show, she seems to want notoriety. A hypocrite really, given she/both of you criticized Cara [Maria Sorbello] for living for the show and now Tori is doing exactly that. Trying to become a beast and yet tried to humiliate Cara for doing so."
In return, Tori hit Instagram Stories, telling her followers, "Does someone ever piss you off, and you're just like 'No, I am too grown to be involved in that behavior?' And then deep down you're like, 'F**k it. I'm still an a**hole!'"
Tori and Jordan's "love, support and connection," has been been lessening as the months have gone on. Last month, Tori did an interview with the Chicks in the Office podcast, speaking openly about her and Jordan's breakup. This angered Jordan, who said he and Tori had agreed to keep the details of their split private.
"I watched some of the interview, and it's certainly news to me," Jordan said on Instagram Stories on Friday. "I've been pretty quiet about Tori and I's split because I thought it was something very special and deep and ours, and I didn't just want to give it away. So it's disappointing to see what it's being turned into."
RELATED STORY: 'The Challenge' Star Jordan Wiseley Speaks Out After Ex-Fiance Tori Deal Does Interview About Their Split
(Photos: MTV; Instagram)