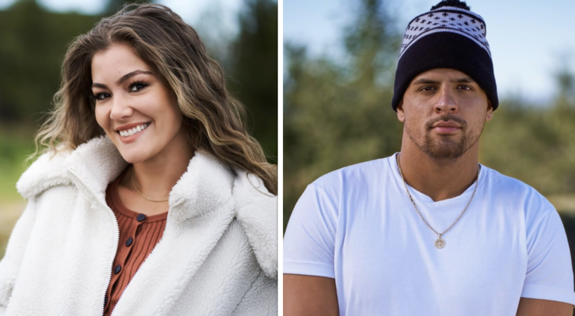 A clip from Wednesday's episode of The Challenge: Double Agents has some viewers speculating that Tori Deal and Fessy Shafaat may have hooked up while filming this season— and that the hookup possibly contributed to Tori's split with fiancé and fellow 'Challenge' competitor, Jordan Wiseley.
As fans of the show may recall, Jordan proposed to Tori on-air during The Challenge: War of the Worlds; however, in November, the two announced that they had gone their separate ways.
After the clip went live, Tori received plenty of hate online, prompting her to take to Instagram Stories to let everyone know she never cheated on Jordan.
While neither Tori nor Jordan have publicly accused one another of being unfaithful during their relationship, the clip from Wednesday's episode raised some eyebrows as Tori was still engaged to Jordan while filming 'Double Agents.' In the clip, Fessy admits to having a connection with Tori and Cory Wharton reveals his friend has always been attracted to her.
In response to the rumors of a possible Fessy-Tori hook-up, the latter took to social media in an attempt to clear her name.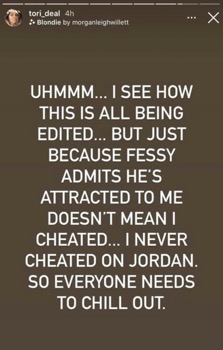 "Uhmmm… I see how this all being edited… but just because Fessy admits he's attracted to me doesn't mean I ever cheated," she wrote. "I never cheated on Jordan. So everyone needs to chill out."
Coincidentally, Tori and Fessy were spotted vacationing together by some fans of the show a week after Tori announced her split from Jordan…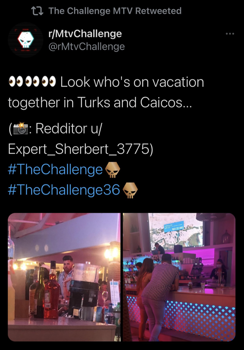 Turks and Caicos getaway aside, in a clip from this week's episode of The Challenge: Double Agents Aftermath, Tori assures viewers she wasn't the "main prospect" of Fessy's on 'Double Agents' and goes on to call out "Messy Fessy" for "hooking up with plenty of girls" in the house.
While Tori denies anything happening between herself and Fessy, Haleigh Broucher, Fessy's ex-girlfriend and Big Brother 20 co-star, maintains that Fessy did partake in some unsavory behavior during 'Double Agents,' which ultimately led to the two of them ending things for good.
In a leaked screenshot of a DM between Haleigh and a fan (posted by the @challengeteaa Instagram account) the former 'Big Brother' contestant confirmed she and Fessy "are not fine" and that Fessy is "removed from my life permanently."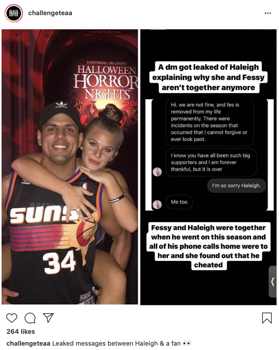 "There were incidents on the season that occurred that I cannot forgive or ever look past," Haleigh allegedly wrote in the message. The individual who took the screenshot also claimed that Fessy and Haleigh were together when Fessy went on the show "and all of his phone calls home were to her and she found out that he cheated."
On Tuesday, Haleigh shared on her Patreon that until she received a call at the end of October telling her otherwise, she was in a relationship, in love and creating a space to accommodate herself and Fessy.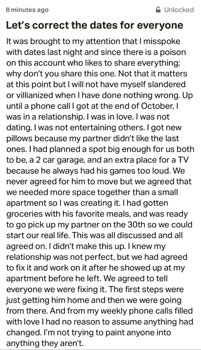 " … We never agreed for him to move but we agreed that we needed more space together than a small apartment so I was creating it," a screenshot of the Patreon message read. "I had gotten groceries with his favorite meals, and was ready to go pick up my partner on the 30th so we could start our real life. This was all discussed and all agreed on. I didn't make this up.
"I knew my relationship was not perfect, but we had agreed to fix it and work on it after he showed up at my apartment before he left," she continued. "We agreed to tell everyone we were fixing it. The first steps were just getting him home and then we were going from there. And from my weekly phone calls filled with love I had no reason to assume anything had changed. I'm not trying to paint anyone into anything they aren't."
In another message, Haleigh said she didn't care if anyone believed her, she simply wanted people to "move on" and "stop harassing" her.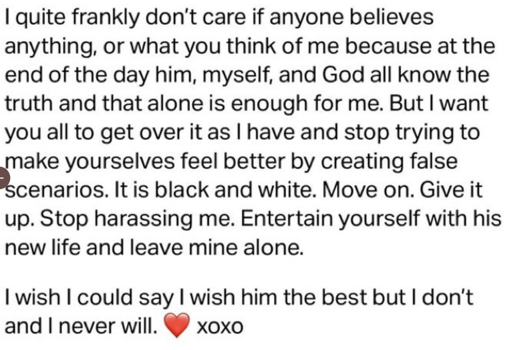 " … Entertain yourself with his new life and leave mine alone," she added. "I wish I could say I wish him the best but I don't and never will."
On Monday, Jordan assured his followers everything was good on his end.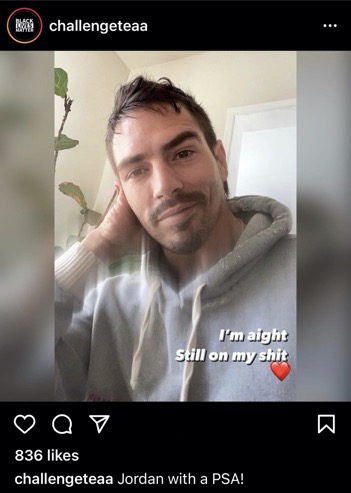 "I'm aight," he wrote on Instagram. "Still on my s**t."
As for Tori, she thanked fans Tuesday for their supportive messages, assuring them she's "mentally strong enough to handle all of this bulls**t."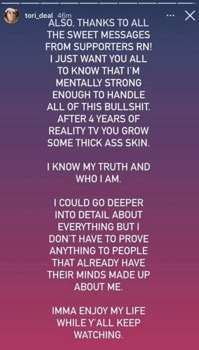 "After 4 years of reality TV you grow some thick a** skin," she wrote. "I know my truth and who I am. I could go deeper into detail about everything but I don't have to prove anything to people that already have their minds made up about me. Imma enjoy my life while y'all keep watching."
'The Challenge: Double Agents' airs Wednesday at 8/7c on MTV.
RELATED STORY: Stephen Bear Posts Disturbing Video After Joking About Faking His Suicide Due to Accusations Made By His Ex Georgia Harrison
(Photos: MTV; Instagram; Twitter)