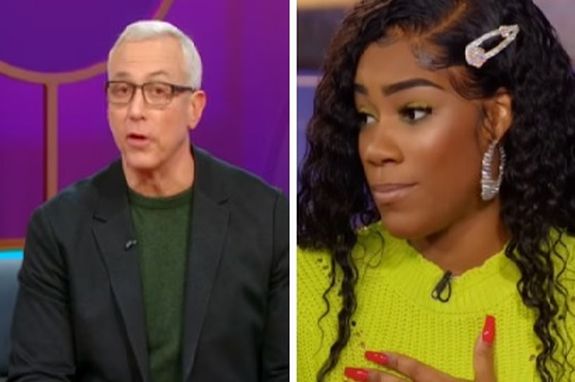 Ashley Jones is not a fan of Dr. Drew Pinsky —and she let everyone know it on Wednesday!
The Teen Mom: Young & Pregnant star— who will make the leap to Teen Mom 2 next season—was doing a fan Q&A on Instagram when she was asked if she is still feuding with her 'Young & Pregnant' co-stars. (As you may remember, Ashley nearly got into a physical fight with some of her co-stars while on-stage filming the 'Young & Pregnant' Season 2 Reunion in October 2019.)
Ashley said that, while she no longer has beef with the girls, she does have beef with Reunion host Dr. Drew Pinsky— whom she accused of instigating drama among the girls.
"Dr. Drew messy ass need to drop the 'Dr.' [from his name] and just call himself a Wendy Williams cause he's a disgrace," Ashley– who is apparently not a fan of the talk show host either— wrote.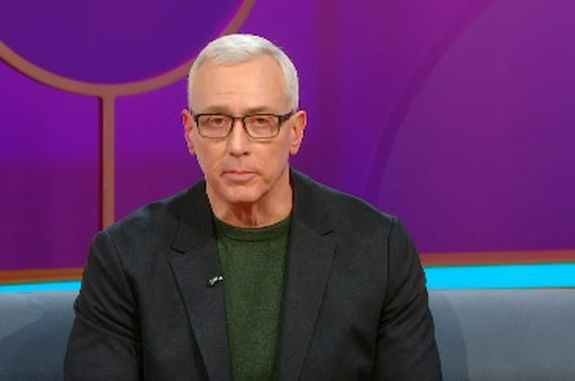 "[Drew is] sitting up there old as my Papa instigating little girl drama for the last however long," she continued. "Surely as a Dr. his medical contributions can be greater."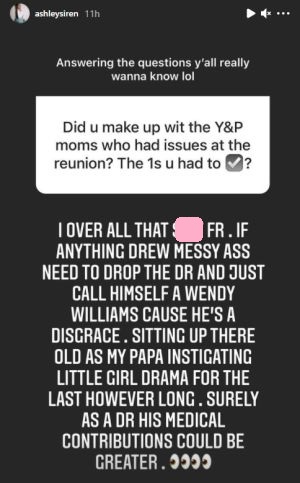 Dr. Drew has hosted all of the 'Teen Mom' franchise shows' Reunion Specials, starting all the way back to the 16 and Pregnant Reunions.
Ashley later posted on Instagram Stories that she feels Dr. Drew needs to focus on helping people instead of appearing on 'Teen Mom' Reunions.
"Point blank he needs to go try to really rehabilitate people instead of starting drama between girls who are young enough to be his granddaughters. F**king disgusting," Ashley wrote.
Ashley is not the only person to call Dr. Drew out recently for starting drama. Since the old episodes of 'Teen Mom 2' began airing on Netflix, the show's fans have taken to social media to voice their opinions that Dr. Drew frequently instigated drama among the show's cast members and seemingly says things to try to make the girls upset.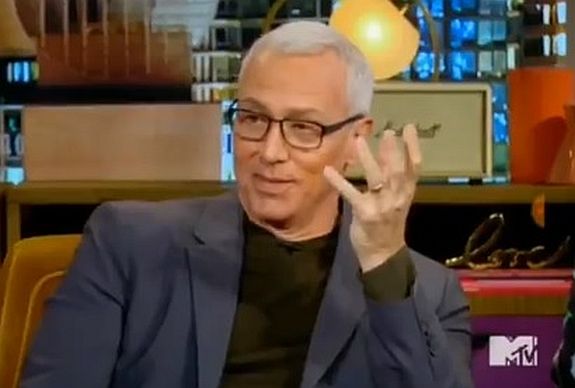 "Watching old 'Teen Mom' reunions, Dr. Drew is one messy mf, he would instigate so much omg," one person wrote on Twitter on Wednesday.
"Teen Mom 2'… At the reunions it's Dr. Drew's main goal to make them all cry lol," another person tweeted recently.
"Rewatching 'Teen Mom 2,' I can see why they for so upset at reunions. Dr. Drew is like kinda manipulative," someone else wrote.
Rewatching teen mom 2, and I can see why they for so upset at reunions. Dr. Drew is like kinda manipulative.

— saaaaaav (@jordan_savanna) December 22, 2020
"I thought I was the only one who noticed he's completely biased," another fan wrote. "Often taking the sides of the father's over the mother's. Thought I was losing my s**t for a min but this is real! You don't notice this when you're 16-17 watching this!"
In a preview clip from the 'Teen Mom 2' Season 10 Reunion (which is currently airing), Drew is the only 'Teen Mom 2' cast member to react in a catty way when Chelsea Houska announced that she was leaving the show after 10 seasons to focus on her family's well-being. While all of the other 'TM2' girls wished Chelsea the best and commended her for her decision, Drew seemed downright offended, telling everyone he was "pissed and sad" at Chelsea for leaving.
"My question is— and I have a mix of emotions and I'm sort of keeping a lid on them at the moment– but why?! Why you doing this?" he asked Chelsea in the clip.
Dr. Drew– who is currently battling COVID-19— has yet to respond to Ashley's statements.
RELATED STORY: Dr. Drew Pinsky Says He Is "Pissed & Sad" About Chelsea Houska Leaving 'Teen Mom 2'; See How Her Other Co-Stars First Reacted to the News
(Photos: MTV; Twitter; Instagram)