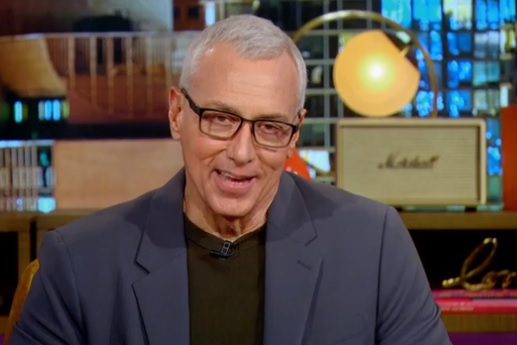 After making light of COVID-19 — and later apologizing for his comments — Dr. Drew Pinsky has tested positive for the virus, and is giving his followers a detailed account of his battle with the Coronavirus.
"Cheers to the New Year with some Hydralyte for Covid-19," an Instagram post from earlier this week reads. "Drew tested positive day 4 and [his wife Susan] is negative. #2020 #covid19 #youlive. Drew is home, under surveillance and fever is down. Thanks Dr. Zelenko, Dr. Yo and Dr. Jeff for the superior care and advice. Drew is feeling better and will hopefully get well soon."
In Instagram stream posts this week, Drew listed some of the symptoms he's suffered. He stated he's had back pain, mental fogginess, flu symptoms, inflammation, three days of a 102-degree fever and more. He's received several infusions and medical treatments to help him battle the virus and its symptoms.
Drew—an internist and addiction medicine specialist who hosts the Teen Mom reunion specials— has been sharing recovery updates and answering followers' questions on Instagram since his diagnosis was announced. Responses to his posts and live videos have included criticism for earlier comments he made comparing COVID-19 to the flu and for recent posts showing Drew traveling and attending gatherings with people outside of his household.
"Drew, not trying to be an ass, but you spent so much time out and about," reads one response on Instagram. "Traveling, partying it out at resorts, and acting like everything was fine. Sorry you caught it, but you brought that on yourself."
"I hope you recover fast man, you seem like a decent guy and I like you, but you have been downplaying this thing since the very beginning, going out to eat, telling people not to worry," another person wrote. "Reaping a little of what you were [sowing]."
In February and March, as COVID-19 cases were first appearing across the United States and various restrictions were put in place to minimize the spread, Drew regularly downplayed the severity of the virus and criticized what he saw as a media overreaction to the virus on his own shows as well as appearances on news programs.
The Twitter account @DroopsDr created a video that's gotten 4.5 million views featuring statements Dr. Drew made in February and March like, "It's going to be just like the flu, it's going to be almost identical," and telling his fans that they would be more likely to die from being "hit by an asteroid" than from the virus.
Friends don't let friends trust trust Dr. Just-the-Flu Drew#DrDrew #Covidiot #Medtwitter pic.twitter.com/No995GeMAs

— DroopsDr (@DroopsDr) April 3, 2020
Drew responded to the controversy and issued an apology in an April 4 live Periscope video.
Watch on #Periscope: #DoseOfDrDrew 4/4/2020 (Take 1) Apology.https://t.co/jLJU779hb5

— Dr. Drew (@drdrew) April 5, 2020
"My early comments about equating coronavirus with influenza were wrong, they were incorrect, that was part of a chorus that was saying that, and we were wrong, and I want to apologize for that," he said. "I wish I had gotten it right, but I got it wrong."
In that video, Drew said he signed up in California and New York to serve on the front lines of the pandemic. It's unclear if he has been asked to serve.
Even with the diagnosis, it doesn't look like Drew and his family are going to be staying at home or avoiding gatherings in the future.
"We didn't shelter in place, don't intend to after this quarantine," Drew's wife Susan posted from his account on Instagram.
Comedian Rob DaRocha ripped Dr. Drew via an Instagram comment left on Thursday writing, "I think you really screwed up downplaying this entire situation from the beginning. I've listened to you on [Adam] Carolla['s show] and every time you act as if it's no big deal. You were a guest recently and you were talking about dining out. Now you've had it and your tune has changed.
"The medicine you received isn't accessible to everyone…why can't you admit you were wrong…"
In an Instagram comment posted on Thursday, Drew responded that he believes he got COVID-19 while "at the hospital, or at work."
In a later comment, he wrote that he "caught it at the hospital when I went to get the vaccine and was denied on last week due to paperwork."
Drew told ABC7 News reporter Elex Michaelson on Tuesday that he "could feel COVID closing in around me" and he was trying to get the vaccine. However, on Christmas Eve, Drew said he woke up in the middle of the night with a fever and chills. He said the flu-like symptoms were "nasty."
"But it's really what follows that's the treacherous part," Drew said during the interview. "I want you to think about this as the flu, with treachery. And that's how people get into trouble with this thing…"
He stated that he was affected neurologically, as well as in his lungs and heart.
"Had I not had careful management by a physician and I was not aware of what was going on, I could see how people could get behind this and you could really get yourself into big trouble."
Watch Dr. Drew's interview with ABC7 below.
.@drdrew is currently battling #COVID19.

"You get initially the flu like syndrome, with the fever and the chills and the aches but its what follows that is treacherous…"

He says he had problems with his lung, heart, and his cognition.

Full interview: https://t.co/xN7RcfVTtU pic.twitter.com/DIYGKOlec6

— Elex Michaelson (@Elex_Michaelson) December 31, 2020
RELATED STORY: Duggar Family Slammed for Throwing "Super Spreader" Holiday Party Despite COVID Cases Rising: Fans Call Them "Completely Reckless & Thoughtless!"
(Photos: MTV; Instagram; Twitter)