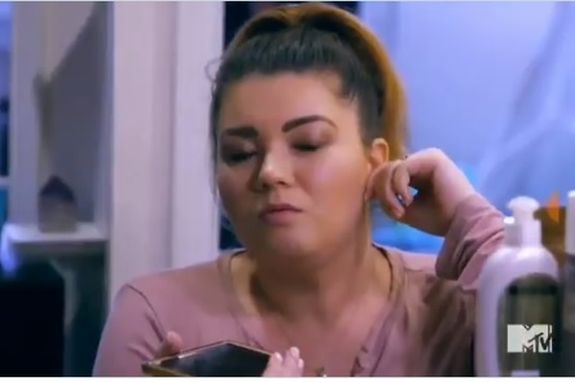 From making offensive videos to making false claims, the stars of the Teen Mom franchise (both past and present) have been keeping themselves busy lately!
In an effort to get you up-to-date on the latest Teen Mom OG and Teen Mom 2 news, The Ashley brings you the Teen Mom News Pile. Here are some of the major (and minor but interesting) 'Teen Mom'-related things that have happened over the last week or so.
David Eason mocks Amber Portwood & Asian people in new videos.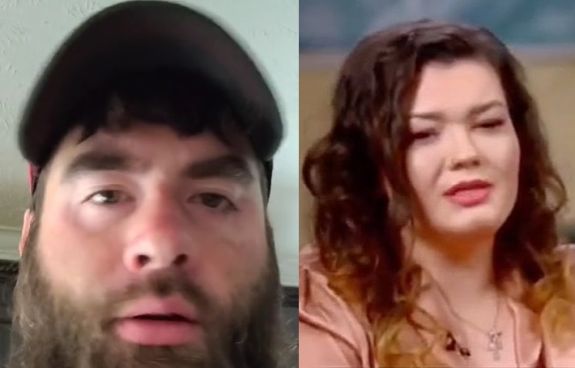 David may not have a job, but he appears to be trying his hand at stand-up comedy at the moment.
Mr. Jenelle Evans recently made numerous videos for social media that caused controversy, including one in which he mocked 'Teen Mom OG' star (and weapon enthusiast) Amber Portwood. David— who was playing with his knife-making tools out on The Land— poked fun at Amber's 2019 "Machete Incident," in which she was arrested after allegeding brandishing a machete while fighting with her then-boyfriend Andrew Glennon.
In the video (captured by Instagram account @KittyJakers and shared by Instagram account @Mrs.WeedLove), David shows off a blade he created with his tools.
View this post on Instagram
"Right now, it's only this long," he said. "That's about as long as Amber's machete when she went after her baby daddy. You need it a little longer than that."
(Perhaps the length of a "Mother Goddess" sword?)
"You need like an Uncle Dave sword," he said. "I might have to find somebody and engrave my name on it."
Moving right along, David also recently made a video that mocked Asians. In the video he used stereotypical "Asian" music, as well as a fake "Asian" accent.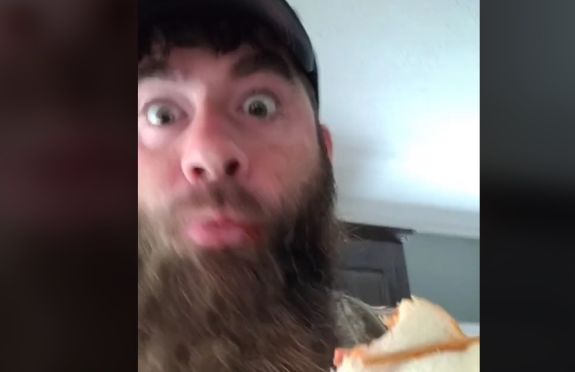 He explained that he was making a "traditional Korean style hotdog." He explained how to make a disgusting hotdog (using the accent) and the proceeded to maul the snack with his mouth.
David's video received plenty of negative comments…but they have all since disappeared faster than any potential job opportunities for the Eason clan.
Farrah Abraham and her backdoor are heading to Harvard…er, Havard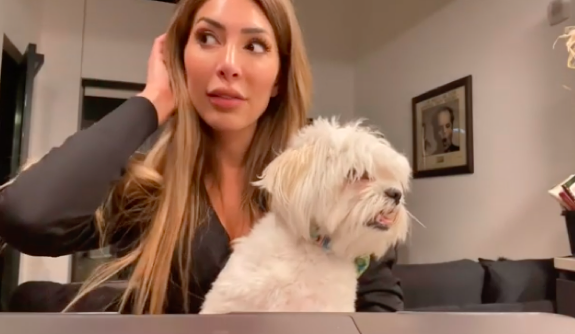 (The Ashley knows this happened a little while back, but she didn't have to time address it then and this is way to good for her to let it pass without comment.)
Either hell has finally frozen over, or Farrah Abraham has reached a new level of delusional. (Wanna guess where we're placing our bets?)
The former 'Teen Mom OG' star took to Facebook this week, announcing her plans to "start school at Havard University" next month – and yes, Farrah misspelled "Harvard" because… of course she did.

While Farrah may actually be taking advantage of the free courses offered online at Harvard through edX, which does not require individuals to apply or be accepted to the university, her LinkedIn profile states that she has a Master of Liberal Arts (MLA) at Harvard University. (If you want to go to "Harvard" too, you can do so by enrolling in one of these free online courses!)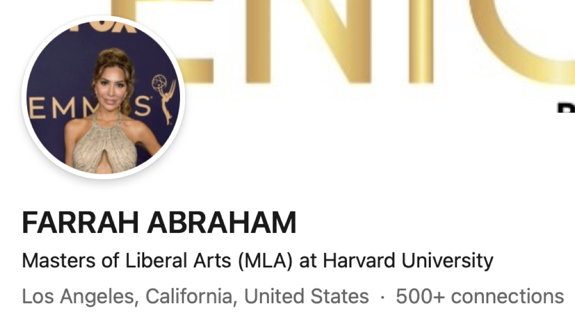 On LinkedIn, the "Wish.com version of Elle Woods" lists many of her accolades while encouraging others to "be relentless, be the best you!" Farrah then recounts her journey to becoming the top female celebrity in our nation, which she claims began at a grocery store.
"Over my years; I was once the cart girl at a grocery store starting at minimum wage and corporate America and had to apply 3 times before getting the job, then worked my way up the ladder to bag sacker, cashier, catering and food sampler," her bio reads. "Now I've had my own products being sold in whole foods and grocery stores, selling out. That was a realization."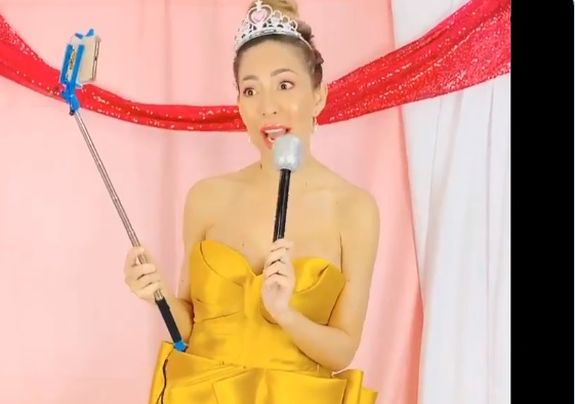 Farrah also lies claims to be "the top reality star and top 10 listed female celebrity in the nation." If that isn't impressive enough, Farrah goes on to drop another "realization."
"I once couldn't finish a book and now I made the New York Times Best Sellers List and wrote a memoir, trilogy and children's book," she wrote. "That was a realization."
Farrah also claims to have been kicked out of her home as a teen mom– something 'Teen Mom OG' viewers know isn't true at all– and credits herself for "decreasing teen pregnancies world wide."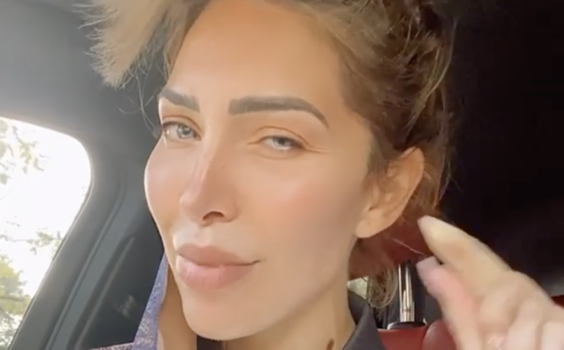 " … I've opened multiple business's and now the mom others are proud of and want business advice from and now can offer a different up bringing to her child with no struggle," she adds.
Farrah has insisted in numerous social media videos that she is, indeed, going to Harvard.
Mackenzie McKee tells fans she's a bigger cheater than husband Josh McKee.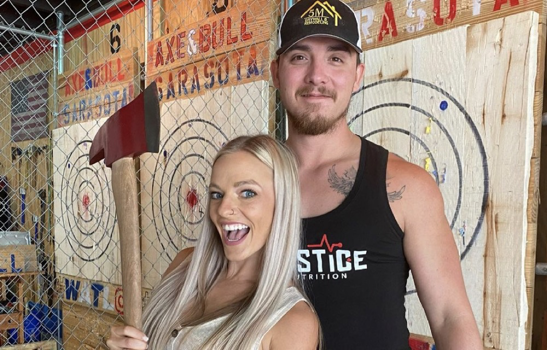 'Teen Mom OG' star Mackenzie McKee reached her breaking point this week after receiving non-stop social media comments slamming her husband Josh for being a repeat cheater. However, instead of simply coming to Josh's defense, Mackenzie threw herself under the bus in a lengthy video rant on Instagram.
"I'm so happy you guys know more about my life than I know about my life because I have been diagnosed, by you guys, with a 'idiot woman who takes back a serial cheating husband,'" the mom of three said.
Mackenzie went on to claim that she has "cheated far more than [Josh] has," and for some reason, she considers this to be a good thing…
"Baby, I know my self-worth," she said.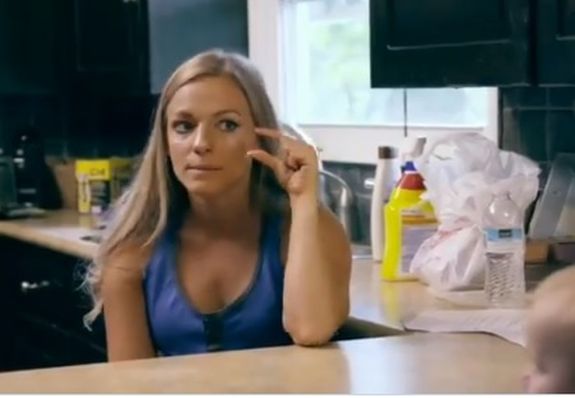 She also noted that she wouldn't "mother-effing stay with a cheating husband" if she wasn't off doing some cheating of her own.
I think that's nice…
"If I had just been his faithful, little sweetheart to him and he was off cheating, do you think I would be with him? No! No, I wouldn't," she claimed.
While Mackenzie did admit that Josh has "been a dumbass," she attempted to look on the bright side by pointing out, "at least he's not a narcissist."
"Josh has never once controlled me, told me what to do or beat me," she explained. "If you want to diagnose him with narcissism, give me the facts."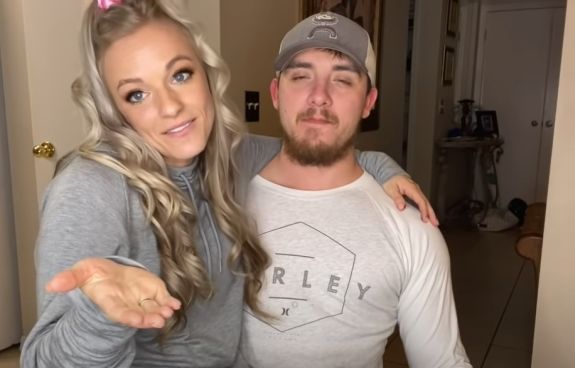 Dr. Drew responds after his nomination to join LA Homeless Commission is withdrawn after public urges officials to #DumpDrDrew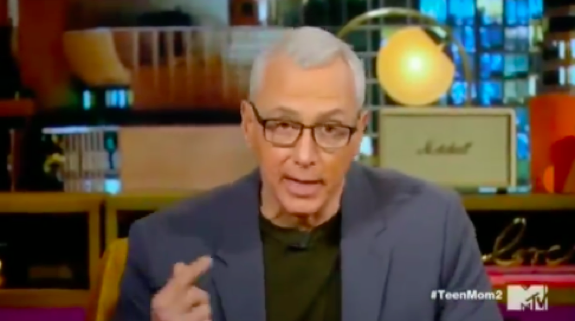 Last week, Dr. Drew Pinsky, longtime host of all 'Teen Mom' reunion specials and frequent dodger of asking hard questions, was recommended by 5th District Supervisor Kathryn Barger to join the 10-member Los Angeles Homeless Services Authority. That nomination did not go over well with critics of the blazer-wearing doc, some of whom even started to popularize the hashtag #DumpDrDrew on Twitter to show their disapproval.
Many felt that including Dr. Drew on the committee– which oversees funds for programs to help to reduce homelessness in LA—would be wrong, due to his previous controversial comments about homelessness. An article in the Los Angeles Times (written before Dr. Drew's consideration was withdrawn) claimed the nomination of the celebrity doctor not only shocked advocates, but left some believing it was a joke.
Eventually, Kathryn Barger rescinded Dr. Drew's nomination. In a statement to The Hollywood Reporter, Drew expressed his disappointment, as well as his insistence that a doctor should be on the committee, but it "doesn't have to be me."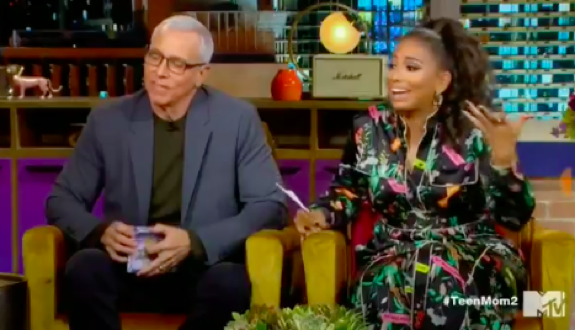 Drew acknowledged that his being part of the committee may be a "distraction" from its purpose.
"I'm interested in the homeless problem getting better, that's all," he said. "I have 30 years of experience with addiction and serious mental illness and I thought maybe I would have something to offer. There's no physicians represented in the committee so I certainly hope they put a physician in."
Dr. Drew earned himself a reputation for promoting ill-formed and harmful views after making controversial statements about COVID-19 in the early days of the pandemic. (He called it a "press-induced panic" and compared it to the flu, among other things. He eventually apologized for his statements, and ended up contracting the virus himself in late 2020.)
Mark Horvath, founder of nonprofit homeless advocacy group Invisible People, stated that, in his opinion, Dr. Drew should never have been nominated in the first place.
"Even on a surface level, why are you [appointing] a celebrity doctor – and I use the term 'doctor' loosely – that has recent activity with being a COVID denier?" he said.
Mike Dickerson, cofounder of activist group Ktown for All released a statement after Drew's nomination was withdrawn.
"If LAHSA needs a physician on the board, there are many in L.A. who actively work with unhoused people. He is not one of them."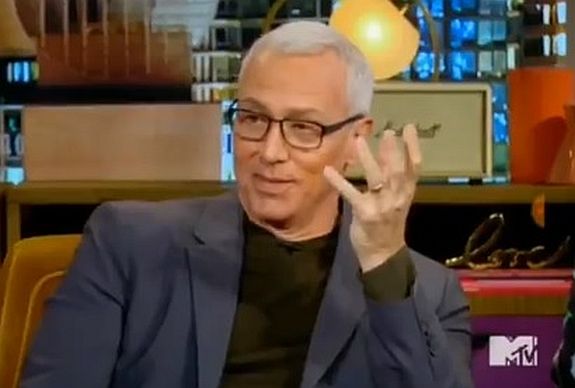 While commenting on Dr. Drew's nomination being withdrawn, Kathryn said she was "dismayed that anyone would question the appointment of a doctor with a passion for addressing these issues when a new voice is clearly needed – especially one that is medically trained."
Dr. Drew would help us address mental health and substance abuse as driving factors in the ongoing homelessness crisis. Unfortunately, the proposed appointment took away from these important conversations about care for people experiencing homelessness. pic.twitter.com/VZ9u0hEeMf

— Supervisor Kathryn Barger (@kathrynbarger) April 20, 2021
She also said she plans to continue collaborating with Dr. Drew in other capacities and hopes "we can move past pettiness" and instead focus on "working to solve the hard problems."
Dr. Drew has hosted all of the 16 and Pregnant and Teen Mom franchise Reunions since the shows began, and has done numerous other radio and television hosting gigs. He is also a board-certified internal medicine physician, and an addiction medicine specialist.
Over the years, 'Teen Mom' cast members and fans have called Drew out for starting unnecessary drama among cast members, dodging hard topics with certain cast members and other actions. In January, new 'Teen Mom 2' cast member Ashley Jones called Drew "a disgrace" and stated that he instigates "little girl drama" at the Reunions.
To catch up on other recent 'Teen Mom' news, click here!
(Photos: MTV; Instagram; TikTok)