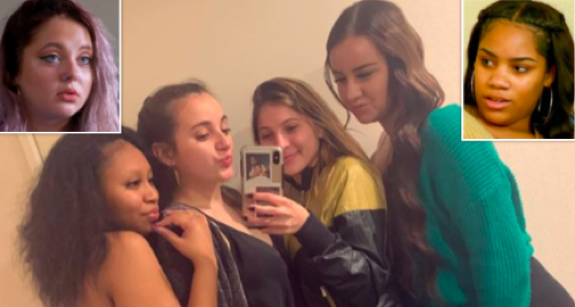 When the cast of Teen Mom: Young and Pregnant was invited to take the stage during the Teen Mom 2 reunion this weekend, things quickly took a turn for the worse.
A near-brawl started when 'Young and Pregnant' star Ashley Jones tried to start some drama with her former cast mate Jade Cline, who is now a cast member on 'Teen Mom 2.' While Jade was allegedly Ashley's main target, she also got into with the other 'Young and Pregnant' girls, with some reportedly taking their shoes off, causing security to step in.
As The Ashley told you last week, producers ran into some drama trying to get the former castmates to agree to appear on stage together and according to The Ashley's source, the reunion segment was set up to address the alleged friction between Ashley and Jade.
"The 'Young and Pregnant' cast was asked how they felt about Jade joining 'Teen Mom 2' and everyone said they were happy for her, with the exception of Ashley, who declined to comment. After Dr. Drew pushed the question again, Ashley insisted that she was asked to join 'Teen Mom 2' first, but decided to turn it down.
(The Ashley's sources tell her that Ashley was never formally asked to join 'Teen Mom 2,' by the way. The selection of Jade was a very calculated move by the show's producers.)
"Ashley started verbally attacking Jade and her family," the source said.
While cast member Kayla Sessler attempted to get the situation under control by telling Ashley to basically let it go, Ashley got the impression that Kayla was picking sides. She then allegedly got out of her seat and went after Jade, calling her mom a "crack whore." Jade was escorted off the stage at this point before anything escalated further.
Champion Daily reported that 'Teen Mom 2' star Kail Lowry also reportedly switched seats with Kayla, who had been sitting next to Ashley.
(Kail has since spoken out on Twitter about the reunion drama, encouraging MTV to "stop putting girls who do not like each other on the same stage." Ashley responded to Kail's tweet, adding that the network shouldn't press questions "they know will spark drama.")
How about stop pressing questions that they know will spark drama https://t.co/43XfH0sAOv

— ASHLEY (@_mermaidbarbie) October 27, 2019
The Ashley's source says that Ashley was taken taken off the stage, at which point she made comments about spitting in Kayla's face and screaming something about Kayla's "f**king kids" while exiting.
"Ashley eventually rejoined the cast but again made a threatening comment directed at Kayla," the source said. "She also called Brianna Jaramillo fake and accused Jade of saying that Brianna was dating half-female half-male." (This is likely a dig at Brianna's transgender former boyfriend Milo, previously known as Danae.)
"After being asked by Dr. Drew if she wanted to apologize for anything, Ashley said she was sorry for saying she'd spit in Kayla's face, but she wasn't sorry for what she said about her kids," the source said. "After realizing how much this got under Kayla's skin, Ashley allegedly kept going until Kayla took her shoes off and stood up.
"That's when security stepped in again."
Several of The Ashley's on-set sources stated that Ashley also reportedly threatened to slap an audience member.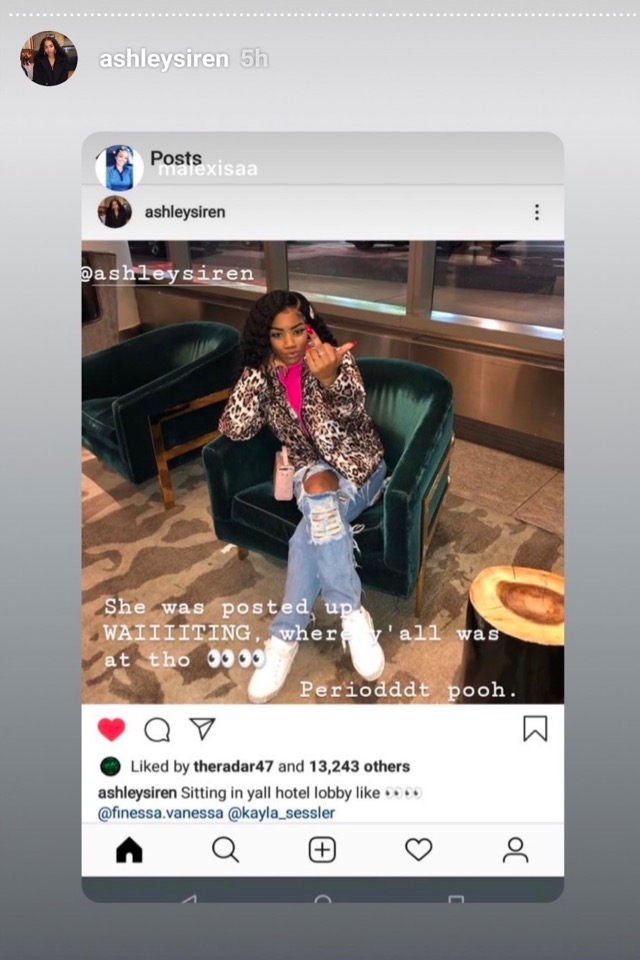 Later on social media, Ashley went on to address some of what went down, in which she threatened any "b**ches" that "wanna be hard at the reunion."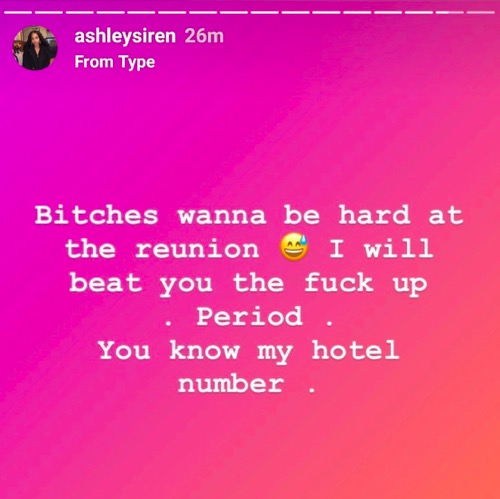 "I will beat you the f**k up. Period. You know my hotel number," she continued.
Ashley also talked about her trust issues with people, as well as always being labeled "the bad guy."
"I hate that I'm always the bad guy," she wrote. "I literally give so much support and love to people. But it's always with me the short end of the stick."
After being mentioned in the social media drama, Kayla decided to speak up about what happened at the reunion in order to "clear up a few things."
"I didn't want to post anything because I knew once the reunion airs you'd all see what actually happened," she wrote. "But due to the amount of harassment I've received online over false information, I have to clear up a few things. Ashley and I did NOT get into it over Jade. I was upset with Ashley because she brought up my kids. I feel like that was taking it too far. Before yesterday, Ashley and I had no problems."
Kayla went on to say that "no one jumped anybody" and that when she and Ashley "got into it," Jade wasn't even on the stage anymore. As for the safety of the girls, Kayla said MTV was on top of the situation in order to prevent anything from happening.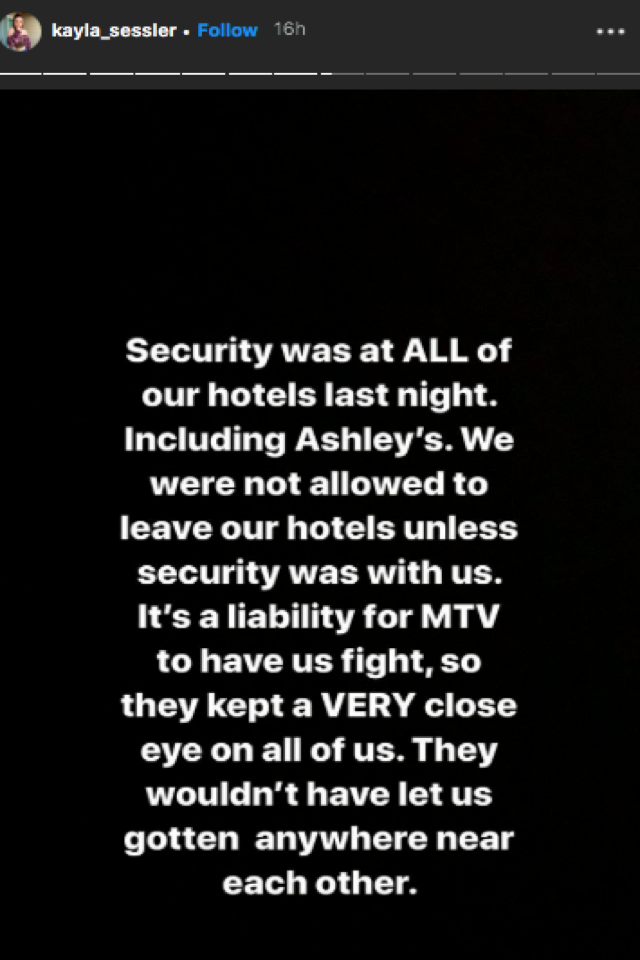 " … We were not allowed to leave our hotels unless security was with us," she said. "It's a liability for MTV to have us fight, so they kept a VERY close eye on all of us … ."
Kayla said she and Brianna had been hanging out the previous night in her hotel room—where she said "everyone was invited"—and that Brianna even DM'd Ashley the room number when Ashley went on Instagram Live. After seeing Ashley Instagram Story in which Ashley claimed that she always feels excluded, Briana and Kayla messaged her to ask if they could talk before their segment, although Kayla said Ashley declined.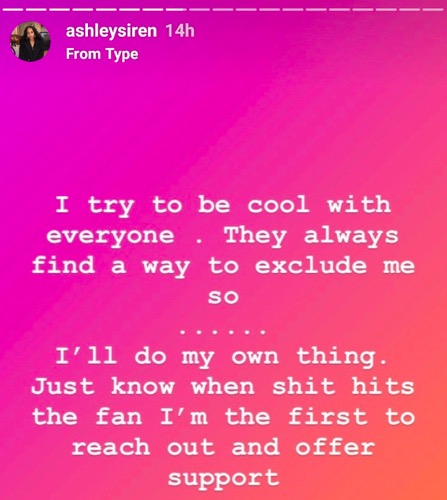 Kayla went on to re-post a screenshot of the alleged text with Ashley.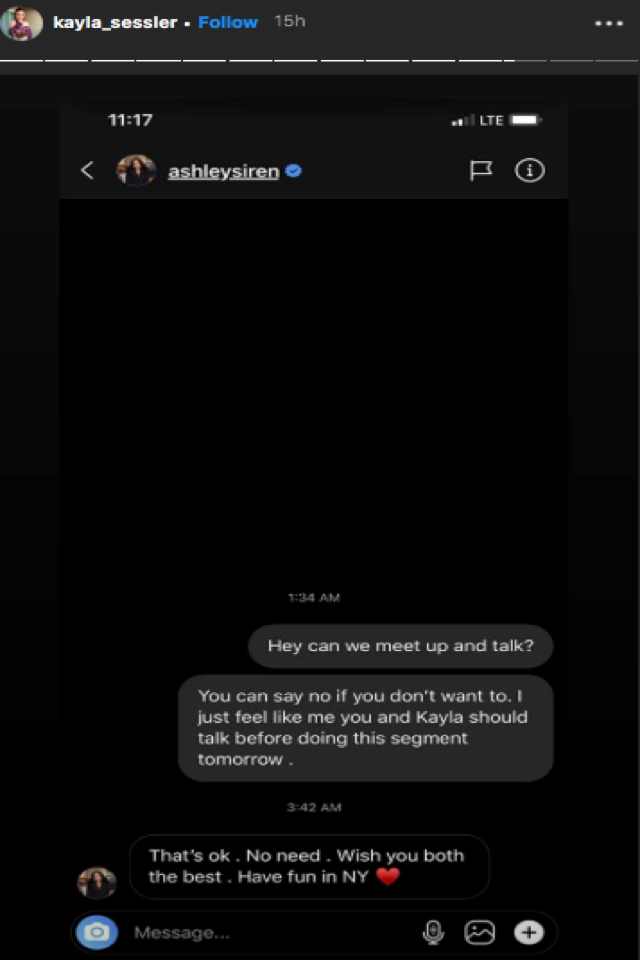 Kayla said she would no long speak about the situation though she did encourage fans to watch the reunion in order to see "what really happened."
The Ashley's source said network executives held a meeting yesterday, as well as one today and are watching and recording everything that has and is being said on social media. "They are taking it all very seriously," the source stated.
Also apparently taking the situation very seriously is Kail, who tweeted that she has no intentions of attending another reunion taping.
"I promise y'all, nobody better ever think about asking me to attend another reunion," she wrote.
I promise y'all, nobody better even think about asking me to attend another reunion.

— Kailyn Lowry (@KailLowry) October 27, 2019
RELATED STORY: EXCLUSIVE! Jade Cline Refuses to Film 'Teen Mom 2' Reunion Special with Her Former Castmate: Get the Details!
(Photos: MTV/Instagram; Twitter)