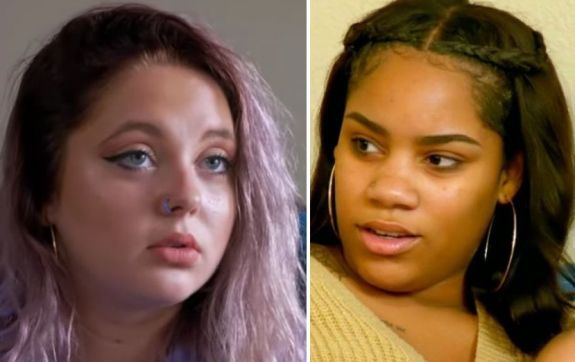 The upcoming Teen Mom 2 Reunion has brought yet another cast feud to light!
The Ashley can exclusively reveal that the show's producers are struggling to figure out what to do about Jade Cline— whom The Ashley's sources tell her is refusing to get on the stage with one of her former co-stars!
Apparently, the girls from Teen Mom: Young & Pregnant will be doing something at the 'Teen Mom 2' Reunion (which takes place this weekend in New York City). The Ashley's sources tell her that when Jade found out that 'Y&P' girl Ashley Jones was set to be on-stage with her, Jade threw a fit!
The Ashley's source says that Jade informed producers that she will not sit on stage with Ashley.
"Jade feels that Ashley has shaded her multiple times, especially right after it was announced that Jade had been picked for 'Teen Mom 2,'" the source tells The Ashley. "She said that Ashley was telling people on social media that Jade only got the 'Teen Mom 2' job because Ashley turned the producers down."
She was also upset because she felt Ashley was shading her earlier this month when a story came out that revealed that Jade and her ex Sean Austin are being sued for not paying the $900 a month rent on the Indiana home they had been renting. On the same day the story was published, Ashley tweeted, "Man if my rent was 900 dollars I'd be stacking to bad all you gone get in the bay is a bedroom in someone's house where you can't even use the living room."
However, Ashley denied that the tweet had anything to do with Jade.
"First of all what the f**k are you talking about," Ashley responded to those who called her salty. "We all know by now if I wanted to say a name I would. I'm simply referring to the fact that I have to pay to be alive and no one asked me if I could afford it before bringing me into the universe. Lighten up hoe…"
Anyway, the producers are not thrilled that there are more cast members who refuse to be around each other, as it causes major issues with the filming schedule.
"They are all trying to figure out how to make the segment happen without Jade and Ashley getting into a fight onstage," the source said.
The source also tells The Ashley that plans are in place to keep all of the 'Teen Mom 2' girls separated (similar to how they were during the last Reunion), in an effort to prevent another hair-pullin', stage-screamin' cast brawl like the one Briana, Brittany DeJesus and Kail got into last year.
Kail recently announced on her Coffee Convos podcast that she told her producers that she will not be on-stage with anyone but Chelsea Houska or Leah Messer during the Reunion, because she does not trust that the producers won't try to stir the pot to increase the drama between her and the others.
"They have asked me if I will sit on the couch with everybody and I did say no," Kail told her podcast co-host Lindsie Chrisley. "It doesn't have anything to do with Briana or the drama, or Jenelle [Evans], or any of that. It's more so for personal reasons. I really just don't want to go back to that space. I feel like there was drama in the past and, based on that, I don't trust the producers and I don't trust some of the cast members."
The Ashley will update this when she has more info!
RELATED STORY: 'Teen Mom 2' Star Jade Cline & Baby Daddy Sean Austin Sued for Unpaid Rent on Indiana Home
(Photos: MTV; Instagram)