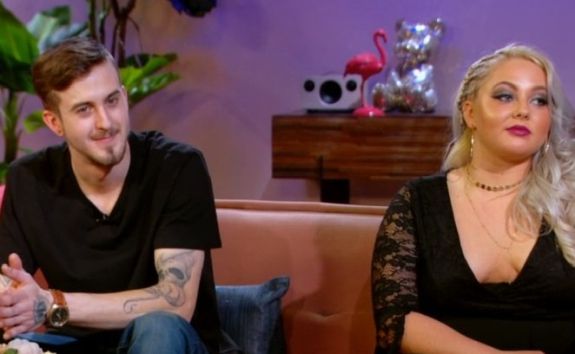 Looks like more trouble in Teen Mom 2 paradise!
Radar Online reports that Jade Cline and baby daddy Sean Austin have been sued in the amount of $2,089.60 after failing to pay the $995 per-month rent on their Indiana home.
FS Houses – Property Management 317 LLC, the company that manages the property, reportedly filed a Notice of Claim for Possession against Jade and Sean on September 30 and the couple's eviction hearing has been set for October 22.
Fans of 'Teen Mom 2' are familiar with the home listed in the case, as it has been featured on the show this season… Most notably during a recent episode when Jade accused Sean of harboring himself in the home with her gun, forcing her to call the police for an escort in order to safely obtain her furniture and other belongings.
During the incident, Jade told the police that Sean had been abusing her and argued that they were "protecting a drug addict." On the following episode, Jade did not allow Sean to see their daughter Kloie due to the behavior he had exhibited.
Sean responded to Jade's actions by taking to Instagram Live to voice his frustrations about his "toxic" relationship, pointing out in the lengthy rant that he still planned to live in the house even if it were empty.
In addition to being sued for unpaid rent, Jade was sued in April for allegedly failing to pay her Best Buy credit card, according to Radar. Based on the court papers, Jade failed to pay the $1,285.75 balance that remained on her account. The case is reportedly ongoing.
RELATED STORY: Jenelle Evans Disses Her 'Teen Mom 2' Replacement Jade Cline; Says She's Focusing on Her Just-Launched Cosmetic Line Instead of MTV
(Photos: MTV; Instagram)