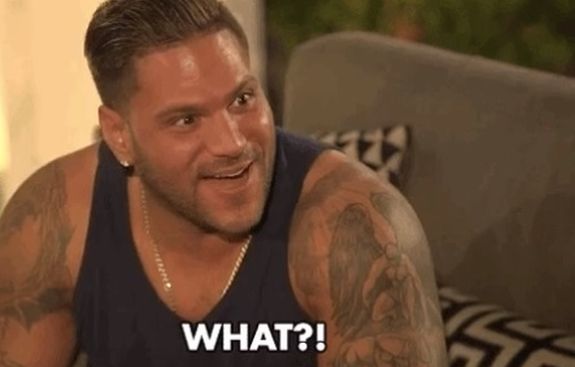 Ronnie Ortiz-Magro has reportedly agreed to extend the protective order that keeps him away from his estranged baby-mama Jen Harley, but it looks likes he may be distancing himself from his Jersey Shore family, too.
As The Ashley told you earlier this week, Ronnie has been ordered by the LAPD to stay 100 feet away from Jen following his arrest for felony domestic violence after allegedly striking Jen and chasing her with a knife while holding their 18-month-old daughter Ariana. Ronnie was later charged with kidnapping after reportedly locking himself and Ariana in the couple's Airbnb.
On Friday, TMZ reported that "Ronnie is willing to stay clear of his family pending his arraignment on felony kidnapping charges."
The protective order— which demands Ronnie stay at least 100 yards away from Jen— also requires him to stay away from his daughter for the time being.
While Ronnie's 'Jersey Shore' family has stayed relatively quiet on their co-star's latest legal woes, the subject has been addressed on Nicole "Snooki" Polizzi's podcast, It's Happening with Snooki & Joey. This week, Snooki invited Mike 'The Situation" Sorrentino to discuss the latest on Ronnie—- including the fact that he's basically ghosting the entire cast at the moment.
"Listen, I pray for him and Jen, I pray for the baby, [Ronnie's] future… ," Mike said during the podcast.
Mike went on to reveal that Ronnie is "not answering texts," to which Snooki added, "he's not answering any of us."
"Yeah, I've been texting for days," Mike continued. " … At first I was a bit stern and I was like, 'Wake the f**k up and call me, we're worried,' and he didn't answer back. Then I went with a little softer approach, like, 'Bro, I'm here for you.'"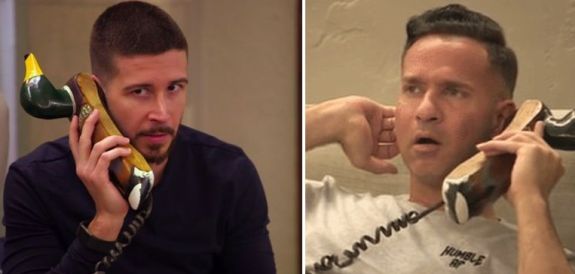 Snooki said she took the latter approach in her efforts to get a response from her co-star, but still hadn't heard anything either. She did, however, say that the executive producer of Jersey Shore Family Vacation has been in contact with him.
The conversation on the podcast then switched to the recent TMZ photos of Jen displaying large bruises on both her shoulder and thigh, which Snooki believes to be a little suspicious.
" … She's out to lunch with Ariana, she's wearing a tank top and shorts and she has bruises everywhere," Snooki said. "I feel like she went out intentionally to get a photo of her."
Ronnie Ortiz-Magro's Baby Mama Allegedly Left Bruised & Scraped from Fight https://t.co/IPyrN3RpJY

— TMZ (@TMZ) October 9, 2019
"You don't have to be wearing a tank top, showing off your bruises and the bruise on your leg," she continued. "She's wearing booty shorts to show it off. Like, 'Girl, you can go out with your daughter and have lunch but cover those up so it's not a thing.' She wants it to be a thing."
RELATED STORY: Ronnie Ortiz-Magro Deletes Photos of Jen Harley from Social Media After LAPD Issues an Emergency Protective Order
(Photos: MTV; Twitter; Instagram)