Ronnie Ortiz-Magro and his baby mama/occasional girlfriend Jen Harley are back to their old tricks… and this time, they took their toxicity to a whole new level.
According to TMZ, the Jersey Shore star was arrested early Friday morning after allegedly striking Jen and chasing her with a knife while holding the couple's 18-month-old daughter Ariana. The altercation between the pernicious pair reportedly took place shortly after 2:30 a.m. at an Airbnb the couple is renting in Los Angeles.
Law enforcement sources told TMZ that Ron allegedly slapped and punched Jen, who then ran out of the rental house screaming for help. While police received multiple calls reporting that Jen was in distress, Ron apparently took it upon himself to run after Jen (allegedly while holding both a knife and Ariana).
After eventually dropping the knife, Ron reportedly locked himself and Ariana in the rental home, which is where he was located when police arrived. After Ron did not respond to police commands to exit the home, police decided to break down the door out of concern that Ariana could be in danger. When Ron still refused to cooperate with police, officers reportedly had to use a taser to get him to comply.
Below is the Fox 11 LA video in which Ron is seen being wheeled out to an ambulance on a stretcher (to which he was handcuffed) following the altercation.
DailyMail reports that Ron was taken to a hospital, evaluated and later booked into jail for kidnapping. As for Jen and Ariana, they were checked out by paramedics on the scene and neither suffered major physical injuries, though Jen did have visible marks on her face.
TMZ reports that Jen told the cops "Ronnie went off the rails after doing coke," despite the fact that Ronnie went to rehab at the beginning of this year.
The news of this latest drama comes just hours after the couple showed up together to Ronnie's CBD launch party in Hollywood. According to Us Weekly, Ronnie praised Jen at the party for balancing him out and even defended rumors that the two were toxic for each other.
"Honestly, even though everyone thinks we're toxic, she really does balance me out," he said. "She really does keep me level because with her I have her and the baby, which is a family, which is what I want at the end of the day."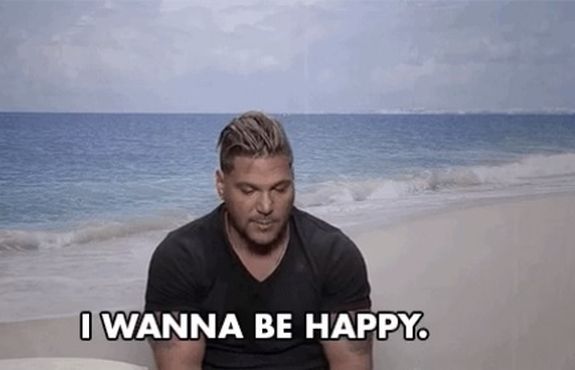 While Ron spoke highly of his relationship right before his arrest, this truce was a new development for the couple. Just last month, Jen claimed on social media that she had endured "abuse by MTV and Ron and the cast [of Jersey Shore Family Vacation]." The couple's tumultuous past also includes a head-to-head argument that was broadcast over Instagram Live in April 2018, an altercation while Ron was filming for MTV and an incident that summer in which Jen was arrested on charges of domestic violence for allegedly hitting and dragging Ron with her car.
https://www.instagram.com/p/B1mBNPdnpNt/?utm_source=ig_web_copy_link
The two came to blows again in October 2018 when Ron alleged that Jen gave him a black eye and attempted to extort him, to which Jen responded by publicly accusing Ron of being a drug addict. After staying quiet (and non-violent) for a couple months, the couple's 2019 kicked off with Jen allegedly throwing an ashtray at Ron's head, which resulted in her May arrest on an outstanding warrant for domestic violence. She was ultimately cleared of this charge in July.
UPDATE! Ronnie was released from jail around noon, PST, on a bail of $100,000. After making bail, Ronnie literally ran to a waiting black SUV which sped away from the facility.
RELATED STORY: Jen Harley Says She's Been "Bullied & Abused" on 'Jersey Shore Family Vacation,' Accuses Ronnie Ortiz-Magro of Cheating & More
(Photos: MTV; Fox 11 LA; Instagram)